I enjoyed spending time with the Mobinnova Beam at CES this year and after a demo and discussion with ARM's Bob Morris, I walked away impressed although a little worried about the OS. My main worry was that no-one would be able to relate to the unknown user interface. How could anybody get a feel for what the device can do without some form of knowledge about the OS? Would you buy a computing device without any knowledge of the OS? It appears that others feel the same way; the Beam has just re-surfaced running open-source Android.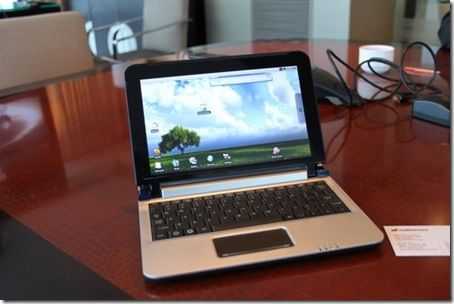 Laptopmag got to spend some time with the latest version of the Nvidia Tegra-based device and reports that that hardware is unchanged. That's a good thing because at 840gm, it's a great lightweight and super-thin device. With Android, this puts the Beam into a similar position with the Compaq AirLife 100 and that's one that could really challenge the netbook market with it's always-on, always-connected, location-aware, app-enabled dynamic operating system known for an application ecosystem that is right up there at the top of the tree. Well it would be if the final reseller of this device was able to get the Google Marketplace on it. Mobinnova are "including games that leverage the Tegra chip's multimedia prowess and that it is working on its own app store inch like many others but that Marketplace issue is turning out to be a big stumbling block. I heard from another reseller today who is in the same difficult position of trying to get Google apps onto open-source Android to turn it into a 'real' Android device.
The Mobinnova Beam is predicted to arrive in the July-Sept 2010 timeframe.