Not one, not two and not even three items of internet device news to update you on today. I've got no less than five news items here!
Lets start with Dell who's leader, Mr. Dell, has provided an update on the Mini 5. According to reports, he's let it be know that the Dell Mini 5 is coming to Telefonica O2 in June and to AT&T in the summer. The source article from EWeek is littered with incorrect information but the important info is that it is very close. Telefonica O2 operate in Spain (where they are launching the Android-powered Compaq Airlife 100 and have a big presence in Germany and UK amongst other countries where they have proven to be quite the progressive carrier in terms of advanced internet devices. Low data prices and multi-SIM options should really help the Dell Mini 5 to get off the ground. I'm expecting a 500 Euro SIM-free price but as yet, we have no real pricing indication.
While the Dell looks to provide the complete Google and voice experience, that's not the case with the Archos 7 Home Tablet that has just been reviewed by Engadget's Joanna Stern. At under 200 Euro it's not quite targeted at the same usage model too. I'm encouraged to hear Joanna talk about a useful form factor but it seems to have been wasted somewhat because there's no auto, or even manual rotation into portrait mode. Battery life looks good but as we'd expect with an ARM9-powered device, performance is not stunning. Here's an educated guess – you'll be waiting three times as long for a web page to load compared to the iPad. Casual mobile web browsing, Google Reader and eBooks, video payback, photo viewing, podcast-catching and maybe even a little bit of casual gaming will be possible though and if you can add a portable keyboard, it would make a perfect emergency or travel device. Engadget Review
Lets turn to a device that might be a little more difficult to get hold of now. It's the very interesting Sharp IS01 clamshell-style, 5 inch Android device. Like the Archos 7 above, it doesn't have the Google Marketplace so Sharp are trying to seed some applications through their own SDK and a preview version of the device. The final version of the IS01 was due later in the year.
Pocketables have news today that not only is the SDK version ready but the final product will ship much sooner than expected. As soon as next month. While the device is targeted at the Japanese KDDI network, it is possible that some unlocked versions get through as imports and if that happens it will be great to be able to try a high-powered clamshell design using Android.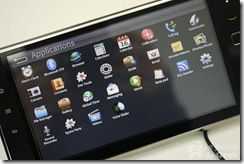 A device that has completely slipped us by here at Carrypad is something I'm imagining the Archos Gen 8 devices (due summer 2010) will look like. Clearly focused on home media and having a very interesting docking station, 3G and what looks like a capacitive screen, the Huawei Smakit s7 could be competition for the Dell Looking Glass. I'm assuming that Huawei are looking for customers for this though so it's unlikely that we'll see it soon but we'll keep it high on the list as we cruise Computex in June.
BT have announced that they are getting into the home tablet game. The UK-based company broke the news at their strategy day. Apparently the device will be able to take calls, sms' and will show weather and perform other functions. It will be smaller than the iPad and bigger than an iPhone. To us, it sounds like BT might have lined up to take the Intel Moorestown-powered Open Peek OpenTablet. Watch and wait.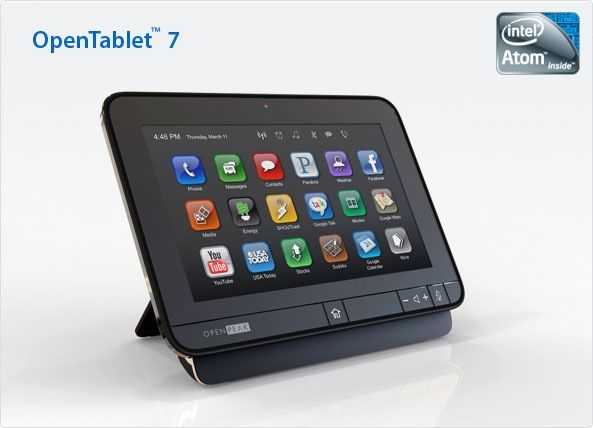 Finally today, I want to highlight that the SmartQ V7, a slightly more powerful version of the Smart Q7 I reviewed,  is about to be launched in Android 2.1 form. Android has been running on the device via firmware updates for a while now but a new Android 2.1 release is due soon. The device, an ARM11-based tablet with a 7 inch resistive touchscreen, should be available in the next few weeks from Eletroworld priced at $230. Expect a similar experience to the Archos 7 Home Tablet although there's potential for some nice hacks from the busy Smart Q7 community. We should be getting one for review soon after they become available.
That's it for now. Hope it gives you something to think about at the weekend. Let us know if you have any thoughts on the above.