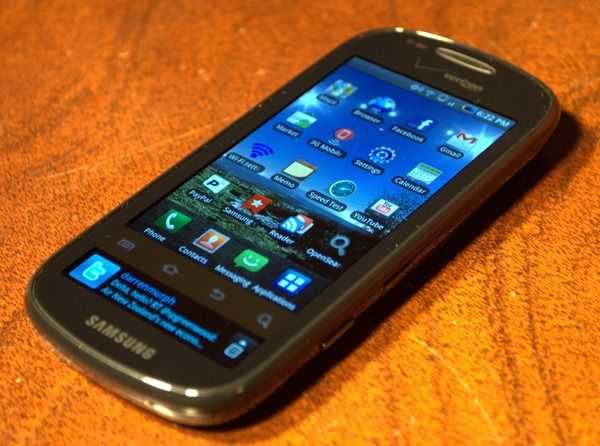 Samsung previously piqued my interested with it's Galaxy S Fascinate [tracking page][review], so I've been excited to give the Continuum a try. The Continuum is much like the Fascinate except it has a 1.8 inch 480×96 AMOLED "ticker inch display underneath the main screen for notifications and quick access to info like time/date/weather/twitter/facebook/etc. Does the extra display equal extra functionality or is it merely a monotonous novelty without much depth? Read our full review to find out!
We'll start out with the classic hardware tour, but before that I want you to know that, as I mentioned, the Samsung Continuum is very much like the Samsung Fascinate that we reviewed a little while ago. It's pretty much the same device in a slightly different body and without the Continuum's extra display. We aren't in the business of boring our readers so I'm not going to hit you with information that we've already covered. I'll point you to the Fascinate review if need be, but for the most part this review is going to focus on the Continuum's unique aspects (ie: the ticker display) and it's particular performance. Now that we've got that out of the way…
Hardware Tour
Here's a quick visual rundown of the Continuum to get you familiar with the device:



And here's the specs (as always, you can find more detailed technical info on our Samsung Continuum tracking page in the device database).
3.4 inch capacitive Super-AMOLED screen @ 800×480
secondary 1.8 inch capacitive Super-AMOLED @ 480×96
Android 2.1 (custom Samsung overlay)
ARM Cortex A8 CPU @ 1GHz
PowerVR SGX graphics
366MB of RAM
5.0MP auto-focus camera with single-LED flash (capable of 720p HD recording)
WiFi b/g/n & BT 3.0