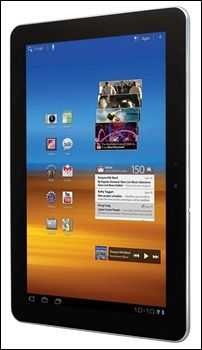 Today Verizon has announced that the 4G LTE version of the Samsung Galaxy Tab 10.1" will be available in two colors starting on July 28th, with prices beginning at $529. It's been nearly 7 months since Samsung and Verizon announced a 4G version of the Samsung Galaxy Tab 7" back at CES and yet information regarding its availability have yet to materialize.
The 8.6mm thick Galaxy Tab 10.1 will be available for purchase in stores and online directly from Verizon. There are two colors to choose from – metallic grey or glossy white. Two memory options are available: 16GB and 32GB for $529 and $629 respectively, which undercuts the 3G iPad 2 by $100 for both capacities. Verizon says that the 4G connection built into the Galaxy Tab 10.1 will provide download speeds of 5-12 Mbps and upload speeds of 2-5 Mbps and the device will fall back to a 3G CDMA connection when not in range of 4G.
You can find full specifications, links, photos, and more for the Galaxy Tab 10.1 at the tracking page in our device database.
That's fine and dandy, but the question remains: where the heck is the 4G Galaxy Tab 7?!
Back in January, Verizon and Samsung announced the 4G Galaxy Tab 7 on stage in front of the press at CES. We wrote with excitement about the 4G version of the device which would also include a faster CPU and a better camera. Seven months later, the device still hasn't received an official launch date or pricing.
Perhaps Samsung decided to drop the 4G Galaxy Tab 7 in favor of the Galaxy Tab 8.9? Or maybe they're still working on updating the famed device with a dual-core CPU instead of just bumping the clock speed?
I've reached out to both Samsung and Verizon and they won't share any info not already made available in the press release that went out 7 months ago. I just hope no one has been waiting this long to buy a 4G Galaxy Tab 7"… their devotion may leave them disappointed.