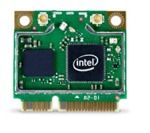 If you're checking out specifications and features of Ultrabooks for a purchase soon, make sure you keep an eye out for Intel Centrino Wireless modules. I've had very good experience with the Centrino 6230  module on two Ultrabooks now and having used Intel My WiFi tech today I can say that some of the features are extremely useful and easy to use.
The Centrino 6230 module is a 2 antenna, dual-band (2.4Ghz and 5Ghz) Wifi unit with Bluetooth 3.0 + HS on-board.  WiFi-n speeds go up to 300Mbps and I can confirm that stability and range is excellent. If you're in a crowded hotspot, the 6230 could give you an advantage.
The 6230 support Intel's Wireless Display 2 functionality where, given a compatible receiver, TV or STB, you can transmit 1080p format images (Note: with some lossy compression I understand) wirelessly. I haven't tested Wireless Display outside a trade show yet so I can't tell you too much about it. I can tell you about My Wi-Fi though.  In this article you find out how to do it and what you can do with it.