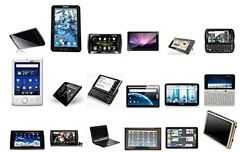 Continued from Twitter for  @alsutton @beantin @mkearley2008 and others that were maybe a little surprised at my tweet this morning…
"My current stance on iPad alternatives – There are none. inch
I couldn't answer the twitter responses in 140 chars so here's a more detailed, and I hope, understandable explanation.
Consumer Internet device success continues to hinge on applications. It's the reason that AppUp exists, that Nokia will invest 10m into developer incentives in the US, why Samsung is throwing money to Bada developers and why Chrome OS will have a web app store. It brings critical 'value-add' to a product for customers, incentivises (is that a word?)developers and provides revenue opportunities for operators. It really is a killer application and only one vendor has got it right in this space so far.
While the hardware and design for most consumer internet devices [as I write, this mostly means tablets] is the same and one could argue that there are, from a visual and usage-case perspective, many choices, only one device has the application ecosystem that gives it the 'value-add'.' There isn't another stack of silicon, hardware, operating system and services that provides this and there won't be until well into 2011.
Android is a fantastic alternative *opportunity* of course but having done more testing than most on large-format Android devices, (I cast a glance over to the Toshiba AC100) I can see that current applications are still focused on the small screen. There aren't any compulsive large screen games, video creation, music creation or even productivity apps feeding through that consider the larger form factor, longer battery life and often, more powerful CPU and GPU of a consumer internet device. Why should there be? Android V2.x doesn't provide the hooks for large-screen app development and Google limits the use of their Market to phones (and large phones.) I also think that AppUp is a good opportunity. There are now 1000 apps in the store that are written with a larger screen and CPU in mind. Most are monetised and there's potential for much more to happen on MeeGo (not forgetting Ovi) during 2011 but right now, can anyone name me a 'complete product', from silicon, through design, operating system and applications ecosystem, that offers the same as the iPad?
We used to jokingly call the iPad a large iPhone but the application store has given it differentiation. In the Android world, that differentiation option hasn't even been enabled yet. Android tablets with the application store really are large phones and until Android is enhanced and Google widens the doors to the market (and possibly creates a large-format application suite) the solution has a limited future and doesn't offer an alternative to the iPad.
There's one other point I want to make. If you're looking for an alternative to the iPad, there isn't one. If you're looking for a different product that looks the same then there are some choices out there. Unfortunately, in this consumer internet device/tablet market, I don't see many people defining their requirements before choosing a solution. I see the product desire growing through application desire (and style, of course) and not connectors and micro-sd card slots.
That's just my opinion so feel free to ramble and rant below! We might give vendors something to think about in their next product planning meeting!
Update: I always encourage thought about personal requirements. This 'chooser' tool i'm working on (currently in Alpha) shows 4 leading tablet devices and allows you to set your requirements and see a 'winner' based on public ratings. It's not a foolproof way to choose a device but it's a good way to start thinking about requirements. Ipad, Galaxy Tab, Viewpad 7 and Dell Streak Chooser Tool.