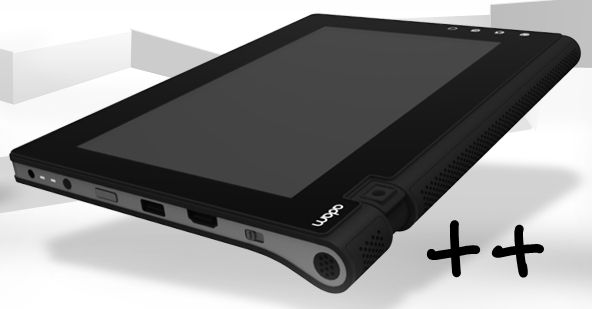 The Adam 2 has been made official by Notion Ink, the startup responsible for the original Adam tablet. According to Notion Ink, the company has partnered with Texas Instruments to incorporate TI's OMAP 44xx platform into the upcoming tablet.
The original Adam tablet may have been a bit too ambitious for the India based company. The original used the Tegra 2 platform, and Notion Ink built a completely customized tablet interface on top of an Android 2.x build. Unfortunately for Notion Ink, Google released the tablet-specific Android build, Honeycomb, shortly thereafter. This move didn't work in favor of Notion Ink or the original Adam; the promised 'Genesis' developer program for the Adam's customized software never happened, leaving the Adam with only a small number of official applications and no access to the Android Marketplace.
This time around, it seems Notion Ink might be scaling their ambitions to a more realistic level. The Adam 2 will run Ice Cream Sandwich, though it's not yet clear whether or not there will be officially sanctioned access to the Android Market.
Along for the ride in the dual-core OMAP 44xx platform is a PowerVR SGX 5xx GPU. With the IVA 3 multimedia accelerator the Adam 2 will have the power to encode/decode 1080p video. According to Texas Instruments, the OMAP 44xx platform has 150% performance of the previous ARM Cortex A8 core. Also supported is a camera with up to 20MP (though the Adam 2 will likely not have a camera with such a high resolution). There's no word yet on release date or pricing for the Adam 2, and no photos have been released at this point.
That's all fine and dandy, but it wouldn't be Notion Ink without at least one ambitious goal that may or may not be a little too big for the company to handle, amirite? This time around, it sounds like Notion Ink wants to design a user-friendly visual programming environment… that will presumably only run on the tablet. Here's how they explain it:
Adam II will release the world's first Modular Based Software Architecture which will further expand the scope of application development and use nearly every single hardware feature in a "user customizable inch application. Drag and drop features will enable easy application modification and Open Source Module will further expand the use cases and tablet deployment. Node operations like in Blender, and "Application Authoring Tools inch are primarily aimed at non-programmers for composing applications, games and use-case flows in a drag-and-drop fashion, utilizing visual editors and behavior-based logic system.
Notion Ink has managed to undertake this difficult task which may prove just a bit too challenging for the company, but at least there's a glimmer of hope that they'll manage to make it happen. I just don't want to see this go the way of Genesis! I hope they can accomplish what they've set out to do, I'd love a visual programming environment — I suck at writing code! Good luck, Notion Ink, we've got our eye on you!