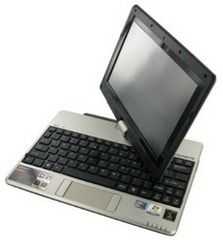 Me and chippy mentioned on Twitter just the other day that more power was needed from netbook based systems and Gigabyte may have just come up with the goods in their T1000 series refresh.
The T1005M comes packing Intels newest Atom processor, the N550. Its a 1.5GHz dual-core chip with 512KB of L2 cache, DDR3 support and hyperthreading to get you multitaskers moving along nicely.
Other specifications from this convertible netbook include, 2GB DDR3 RAM, 320GB hard drive, WiFi 80211b/g/n, Bluetooth, 2x USB 2.0, Windows 7 Home Premium and a 10.1 inch capacitive multi-touch display running at 1366 x 768 pixels resolution. What is also notable is the inclusion of one USB 3.0 port and optional inbuilt HSDPA.
Based on these specifications I think we have found chippy a new convertible, assuming he's willing to stump up the $798 USD premium.
The unit weighs 3.3 pounds, measures in at 10.4 inch x 8.4 inch x 1.6 inch and comes with a 6 cell, 41Whr, 7650mAh battery.
Gigabytes T1005M is already available in Australia, although curiously the retailer is showing the product as discontinued. When it will grace European and US shores is yet unknown but watch this space.