I'm looking back on UMPCPortal to see how long it's been since we've had hands-on with a 1KG, ≤ 10"  PC…..In Sept 2011 we covered the MSI Windpad 120W which didn't make it to market. There was also the Fujitsu TH40/D which also doesn't seem to have made it to the market. I also had some hands-on with the new Gigabyte S1081 Windows tablet at CES (which I forgot to post here, sorry – here's the video.)  I know I've missed a few in between (for example the Viewsonic Viewpad 10 Pro) but you can't deny that times are tough for the Windows road-warrior.
How stimulating it is to have the Kupa X11 [details] here for testing!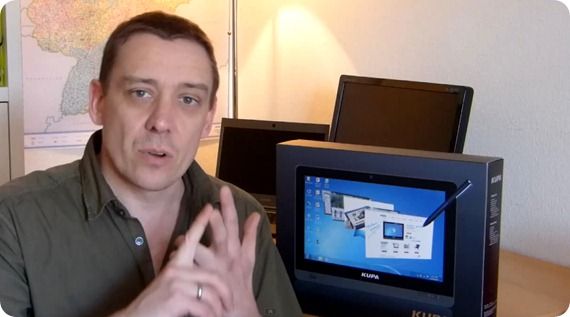 In terms of specs the Kupa X11 looks good. Yes, there's a 1.5Ghz Atom inside which won't impress anyone looking for CPU specifications but it's turning in 1800ms on Sunspider and has been coupled with a PowerVR SGX 535, 64GB SSD and 2GB of RAM so it's not exactly lagging in the current tablet space.
There's a dual-mode screen (capacitive and digitiser) and a huge battery which I'll mention again below. The screen is a good, 1366×768 resolution which is enough for Windows 8 Metro usage. You won't find many Tablet PC's with a 10" screen and this resolution today although in 6 months, it could be a different story. In this 'Pro' version, there's a 3G module too. You don't get a VGA port, USB3 port, docking port or stand though.
Obviously the Kupa X11, at 1KG in weight, is focused towards the pro-mobile user but the packaging is very much consumer-oriented. The build quality matches the packaging too with good plastics and metal and a solid feel. It's a little dense for a 10" tablet but that's mainly because the ARM-based tablets I've used recently are around 30% lighter. For a Windows tablet, it's not bad; especially when you see the battery size. 52Wh is huge, and it shows in battery life. In a 2hr browsing test this evening (low light) I was seeing a consistent 10hr battery life. I'm confident of 8hrs productivity at this stage.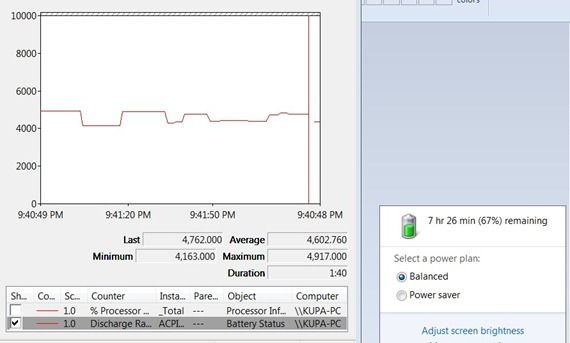 4.6W average drain for a 10" device is excellent. It's class-leading and showing that the screen and WiFi components are well matched. This test was done with Windows 7 though, I'm expecting an improvement on that with Windows 8 and I'll be testing that later this week.
Notes:
It appears to be fan-less. At least during my 2hr test in a silent room I didn't hear any noise. There was minimal heat too which is a really good sign.
Pressure sensitive digitiser not tested yet.
Matt screen cover was included. (I believe this is an optional extra.)
720p YouTube works OK. 720p local H.264 playback tested OK. 1080p not tested yet although I'm expecting it to work OK through the GMA600 GPU.
The Windows 7 build was pre-optimized for touch. (Scroll-bars enlarged etc.)
Application startup time seems reasonable for a 1.5Ghz Atom-based device.
Resume from standby is about 5 seconds. (I will be testing to see how long standby works – Kupa are quoting 30 days standby although this could be in hibernation mode.)
Frame buttons help with navigation and include a secondary brightness function although the buttons are hard to press.
In the video below I mention a micro-SD slot. It isn't a micro-SD slot, it's a SIM card slot. There's no removable SD storage on the Kupa X11
I haven't found a way to lock the auto-rotation yet.
Capacitive touch is 2-point multi-touch.
2.0Mp front and 3.0MP rear cam not tested yet.
Fingerprint reader not tested yet.
SSD speed not tested yet.
Here's the unboxing and overview video. As it's effectively a first boot on this video (I had booted it briefly once before but for no more than 5 minutes) Windows 7 was doing a lot of work in the background during this demo so the applications don't look that good but subsequent tests were much quicker.
Check back for more information coming later this week. If Windows 8 testing goes well I'll arrange a live session for you too.