JKKMobile and UMPCPortal are pleased to announce a special live hands-on, demo and Q&A session next Tuesday, 15th of September. The Convertible Touchscreen Shootout!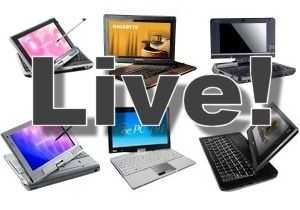 Following the Archos event in Paris (1800 Paris time) we'll be live to give you a hands-on overview and a chance to ask questions about the new Viliv S7 that is on it's way here from Korea and to show you three other convertible touchscreen solutions. The Asus Eee PC T91, the Kohjinsha SK3 and the Gigabyte Touchnote T1028M. Also on-hand will be the Fujitsu U2010/U820 (recently upgraded with a Runcore Pro IV SSD) and the Kohjinsha SC3. We'll also be contacting owners to ask for their opinion on the devices and inviting them to join us in the live session so that you can get a well-balanced opinion on all of the devices.
The session will open from about 1900 GMT (8pm London, 9pm Berlin, 3pm New York. Check your local time here.) with live video from JKK and Chippy and the usual open chat session. We expect the session to last for about two hours. Join us in the usual place….
http://www.umpcportal.com/live
See you there! (Session will be recorded if you can't make it.)