I just cant wait any longer for that Kohjinsha SC3 to arrive. The videos and feedback from early tests have proven to me that this could be one of the best ultra mobile PC / mini-notebooks yet. Its tiny, light, well-specified and looks great. The question we are all asking though is…"How good will Vista run." We're one step closer to the answer today because I've just recieved a set of CrystalMark test results from DFJ. I believe this is the first ever set of test results for a production Menlow (Silverthorne/Pulsbo) device so lets take a quick look and I'll make some comments below.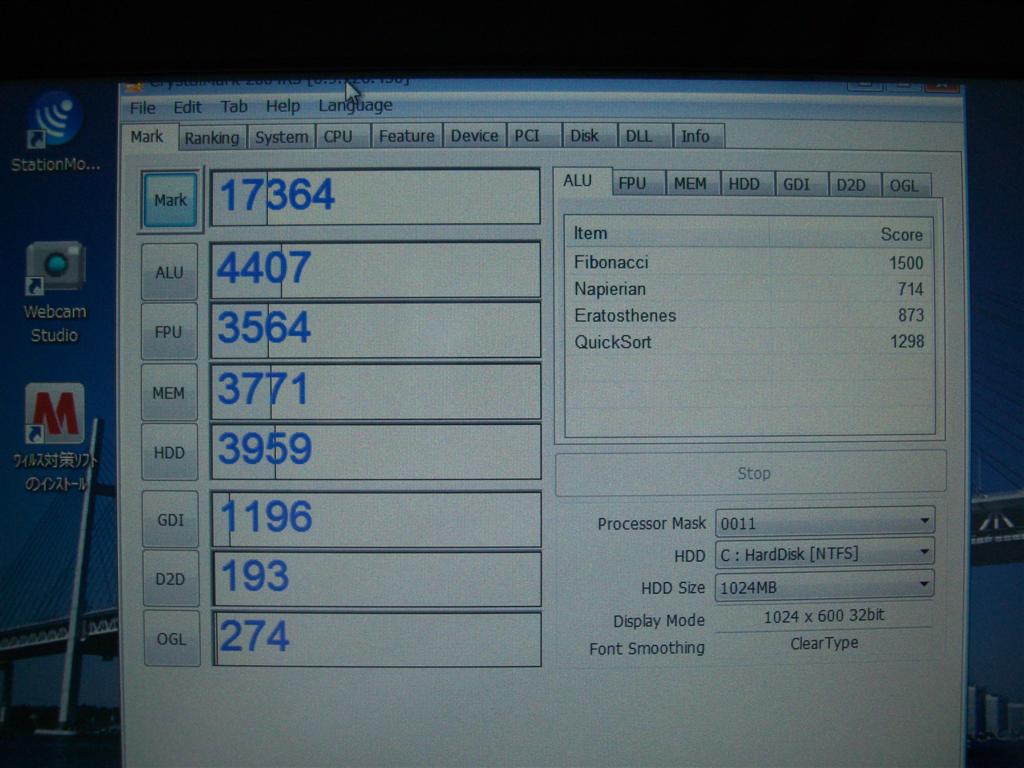 The tests were done on a stock device (Vista Home Premium. 1GB RAM) and overall, its looking good. The CPU figures are quite impressive. Better, in fact, than any other ultra mobile PC platform. Only the Intel notebook-based CPU's used in the Q1 Ultra Premium and the Sony UX are better. Memory speed is also good. Top marks! Looking at the disk (Spinpoint N, HS06THB, 60G, 4200 RPM, PATA(ZIF), 8MB CACHE) I see a high average which, if you look at the detailed results, translates to a max read speed of 30MB/s and a max write speed of about 27MB/s. For a 1.8″ drive, this is about as good as it gets right now.
Looking at the graphics scores shows some very low-end results. They dont quite tally with the Vista performance score we saw so for anyone looking at gaming on this – dont! For the 3D components in Google Earth and Itunes, we'll have to see how it performs when we do tests. I suspect it will be OK.
For a big list of comparable CrzstalMark results, see the list that Frank keeps over at Tweaks2K2.
Note that the CrystaMark test doesn't show us any video performance results. The Poulsbo chipset contains hardware acceleration for many common codecs and we wont see those results until someone does tests with a media player. In theory, results should be good.
So will it run Vista? The jury is still out on that one. Ive seen Vista Home Basic running acceptably on the HTC Shift but it wasnt exactly fast.  With some optimisation, i think Vista is going to be acceptable for most people. For others, upgrading the RAM to 2GB might be the answer and for a few people, it simply wont be good enough. The flip-side of the coin is that we know it would run XP extremely well. I hope, after time, a downgrade to XP will be possible. Ive taken the precation to include Vista Ultimate in mz purchase so at least i'll have the license when it's a possibility!
Thanks to Direct From Japan for the test results.