Performance.
Its a two-sided story with performance on the Everun Note because of the dual operating modes of mains and battery. Its not possible, through any normal means, to get full power under battery life and its probably a good thing too. We're seeing about double CPU and GPU performance under mains power which would bring the device to its knees in well under an hour if running full-tilt on battery.
Particularly impressive under mains power are the FPU and ALU results on CrystalMark2004 which show double the performance of the 1.6ghz Atom and the 3D performance which, according to 3DMark2001Se, is 30% better than the GMA950 found on Intel-based netbooks. In comparison with a Samsung R40 notebook with a dual-core 1.6Gz Core2, its about 60% of the performance. Not quite the statistics you'd call 2008 desktop standard.
| | | | | | | | | |
| --- | --- | --- | --- | --- | --- | --- | --- | --- |
| Mode | ALU | FPU | MEM | HDD | GDI | D2D | OGL | Total |
| Full power | 9075 | 10305 | 6781 | 2763 | 6310 | 2753 | 1790 | 39777 |
| PS (external power) | 6493 | 7227 | 4668 | 2648 | 4415 | 1884 | 1178 | 28553 |
| Battery mode | 5236 | 5562 | 3691 | 2807 | 3685 | 1712 | 961 | 23654 |
As an extreme comparison, take a look at the performance scores on the original Raon Digital Everun. It was a reasonably good device for web browsing but its crystalmark score clocked in at a lowly 11500! Working from estimates that the original Everun CPU was four times as powerful as a Nokia N800, the Raon Digital Everun Note works out at nearly 16 times as powerful. An unfair comparison with a more mobile device perhaps but an easy way to see where it fits on the CPU scale.
3D performance.
The Everun Note uses the AMD R690 chipset which includes the ATI X1200 graphics core with 128MB of graphics memory. Core clock 400Mhz. Memory clock 333Mhz. Like the CPU, performance under external power is in a different class to previous UMPCs. Where a Samsung Q1 Ultra with the GMA950 GPU would achieve around 2000 points on 3DMark2001SE, the X1200 turns in almost double that as the same resolution. Four times that of a WiBrain B1. Side-by-side tests with the Medion Akoya (MSI Wind) showed a 30% advantage. Under battery power, again, expect netbook-standard 3D performance as the clock is dropped to save battery.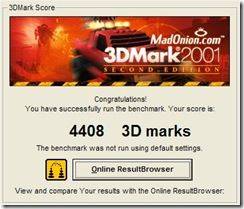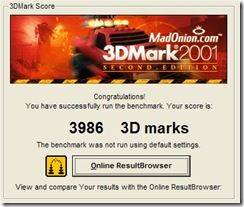 800×480 and 1024×600 mains-power 3DMark scores.
Gaming is not something that gets covered a lot at UMPCPortal but it must be said that it was a pleasure to see FIA GT, Unreal Tournament 2003 and Half Life working. These games were tested under mains power and the fan was clearly running at full power to try and keep things cool. Given a set of headphones this would make a fun gaming device but unless its externally powered, its only going to be as powerful as Atom-based netbooks and will have an extremely short battery life. No-CD hacks or images loaded through a CDROM emulator are also necessary for most games.
Video Performance.
A feature that VIA have had for a long time in their mobile chipsets is video acceleration. The AMD X1200 is also able to perform hardware acceleration on MPEG4, MPEG2 and WMV standards although the MPEG-4 acceleration appears to be restricted to the earlier MPEG-4 standards and not H.264. Under mains power, video performance goes way above 720p to 1080p levels for MPEG2, Divx and WMV and thanks to the powerful CPU, this should be possible with H.264 when using an efficient codec. Under battery power the performance also exceeds what you would need for a 1024×600 screen with 720p possible in all formats tested. Our benchmark 'Coral Reef Adventures', a 6.5Mbps WMV9HD 720p video needed a few tweaks to power saving modes and optimisations in the recommended KMPLayer to get it to run perfectly but it was a pleasure to see in the end. As part of the package, ATI supply codecs that were tested successfully in KMPlayer.  Expect a more detailed post about video performance in the coming weeks.