When will the madness end? New slate devices currently seem to be announced as frequently as a new Eee PC model was a year or so ago. Why are all these slates popping up, and is anyone even buying them? This all seems awfully familiar too… didn't we already hate these devices once before?
What's with all of these damn slates lately?
Over the last few months we've seen slate devices spread at a ridiculous pace. For a simple demonstration of this, take a look at the visual version of the Portal — 6 of the top 10 devices are slates!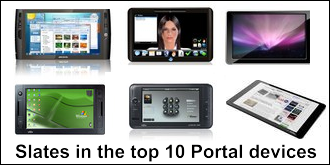 Archos 9 – Evigroup Pad – Wits A81– Viliv X70 – Viliv S5 – CrunchPad
And while not yet in the Portal, the IDC Vega was also just recently announced, and there are plenty of other pending slates that I haven't listed.
Where did they come from?
I blame one device, one example of vaporware, and one rumor. That would be the iPhone, the CrunchPad, and the Apple tablet rumor respectively. Hat tip to Jenn of Pocketables.net who got me started thinking about article by saying that Apple "messed up inch what people think of as the ideal form-factor in a device. Apple showed that a slate form factor at the iPhone size can be a a productive and downright useful tool, but only when all of the pieces fit together perfectly — meaning not just hardware, but software as well.
Then we got started with the Apple tablet rumors which could have an entire article dedicated to them alone — but I'll spare you the agony. Long story short, Apple tablet rumors seemed to start forming from a combination of wishful thinking and a few touch oriented patents that Apple filed. Now weekly we see at least one rumor. But what effect has this had on these slate devices? Well I'd argue that without this Apple tablet rumor insanity, the majority of these devices wouldn't even exist. Apple tablet rumors have been ongoing since at least 2000, but we don't see them start to pop up in the form that we know today until shortly after the release of the iPhone in 2007.
Even the CrunchPad (one of the first of these slate devices) which doesn't appear to have been conceived as a response to the tablet rumors, was compared from all angles to this rumored device, that doesn't even exist, from the get-go. With some headlines heralding it as an "Apple tablet killer inch despite the fact that it is often hard, nay impossible, to kill something that has no physical presence in this thing that we call reality.
Is it just me, or does it seem like most of the above devices are attempts to beat Apple to a market that they might not even enter, using the power of the Applet tablet madness to drive interest? Honestly, most of these devices aren't even released yet and they are still commanding top positions here in the Portal. Clearly there is interest, but that doesn't mean that these devices are going to be any good. In fact if we think back just a few years ago, we might find ourselves with a feeling of promnesia.