Other notes:
This is a demo device. (Not retail pack. See case and package contents at Pocketables)
Recessed optical mouse more of a disadvantage than advantage (it's recessed to prevent accidental usage)
Mouse buttons are hard and uncomfortable to use but advantages outweigh the issues. (In general, it might have been better to put the mouse/buttons on the keyboard frame but it depends on how you use the device.)
Mono speaker is loud enough for most operations.
Touchscreen has an extremely light and accurate touch. (It uses the same stabilization-enabled driver as the UMID)
Wifi / BT are independently controllable.
Return from hibernation is fast (20 sec due to 512MB RAM) and Wifi settings remain.
XP Home base install has 37 processes (includes BT, launcher, Intel graphics tray etc.)
Close lid to standby is very reliable (I set mine to go to hibernation after 20 minutes.)
Micro SD card transfers were fast enough for audio media.
VGA out adapter drives a 1920×1080 monitor
Skype works without headset.
Skype video works (not as good as M1 lower framerate)
Software includes 'Thepot' player which is a nice touchscreen launcher for other apps and UMID-specific features.
Wifi reception average
Bluetooth stack is Bluesoleil (good)
Good selection of keyboard shortcut buttons
Keyboard has some play and scissor-action keys not perfect for thumbing.
Super-bright screen (but doesnt go dark enough for night time use)
Silent operation
Heat build-up on charging with simultaneous use. Some heat build up on heavy use.
Incorrect balance on table with screen 80% open (OK when fully open)
Screen frame plastic looks and feels cheap.
Rubberised finish is non-slip.
As with all Menlow-based devices Forget any 3D gaming!
Resistive touchscreen.
No stylus.
No keyboard backlight
370gm measured weight.
Couldn't get mic in headset to work.
Included headphones very sensitive (loud!) and poor quality. (Normal headphones sound loud and acceptable Not hifi!)
No bass/treble control on sound.
No remaining battery time indicator (only %)
UMID BZ Specifications and links
Overall the UMID BZ is working very well and there are no major issues to report at this stage. In comparison with the U820 that I use, the UMID is better value, has longer battery life and is much lighter although I do notice the difference between the 1.2 and 1.6Ghz CPU at times. With 3G, this would make an excellent microblogging device. If I could change anything it would be the looks and the keyboard. Swap out the keyboard for the one on the Eking S515 and this would be one of the best two-handed UMPCs out there. Of course, the Viliv N5 is due in a few months so I understand why people might just hold-off on this until the first N5 tests come in!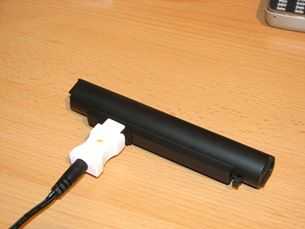 Well done UMID. Battery charging adaptor helps in two-battery scenario.

Works extremely well as a microblogging device.
Video: Overview and VGA cable demo (to HD screen)
Video: Battery charger adaptor. We are not sure if this is part of the retail pack.
Our gallery of images is here and Pocketables have another set of unboxing photos here.
Reminder:  LIVE SESSION. UMID BZ will be live on UMPCPortal.com/live on Monday 25th at 2130 CET. (Your local time listed here.) Join for live overview,testing and Q&A with video and chat sessions. JKKMobile will also be joining.
Recordings of the live UMID BZ review are here.
UMID BZ Specifications and links
Pages: 1 2