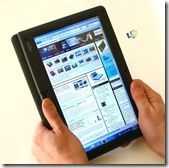 Viliv are slowly making quite a name for themselves in the mobile computing market. We've seen 3 releases and 3 excellent products from them in the S5, X70 and S7 (information). Next on the list is the Viliv S10 Blade, a very small and lightweight netbook with a convertible multitouch screen, a claimed 10hr battery life and, in the device we're testing here, a fast, solid state disk and Windows Home Premium. The specifications look good but will Viliv be able to compete against a huge number of successful netbooks and similar 'netvertible' competitors? In our full review we dig deep into the device to find out. We highlight the key features, key customers and test the device from top to bottom.
Overview
As you can see from the images below, the S10 is a multi-use device. It's aiming to be a notebook and tablet in one by using a low-power platform, a convertible screen and multitouch capabilities. At 1.2KG,2.6lb it comes in at the mid range of the netbook spectrum and compares well to other netbooks claiming a similar 10 hours battery life. The S10 comes in various versions ranging from a basic 1.6Ghz (Intel Atom) version with Windows XP up to a 2.0Ghz version (see below) with 3G and Windows Home Premium. All models use a fast SSD and all models come with 1GB of RAM.
Open Review
We put a lot of effort into reviews on UMPCPortal and one of the key features of our reviews are the open, live sessions we hold in the first few days of receiving a device. We team up with JKKMobile on a live, recorded session where people can come in and watch as we go through initial tests. These intensive sessions, often steered by members of the chat session that we run alongside the video, usually last for a few hours. We have recorded two segments of that live session and they are available on YouTube. The quality is not fantastic but if you are in the final stages of deciding whether to buy a Viliv S10, this might be exactly what you need.
First five minutes.
We received a production sample that is said to be very close to the final build. Unfortunately we can't say much about the unboxing experience due to the lack of retail packaging and accessories. What we can say is that the device looks and feels great. Quality all round! The back of the screen is a glossy black with the rest being a matt dark grey finish. The chamfered edges make that already slim device look super-thin. 'Blade' describes the device well.
Here's our unboxing video.
We assume that Viliv will ship the device in similar style to previous devices which means the packaging will look great. In the box you'll find a charger (transformer contained within the plug housing making it very compact) a USB-Mini USB cable (for the file transfer feature see below) and documentation. We're not sure at this stage if the device ships with recovery disks or a recovery partition.
Specifications
Although this is a netbook-style device it's not using the typical netbook platform. The S10 is build around the Intel Menlow platform used on such devices as the Fujitsu U820 and Sony Vaio P.
Full Viliv S10 specifications at UMPCPortal
The device we have for testing is the 1.6Ghz, 32GGB SSD version with 3G option and 1GB RAM running with Windows Home Premium.
From the outside
As mentioned above, the device looks and feels great. The plastics and paint seem to be good quality. The port layout is slightly different due to the platform used. You'll find 2 full-sized USB ports and a Mini USB port that can be used for file transfers (see below.) There's also an analogue video out port which can be used through a breakout cable (optional) that offers component, S-Video and composite video along with 2-channel audio. At the front you'll find an SDHC slot that is very easy to access. The VGA connector is at the rear. There's no ethernet cable port. If you need that feature you'll have to invest in a USB-Ethernet adapter.
There is only one button on the device the power button. Alongside that you'll find the usually array of LED indicators.
At the rear is the big 47wh battery. Underneath that is the 3G SIM card slot and above it is an access cover that gives you access to the 1.8 inch ZIF PATA drive.