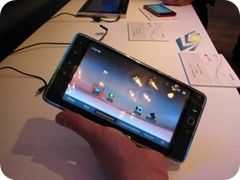 Following a slight set-back on a ultra mobile PC product that was due to turn up today I've decided to order something else to take my mind off the pain. It's the Huawei S7 Android tablet.
Why?
Because this device impressed me at Computex. It's the first 7 inch Android tablet to ship with a complete Google-certified Android build on it. That means Marketplace and Google-app-goodness unlike the disappointing experiences I've seen with the Archos 5 and 7, the SmartQ7, the Compaq Airlife and the tens of others tested at various trade expos over the last year. I'm not 100% sure that what I saw in Taipei is what I'm going to see after the unboxing (the ultimate shock will be come if it doesn't have the Marketplace) but I'm fairly confident that I'm getting a capacitive 7 inch 3G/voice-enabled Google-approved Android device. It's the finer points that I'm not sure about like GPS, upgrade to 2.2, battery life etc. Still, on a business purchase I've just paid about 270 pounds which I think is great value for this hardware.
Did I buy it for me? Not really although this could seriously become the coffee-table PC that the iPad was for a week when I had it. With SD cards that you can write to it will be the perfect image viewer. It's no retina screen but will do a great job of showing a web page without having to zoom. It doesn't have the book content that the iPad has yet but when Amazon's Kindle application comes along, this will make a better reader than the iPad. How about that one-handedness? Only 500gm too! I really want to see if there's a docking port/cable/accessory and if it has an electronic compass and GPS, Google Sky Map will be incredible. The main reason I bought it is to continue my testing with mobile operating systems on larger form factor devices. We've been through the Airlife 100 and the Dell Streak so now it's time for something in the middle.
Do you remember Origami? The 7 inch slate devices were initially marketed at the young social user and were said to have a price of $500. When they appeared on the market they were $1000 and lasted for 3 hrs maximum before needing a charge. The UI was productivity and pen focused and there was no such thing as Twitter. The Huawei S7 is the Origami device done right….i think!
Delivery is due in just over a week but don't hold your breath. Expansys have a habit of slipping dates so it could be a few weeks! Whatever happens, when it turns up you'll find an unboxing here within hours. We'll also run a live Q&A session for you too so you can come and see the device and ask questions.
Expansys UK order page is here [This is not an affiliate link and this article/purchase is unrelated to any Expansys advertising that you might see on UMPCPortal or Carrypad.]