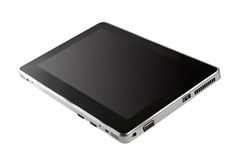 Gigabyte launched a new Tablet PC at CES that we haven't reported on yet. My fellow MeetMobility podcaster Sascha of Netbooknews has just had hands-on today so it's worth plugging his video and talking a little about the device.
Firstly, we're talking about 10 inch capacitive touchscreen tablet at 900gm running Windows 7 on a netbook platform with the N570 (2×1.66Ghz) CPU. Usefully, there's a built-in mouse area and left-and-right mouse buttons which is perfect for two-handed use. Unfortunately, there's no digitiser so you're left with a slight mismatch between the pen-focused Windows 7 and the finger-focused touchscreen. It's something we've seen in a few devices recently and we don't like the trend. HP have it right with the dual-mode 500 slate as do Lenovo and Motion Computing.
Interestingly though, the device isn't aimed at vertical markets. The press-release from Gigabyte (Jan 6th) sates: "The S1080 is designed to be the ultimate mobile device to fit the demanding needs of consumers who need a high-performing multitasking slate that offers the full productivity of a PC, inch OK, taken from that angle, they might have it right. There's a suite of overlay software and, i'm pleased to say, provision for a docking port that looks, based on the size of those connectors, to offer serious connectivity. Wouldn't it be nice to have a PCI-Express slot in the docking station. Gigabyte are no stranger to the idea of PCI Express but it has far more value on a powered docking station. Later in the press release, Gigabyte allude to a more professional customer: "The large hard drive also makes it the perfect device to load custom business and enterprise applications"
We seem to have an interesting product here for either consumer or enterprise markets…until we look at battery life which brings a huge question mark to the table. N570 at 900gm means max 30Wh battery and that means 3-4hrs in my opinion. I've tested the 1KG N350 (Samsung, also dual-core Atom) and that didn't get much past 4hrs. Still, with the dock in use, this could be something for hot-desking and hot couching! I'm looking over at the Fujitsu U820 that is powering this post and thinking, hmm, upgrade time? A 10 inch screen next to my desktop screen would certainly be more useful on my desk than the 5.6 inch-er I've got here. Let's hope for 2GB and Windows Home Premium and the possibility to swap the HDD for an SSD.
Here's the video from Netbooknews.
via – Netbooknews