I've been seeing a lot of talk and getting a lot of questions about a possible Nokia / Intel / MeeGo phone that could be launched at MWC. Rumors center around the Nokia N9 which is a slider phone said to be running MeeGo and to be launched at MWC. While it might be launching, I doubt very much it's got Intel inside.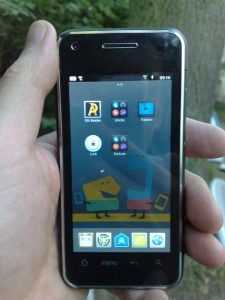 I've already predicted 2012 for Intel/MeeGo smartphones because Moorestown's 2-chip solution isn't quite perfect for a high-end smartphone. Especially one with limited space for battery as in the slider design you see. I've also had private hands-on with MeeGo on Moorestown and seen the work that needs to be done on the MeeGo core before it's ready. I doubt Nokia want to release another developer-focused 'demonstrator' phone in the way they did with the N900
Report: Timeline for MeeGo Devices
With Moorestown not quite right and MeeGo not quite ready, can you imagine the risk of Nokia would have to take showing a beta product or prototype based on MeeGo? No. Nokia and Intel will have agreed to make a splash with the first smartphone and I expect them to wait until later in the year.
Could the N9 be a MeeGo phone on a Ti platform? Yes. Ti were a Gold sponsor of the MeeGo conference in November.
Could we see it launched soon? I'm guessing May based on the fast that Nokia could be working with MeeGo 1.2 beta releases.
Will Nokia pre-announced the N9 at MWC? Assuming it's a MeeGo product, I doubt it. Nokia have stated that they don't want to 'leak' or preview devices any more.
And here's another data point:
I spoke to Intel at the end of November about Moorestown and Medfield progress. Here's what they said:
Is Moorestown in full production now?
Yes, Moorestown has been in production since we rolled it out in May 2010. Our tablet and smartphone customers are using the platform to build their own devices and this is the current focus on Moorestown.
Target was 2010 for products, Why the delay?
You can expect Moorestown based tablets in 1H'11 and smartphones later in the year.
What operating systems options are you planning to offer for Moorestown?
Moorestown supports both Android and MeeGo.
Are you accelerating Medfield?
Medfield is on track and scheduled to launch in 2011
There's a hint of of a Moorestown smartphone in the answer to the first question but look at the timescales in question 2. 'Later' than 1H 11 sounds like 2H 2011 to me. If a Moorestown smartphone is going to happen, it's not happening until the second half of the year. Medfield isn't being accelerated as far as I can see based on the answer to the last question.
Finally, my native Finnish-speaking co-podcaster JKK of JKKMobile doesn't read any solid fact in the Finnish article that started this rumor.
MWC is going to be big for Nokia and big for Intel. Look at the floor space that Intel have this year. Two booths, a Meego hospitality suite, the Wind-River subsidiary and a keynote with Paul Otellini. Rene James , head of the Software and Services Division says this:
There are things we'll announce at Mobile World Congress that will shed a lot more light on why the value proposition [of MeeGo] makes a lot of sense for consumers and device manufacturers. [ref]
MWC will be all about software for Intel. AppUp on MeeGo. Tablet UI. Major ISV partners. MeeGo V1.2 beta announcement. Major brand joining the MeeGo partnership. All these things are more likely than the Nokia/Intel phone.
As for Intel hardware, expect to see tablets based on Moorestown running MeeGo 1.2 beta and Android. If that's done right, it could be big enough news to keep the momentum going until later in the year.