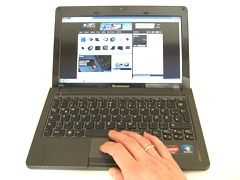 As part of my 'ultra mobile video editing' project I've bought myself a second notebook. Previously I worked with the Acer Aspire One 522 based on the AMD Ontario APU. This time I've bought a Lenovo S205 notebook based on the E-350 Zacate APU and have moved up a notch in my search for a good-value, low-stress 720p editing and rendering solution.
Watch the unboxing video below.
Like the Toshiba NB550D I tested last week, the Lenovo S205 lightweight laptop feels like solid, a well-built device. I'm sure Lenovo could have shaved 100gm from the plastics but it looks like they've adhered to their build quality standards with the S205. The materials feel good, the finish is nice and the keyboard is a very high quality feature.
For 399 Euro you get the dual-core Zacate CPU running at 1.6Ghz with the Radeon HD6310 GPU with HD decoders. There's 4GB of RAM, a useful 500GB hard drive (in two partitions with 400GB free on one, 27GB free on the other intended for 'One-Touch Recovery' images) and it's running Windows Home Premium. The 11.6 inch screen has a useful 1366×768 resolution which, along with the excellent keyboard, reduces stress levels when sat down trying to create any sort of rich document where images, links and other items that need to be pulled together from various sources. Veriface facial recognition software is included which initially quite exciting to use but it's much slower than typing in a password. One-Touch Recovery is software that can take a snapshot of the operating system drive and save it as am image. This is useful when you've got your initial build stable and efficient. A boot optimiser and power management application are included and there's a DirectShare application which hasn't been tested yet.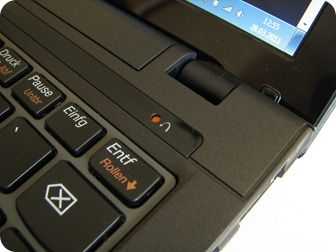 It does weigh 1.47KG though which is a noticeable step up from a 1.2KG netbook. Along with that, there's a significant increase in battery drain meaning the rather low-end 48Wh 6-cell battery could be drained in 2 hours if you try hard. In a video rendering test with the screen and Wifi on I was seeing 16Watts being used which equates to 3hrs. After removal of McAfee and may Windows 7 effects, a reboot and a settling down period, I'm now seeing an average drain of 6W with Wifi off, screen on a 20% setting and the Livewriter application running. As a typewriter, you're looking at about 6-7 hours of battery life. That's quite the dynamic range there. Anything between 2 and 8 hours depending on usage! If only Lenovo had put a high-capacity battery in this. 60Wh would have permitted an 'up to 10 hours' marketing statement. 5hrs is the claim and that seems reasonable.
In terms of performance I'm seeing a good step up from AMD C-50 performance although there's not much of a difference in CPU processing power to what I've measured on a dual-core N570 CPU that you'll find in upcoming netbooks . 3D graphics performance is indeed impressive but not impressive enough to make this a full gaming device. It will certainly boost Google Earth, Cover-Flow and other 3D features in high-end applications though and it boost the UI experience well. Some gaming is possible but don't expect to use high-end settings. Again, you'll hit the 2hr mark when gaming so bear that in mind when mobile,
Here's a comparison of the CrystalMark tests on a stock Asus Aspire One 522 (AMD Ontario C-50 CPU) and the Lenovo (AMD Zacate E-350 CPU)
Acer Aspire One 522, Left. Lenovo S205, Right. Click to enlarge. You can see 50-60% CPU performance increase (which relates to the 60% clockrate increase) and the disk and memory get a boost too. I'm confused about the open GL scores though. CrystalMark is quite an old test so perhaps the improvements aren't showing up in this test.
Update: I was right to question the graphic scores. It looks like the 'Power Play' feature [available in the Catalyst Control Center] was set to restrict GPU performance. With 'Power Play' configured for max performance, the scores are very different: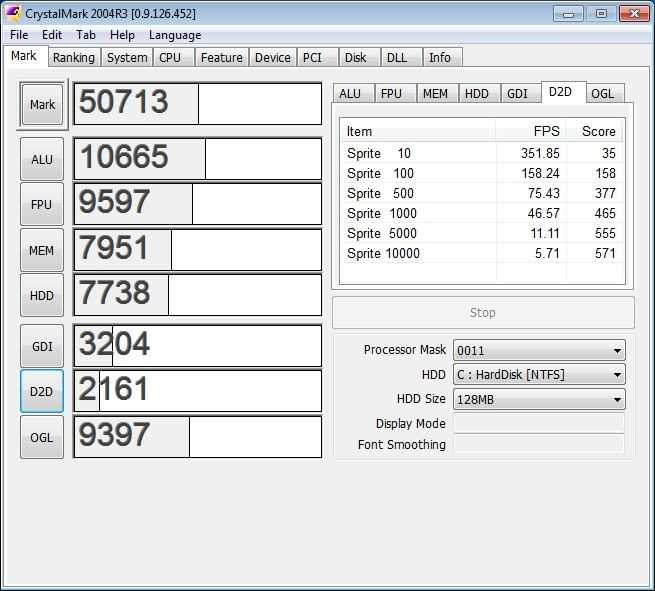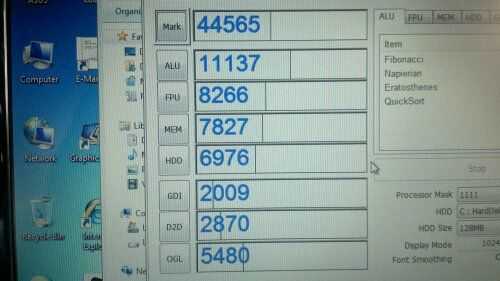 For comparison, here's the result from a dual-core N570 Atom CPU with Nvidia Ion platform (Asus 1015PN tested at CeBIT 2011) The results across the board match very closely. (See the update above, The Zacate APU outperforms the ION2 platform by a lot in the GPU tests)
I tried 3D Mark 03 on the Lenovo S205 but it crashed after the first test. 3DMark 06 was tested on the S205 over at Ndevil.com with a result of 1995 points. Interestingly, Netbooknews tested the NB550d, based on the Ontario platform, and saw 1889 points. Again I'm confused about the graphics performance here. Update: The results could have been due to the issue I experienced above.
A few more notes before we go into the video…
Fan On most of the time and varies in pitch a lot. Not annoying, but noticeable.
Screen Good clarity, contrast and brightness. Excellent side-to-side viewing angles. Opening angle not great, Hinges seem OK.
Mouse and mouse buttons Good quality. Small touchpad area might take some getting used to but it avoids accidental wrist touches.
Speaker (Mono I believe) OK for the occasional video, skype session.
Memory and disk not easily accessible
USB ports are 2.0 only
Bluetooth is 2.1 + EDR only
Comes with McAfee pre-installed.
Hard drive includes movement detection and protection.
Summary
While the AMD platform inside the S205 idles down nicely to show an efficient build, it's capable of draining battery faster than any netbook I've seen. The 7 hour battery life seen when typing a document could drop to 2hrs when gaming. Heavy CPU usage will also push the drain up and the battery life down towards the three hours mark. Average battery life for the normal user looks to be about 20-30% less than on a 10 inch netbook, about 4 hours with the included 48Wh battery. If Lenovo had dropped in a high capacity battery we would be looking at a much more interesting 5hr figure but that's not the case. I like the build quality and the 1366×768 screen is OK for my eyes at standard settings in this 11.6 inch frame. It's also good for some applications that require 768 pixels vertically before they install or run.
Performance is good but not in a new league compared to the latest Atom N570 and Ion2 platform. I honestly expected more from the CPU and I'm confused at the 3D test results I've seen. In general, it's a well-balance system and performs most daily tasks well. In my daily routine, a largely web-based office existence, the S205 performs well. The keyboard and mouse are impressive and when combined with the screen, it's a noticeably less stressful experience than when using a netbook.
For the price, I paid 399 Euros, the Lenovo S205 is a high quality, well balanced and flexible device that offers enough power for everyday computing, some gaming and an impressive show of high-definition playback performance. It's a sensible choice, almost boring, but one that will keep many happy and provide a good upgrade from a 2-year old netbook.
Personal Thoughts.
I was really expecting more from the E-350 CPU and it's clear from early tests that this isn't the comfortable, ultra-mobile 720p editing solution that I'm looking for. 3hrs rendering battery life equates to about 45 minutes of 720p video rendering. While that might be enough for a days worth of clips, it's doesn't leave enough battery life left for typing the articles (although there's some scope for typing while rendering here it seems to multitask well.) Like the Dual-core Atom and C-50 devices, this is for 480p only and I'd class it in the high-end netbook performance category.
An SSD is going to boost startup performance nicely but with the disk appearing to perform well anyway, it may not be as noticeable as on some other devices. I love the build quality and want to keep the S205 but I know there are better solutions out there. Your suggestions for next-in-line on this test series are welcome! I'm looking at Corei3, i5 solutions next.