The more I test Intel Sandy-Bridge based systems the more I am becoming convinced that laptop silicon will eventually extend as a high-dynamic-range platform into to ultra-mobile PCs and tablets. The reason is that the new laptop platforms are using advanced processes and techniques and are extremely efficient at getting things done. 'Hurry Up Get Idle' is a simple concept that means if you can get the same job done quickly, you can turn off or idle a pc and thus reduce the power used. The area under the power curve is smaller.
In practice, its difficult to make HUGI work because a lot of the tasks we do are either very short, can only work as fast as a human can input or rely on data coming from other sources. PC's aren't very good at idling either but from my recent video editing tests, I can see that there's at least one scenario where it works very well.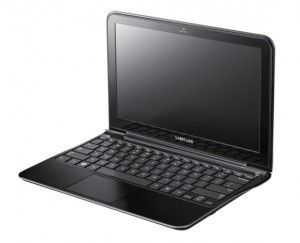 The problem with getting laptop silicon into a handheld product is the thermals. Intel leads the way in this market and their products provide plenty of thermal monitoring and control but it will take a little bit more than what is currently on offer to be able to easily design and produce a 7″, tablet running a laptop-style processor. It's been done before though. Samsung, experts in electrical engineering, produced a 7″ Tablet running a 1.3Ghz Core Solo but that was at a time when there was no competition from ARM-based devices, $1200 tablets were common and there wasn't an Atom processor around. The latest tablet example would be the Eee Slate EP121 and for a 1.06KG laptop, the Samsung 900X1A gets close but that's a little larger and heavier than a handheld device should be.
As silicon processes get better though and thermal control, dedicated silicon and single-chip solutions become more common, you can expect both Intel and AMD to try to offer the ultimate processing power in the handheld space. You can expect these products to have premium prices and to be targeted at niche markets but with Windows 8 as a catalyst and competition increasing from the latest ARM designs, offering these niche product is one way that the X86 chip makers can retain an advantage and one way manufacturers can differentiate their products.