Let me be up-front about my experience with €1600 laptops – I have none. In fact, I've never owned a laptop. Netbooks and ultra-mobile PCs and Tablets, yes. Since 2006 I've owned a number of them and tested probably hundreds through my work running UMPCPortal.com. Having 'just enough' processing power for my tasks in the smallest, best value package with the longest battery life possible was more important than all-out power. Because of a series of changes in the marketplace and in my own requirements though (think 720p video editing) I'm now extremely interested in something with more power. That's why Ultrabooks caught my attention, that's why I sold my last netbook recently and that's why I started this blog. I also feel that many others are going to end up in the same boat as me. Intel thinks 40% of their laptops will be Ultrabooks before the end of 2012 and I can see why. It's all about pro-sumer laptopping; Doing what you do on a desktop, in a lightweight, highly portable form factor. I call it high-dynamic-range computing.
The Samsung 900X3A (aka Series 9) isn't an Ultrabook but it's based on a very similar platform and concept. It uses Intel's latest-generation Core processing platform (Core i5-2537M) and offers it in a slim, very stylish, feature-packed 1.3KG unit with a 13" screen. Ultrabooks should look and perform very similar to this but lets focus on the Samsung 900X3A here in this review.
The design is not only different but smooth, uses some excellent materials (Duralumin was first used to make airship frames) and is extremely light and thin. It's not an 'oh my god this is light' device because of the size of the device but at 1.33KG (measured,) you can't deny that it's not heavy. Netbooks with comparable battery sizes come in at exactly the same weight.
Ports are a little thin on the ground in more ways than one. Not only are there only two USB ports (USB 3.0, one can be set to remain powered when in shutdown for phone charging) but there's no VGA port and only a micro-HDMI, micro-LAN connector (Gig-E with included adaptor) and micro-SD card slot available. They tuck nicely away in flip-down panels though which make the design a lot neater. It's a pity the micro-hdmi cable isn't included. I had to buy one for testing but I can confirm it drives the laptop and a 1080p screen in extended mode. There's also a HDMI to VGA adaptor cable available from Samsung. Note that the unit is sealed – there's no way to change the battery.
The screen is a real gem. Matt finish, great color and an extremely bright backlight that will allow you to work outside. Even in direct sunlight I was able to see the screen although some angling is necessary in direct sunlight. These images don't do the brightness justice to be honest.
Moving on to the keyboard it's again a quality, full-size item with automatic backlighting. The only thing we have to talk about here is the mouse pad. You'll hear me talk about it in the Samsung 900X3a introduction and overview video because it needs mentioning. It's big and integrates one button which sits under the mousepad. Depending on where you push the mousepad down, it registers either a left or right mouse button press. It's fairly sensitive and if you're used to a heavy double-tap-to-click operation, you might find yourself treble-clicking the mouse button by accident. It takes some getting used. It also gets under the palms when writing but thanks to palm-rejection technology, it doesn't trigger any mouse movement. The palm detection can be adjusted in software.
Performance
The fast 128GB SSD really shows its stuff on this platform. A CrystalMark test saw 230MB/S peak rates which is why you'll be up and connected to the Internet, from cold, in 25 seconds. Power Director, a program that can take 30 seconds to load on netbooks, is up and running in under 10 seconds. Everything is extremely fast to load-up, much faster than you'll experience on most hard-disk based desktops.
As for CPU processing power, don't expect blistering speeds but do expect 3X-10X what you get on a netbook. Interestingly, you can lock the 900X3A into battery-saving mode and the CPU will stay at 800Mhz to give you a high-end netbook-like CPU performance. If battery life is worrying you and you need to 'cap it,' this mode is perfect for that. In a PassMark test, I saw 984.6 which is around 5X what you see on good netbooks and about 2-3X what I saw on the Lenovo S205 with the E-350 AMD Fusion platform when I tested it recently. Note though that the 3D graphics performance results aren't exceptional. This isn't a high-end gaming machine although a test of 'World of Goo' was 100% successful. The Duke Nukem Forever game demo, a very recent one, also ran under standard settings but there's definitely a lack of responsiveness. Maybe some option tweaking could fix that.
3D Mark 03 performance came in, however, at a respectable 6360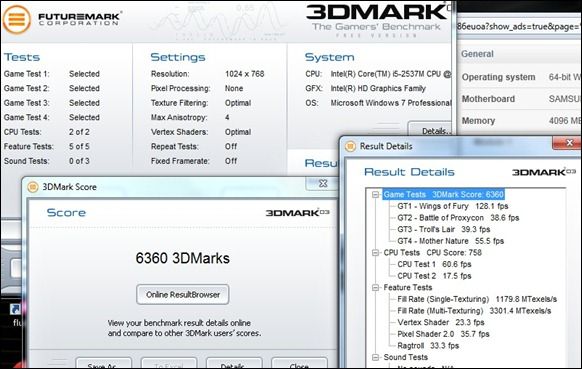 The Samsung 900X3A performs Sunspider in a desktop-like 320ms (Chrome 12.0. 310ms on Firefox 5)
Is it the best value for money in terms of CPU/Price? No, it's not. There are devices out there that give you more CPU oomph per dollar but you have to remember, they weigh more or come with much less battery life.
Newsflash: New models announced.
Video support is one area where the 900X3A shines. 1080p playback of YouTube videos is possible and in a test with a 12mbps H.264 1080p file, the CPU was stable at 10% proving that the hardware video decoding module was doing its work. There should be no problem with CPU power for nearly all common formats, containers and bitrates. HDMI out to a 1080p screen works in extended mode. YOu can see some video tests from our Live Review recording embedded here.
You will find all three parts of our live review here.
Battery life has impressed me, especially in idle where it lasts as long as any netbook.  I mentioned the battery life in a report over at UMPCPortal a few days ago:
In fact, right now I'm typing within Chrome with 8 tabs (including Tweetdeck) some resource monitors running, Wifi-on, the same screen brightness as my wife, next to me, has on her netbook and I'm seeing an average 8.3W drain for a theoretical (63/8.3) 7.5hr of battery life. A glance at the battery meter shows me 3hrs and 31 minutes with 53% remaining . That's 7hrs of use. In idle, with Wi-Fi and screen on (30%) the Series 9 will return 10hrs of battery life and if you want to get into marketing figures, turn the Wifi and screen off for well over 15 hours at a 3.5W idle. Given that, it's not surprising that there's no warmth or fan noise from the device in battery-saving mode. (Samsung provide a 'silent' mode if you need to turn the fan off.)
There's a small error in that above quote. The battery capacity is 47Wh, not 63Wh. An average 8.3W drain returns 5.1hrs battery life rising to about 10hrs in idle, low-screen brightness and wifi-off scenarios.
In general, recon on 5-7 hours of good usage but if you push it, you'll be able to run the device flat in under 3 hours. There's a high dynamic range of operating conditions on the 900X3A.
Other Notes:
Speakers: Reasonable quality and quite loud. SRS processing does a reasonable job of squeezing as much as possible out of the almost-hidden speaker vents.
Wifi – Good reception quality. I have experienced one unexpected drop-out on a Linksys MRT54G wireless router.
Screen viewing angles – Optimised for a single user. Not extremely wide in either direction
Heat and noise – No real heat to talk of even under load when charging. Fan is normally extremely quiet but can be forced off.
Screen flexibility – Doesn't tile back an extreme amount (about 45 degrees) and there is some flexibility in the panel. Opening and closing is a one-finger operation and well balanced.
Start from standby – Always very fast. Sub 5 seconds.
Standby drain – Well controlled. No actual figures available at this stage
Included software – Samsung have included Easy Content Share (DLNA director), Easy Display Manager, Easy File Share (ad-hoc wifi sharing), Easy Migration, Easy Speed-Up Manager (for fast boot), Movie Color Enhancer, Phoneshare (for Galaxy S Android 2.2 phones), Samsung Recovery Solution 5 (take a snapshot of the system, restore saved or original build), Samsung Support Center, Samsung Update Plus (driver updates), Samsung Web print services, a selection of Wild Tangent game demos, Norton Online Backup, Cyberlink YouCam,
Recovery DVD included
Video editing.
One reason you might be thinking about a Sandy Bridge-based device is to edit 720p videos that are commonly available now through the use of consumer video cameras and smartphone. I'm happy to say that the Samsung 900X3A can handle the editing process smoothly and rendering can be done at a 1:1 time ratio. (High power settings, H.264 output at 6Mbps, tested using Power Director which has support for the hardware encoder available on the platform.)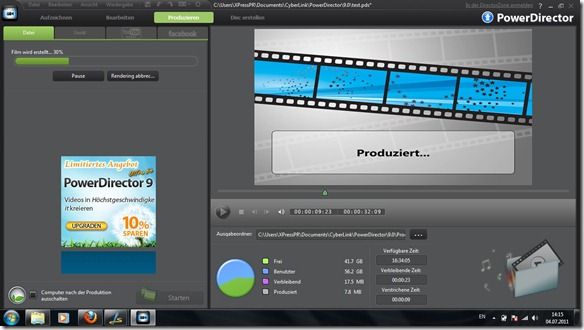 Power Director works smoothly. Image shows a 13mbps 720p video being rendered at about 1x real time.
Long Standby.
Something I've seen before with Samsung devices is there quick-start technology. When enabled, it works well with the standby mode. Simply close the lid and be confident that the device will be available within 5 seconds after opening the lid again. This works for days at a time. In an overnight test, about 5% of the battery life was lost while in standy mode.
What can the Series 9 do for me that my netbook can't?
Thinking 'ultrabooks' for a moment and a time when the Ultrabook could be the upgrade for the 100 million netbook owners out there. What is something like the 900X3A going to give you that netbooks can't?
Video editing and processing.
Fine-grain thermal management that allows 'turbo' scenarios
A wide-dynamic range of operating modes. From netbook to desktop.
Faster busses, faster disk, faster startup
Video streaming and video calling in high quality
Fast batch processing of images
A wide range of reliable video playback capability
Fast web rendering
Desktop-style multitasking
Summary
In terms of performance, the series 9 has everything that the average user would want, and more. Gaming, video editing, fast boot and long battery life, style and portability. There will, however, be some users out there that need more battery life and larger screens, better connectivity and of course, a lower price. It's the price that really takes the 900X3A out of the reach of the average user though but think of it this way (and here's what this author is preparing to do) instead of upgrading a desktop PC and a netbook over the next 24 months, don't. Invest in something like the 900X3A because you'll get a device that really does span that wide range of usage scenarios.
Don't forget the new models coming soon and stay tuned here for more about devices in this category.