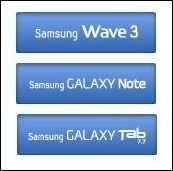 Samsung accidentally packed revealing information in an Android app that was being used to promote their presence at this year's IFA. Among the information revealed is the names of three devices, the Samsung Galaxy Tab 7.7, the Galaxy Note, and the Samsung Wave 3. Presumably the app was designed to unveil that information after IFA starts on September 2nd, but someone peeked into the files and found them ahead of time.
We can get the Wave 3 out of the way quickly. It is clearly a successor to the Wave 2, a phone running Samsung's own Bada OS.
More exciting and relevant to us are the Galaxy Tab 7.7 and Galaxy Note.
Galaxy Tab 7.7
I've been watching, with great curiosity, for the sequel to the Galaxy Tab. By some accounts, the original 7" Galaxy Tab may be the best selling Android tablet to-date, even if it isn't running the tablet-optimized Honeycomb. I've been hoping that the ever-handy 7" size of the Galaxy Tab 7 wouldn't be left behind in favor of the Galaxy Tab 8.9 and 10.1. It looks like Samsung will answer those hopes at IFA… but not without adding 0.7" to the screen size.
First, a look a look at the past, to inform our view of the future:
Samsung had announced, not quite a sequel, but an enhanced Galaxy Tab 7" back during CES in January. This device was going to have a slightly faster (higher clocked) CPU, an upgraded rear camera, and Verizon's 4G LTE connectivity. Oddly, this device never made it to market (even though the WiFi-only Galaxy Tab, announced along side it, did). While it hasn't been officially canned by Verizon or Samsung, I think it's safe to say – 8 months after its announcement – that Samsung has moved on to release a true sequel rather than a '1.5' device.
Several months after that announcement at CES, while the device failed to materialize in physical form or advertising, we began to see rumors of a dual-core CPU that might go with a new Galaxy Tab 7, and it's probably safe to say that Samsung will not release a new Galaxy Tab without a dual-core CPU (considering that the Tab 8.9 and 10.1 are both dual-core).
Now we can't help but say that the new Galaxy Tab will use a 7.7" screen, as the naming convention can't be ignored. This means that Samsung will be using an entirely new display in the device, causing many to speculate that it will be one of the famous Samsung AMOLED displays. While SlashGear does point out that Samsung demonstrated a 7" AMOLED display at a conference last November, it still may be too expensive to include in a consumer targeted device at this time. What we may see is a pixel-dense 1280×800 7.7" display, or maybe Samsung just wanted a slightly larger display with the same 1024×600 resolution as the original Galaxy Tab 7.
On the topic of the operating system, I actually prefer Samsung's customized Android 2.2 that is used by the original Galaxy Tab 7 over Honeycomb. Though I usually hate Android skins, Samsung's implementation for the Tab 7 actually did a great job of making the phone-oriented OS into a useful tablet interface. Leaked photos show the four classic Android buttons that are found on phones (and on the Tab 7), so our bet is that the Tab 7.7 won't see Honeycomb, but will instead end up with a custom 2.2 or 2.3, or perhaps it would be the perfect candidate for Ice Cream Sandwich, which Google says is going to bridge the gap between the tablet and the phone versions of Android. It should be noted that the inclusion of the four capacitive Android buttons on the bezel does not necessarily erase the possibility of the device shipping with Honeycomb. After all, the 7" Acer Iconia Tab A100 has a home button on the bezel, even though it ships with Honeycomb.
As for the release date, I'm sure we'll get more info soon, but it doesn't hurt to use that handy leaked Verizon roadmap where we can. One of the devices on that roadmap is something called the "Galaxy Tab P8" which is likely to be either the Galaxy Tab 8.9 or the Tab 7.7. The device is listed for a November 1st release, which is only about two months away!
One might jump to note that 7.7 is closer to 8 than 8.9, but this likely has little do with the size and more to do with the product model number (for instance, the original Tab 7 is the P1000 range, while the 10.1 is the P7000 range). The P8000 range could be the 7.7, or the 8.9, (or any unknown device for that matter), we just can't say for sure at this point.
Galaxy Note
Now this is where it gets fun. We know little about what Samsung's Galaxy Note is, but there's room for exciting speculation. My money is on a 10.1 Honeycomb device with a sliding form-factor like the Asus Eee Pad Slider, and I'll tell you why.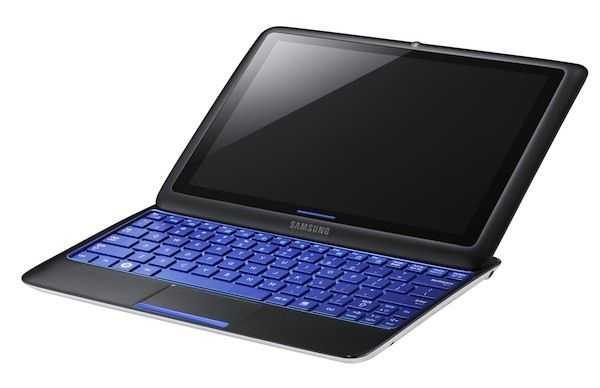 We saw something exactly like this from Samsung at CES, except it was running Windows 7. It was said to become available in March but, like the enhanced Galaxy Tab 7 (also announced at CES), it conspicuously disappeared, and I'm betting it has been transformed into an Android device.
Chippy wrote about the sliding Samsung Windows 7 computer on UMPCPortal in January noting "I like the design but I'm also seeing a 1KG Windows tablet which is just a little too heavy and not running the right OS for some of the consumer tablet scenarios that are taking off". That was 8 months ago, but Chippy may have hit the nail on the head.
A trusted anonymous source tells me that they have seen a sliding prototype much like the Windows 7 Slider from Samsung, and they saw it after the Windows 7 slider was shown. Among other things, the prototype was slimmer than the Windows 7 slider and the screen slid up to reveal a full keyboard and trackpad.
If this prototype made it further through the design process, it may be just what Chippy was looking for; a lighter device with a tablet-optimized OS. Considering that the Windows 7 version vanished, this may very well be the case.
I'm hoping that the Galaxy Note is indeed a slider as I totally dig the form-factor.
More Detail to Come
IFA begins September 2nd and Chippy is on the scene, which means you should definitely keep your eye on Carrypad for hands-on and plenty more info on both of these devices and plenty of others.