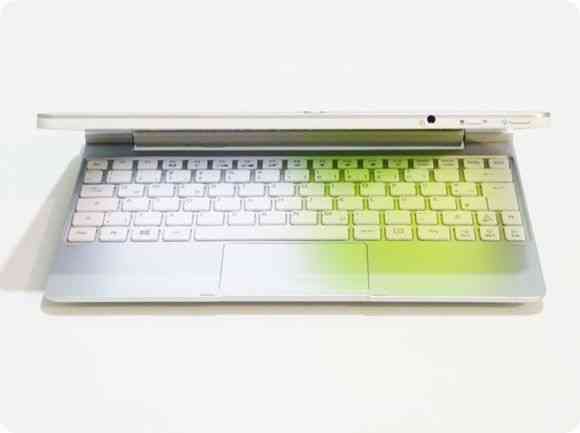 The Acer Iconia Tab has been here for over a month now. Bought as a Clovertrail test device it has turned into a surprisingly usable and flexible ultra-mobile PC. The Acer W510 might be using the same Atom core as netbooks did but the package here is far more than that both in terms of computing and usage flexibility. Read on for the full review of the Acer Iconia W510 and a summary of where this ground-breaking style of smart and ultra mobile PC fits into the market.
Unboxing and First Impressions.

You'll find a full overview and detailed fist impressions post here.
It's an exciting first few days with the W510 because not only is it exciting to think that it's a full Windows 8 PC but when you see how slowly the remaining battery level drops you'll wonder if there's a mistake. Turn the PC 'off' and you might even get a shock when the first email notification comes in. The power button doesn't turn the W510 off, it halts the desktop and puts the PC into the new Connected Standby state that you'll currently only find on Clovertrail / Windows 8 devices. Windows 8 apps are able to register for background services which include occasional use of the internet, audio and CPU. It's a controlled environment but truly, power-on. Press the power button again and it's instantly available, with WiFi already connected. Skype is one of the apps that is able to run in the background so you've effectively got a huge always-on VOIP phone. Using touch on Windows 8 apps and discovering some of the nice features of the modern UI adds to the fun.
Specifications of the Acer Iconia W510 under review
Full specifications and details are available here but here are the main points of interest.
CPU type: Intel Atom Z2670
CPU speed: 1500 Mhz (nominal. Min 800, max 1800Mhz)
Graphics: Intel GMA 3650
OS: Windows 8
Display Size: 10.1″ 1366 X 768. IPS, LED Backlit, 5-point multitouch
RAM:2048 MB
Flash: 64 GB eMMC
WiFi – Broadcom 802.11abgn, Bluetooth
Battery capacity: 24 (Wh on tablet, 24Wh in keyboard dock)
Weight: 576gm tablet, 694gm keyboard dock, 116gm power supply
Ports: Tablet: Micro USB host, Micro HDMI, Micro SD, headset. Keyboard: USB port.
Charger: non-standard connector can be used directly on the tablet and on the keyboard.
Other: Stereo Speakers. Accelerometer, rotate lock, TPM module, NFC, 8Mp cam rear. 2Mp cam front. Built-in Mic.
Price: Europe 32GB with dock 499 Euro (post tax.) 64GB with dock 599 Euro (post tax). USA: 64GB with dock: $710 (pre tax)
Build and Ports.
Acer aren't renowned for the best build and component quality but they've done a good job on the tablet for the price. It looks and feels good, has an attractive white outer frame. It feels light and yet sturdy although you can tease a few creaks out of the frame. Buttons seem to be well designed although in portrait mode I found myself accidentally turning the volume down. The answer there is to use it upside-down (windows button on right) in portrait mode.
The docking keyboard suffers from a few issues that I'll talk more about later but the build quality seems fairly solid. It's not the most stylish of designs but it should work well for most people.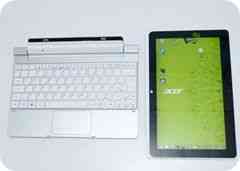 The tablet and dock click together very easily and the hinge is nice and solid but there's a lot of play. Be aware that this is a mechanical part too so, like the battery inside it, it won't last forever.
Apart from one USB port, all the ports appear on the tablet frame which means there's no space for anything full-size. I'm sure consumers are going to be annoyed at having to carry a USB adapter and an SD card adapter just to transfer files from their cameras. Micro HDMI isn't such an issue but still requires the correct cable. The micro SD card slot was tested with a 16GB card but nothing bigger yet. As a place to store images, photos, music and videos it should work out well. From a reader comment we've learnt that the W510 does support 64GB Microsd cards…
I can confirm that MicroSD 64GB SDXC worked fine. Bought the card from Amazon– SanDisk Ultra 64 GB MicroSDXC Class 10 UHS-1 Memory Card with Adapter (SDSDQU-064G-AFFP-A). I copied 55GB of video files and each file played fine. The write speed of the card averaged at 10 to 11 MB/s which is very good.
I tested a USB HDD (2.5" 120GB) and the built-in USB ports were able to power this.
Screen
The 1366×768 10.1" touchscreen is OK. IPS (a must on a tablet) and Clear Type help to make the experience comfortable. Yes, a 1600×900 screen could be better in some scenarios but the extra load on the relatively weak GPU in desktop mode could be noticeable. We tweaked the color balance a bit as we felt the screen was a bit washed-out and it's turning out to be pretty good. Brightness appears good although like with any backlit LCD screen you'll need to find some shade when outdoors. The glossy screen doesn't help there either.
The 16:9 ratio has a little advantage for thumb typing in portrait mode as it's not a wide tablet – about 25% wider than a 7" Galaxy Tab. Because the on-screen keyboard is so good you can reach some good thumb typing speeds. Here's a video showing thumb typing on the Acer W510.
The Acer Iconia W510 was delivered with Windows 8 desktop font sizes boosted to 125% normal size. It does make it easier to read but at 100% you can definitely fit more on-screen. Go for that if your eyes (and fingers) can handle it.
Touschcreen responsiveness is good in Windows 8 modern UI. A drum program was tested and the delay was minimal. You wouldn't want to play a touch piano keyboard on this but it's good enough to make it feel responsive. 100ms delay perhaps?
Keyboard and Mouse
The keyboard and mouse are simply not up to scratch. While the keyboard works, there were one or two keys that weren't accurately responding (the A and left-shift for us) and it's quite cramped. We've seen much better keyboards on 10" netbooks at much lower cost before so there's no excuse here. The mouse is even worse. Not only is it small but it's single-touch and has a terrible tendency to make the mouse jump on the screen or get locked in a vertical-only movement. Acer might be able to fix some of this via software and at least you've got the touchscreen for some mouse operations but for longer-term typing, a mini USB mouse would be a good investment. If the keyboard didn't contain a 25Wh battery we'd say forget it but it does, and that makes it difficult to ignore.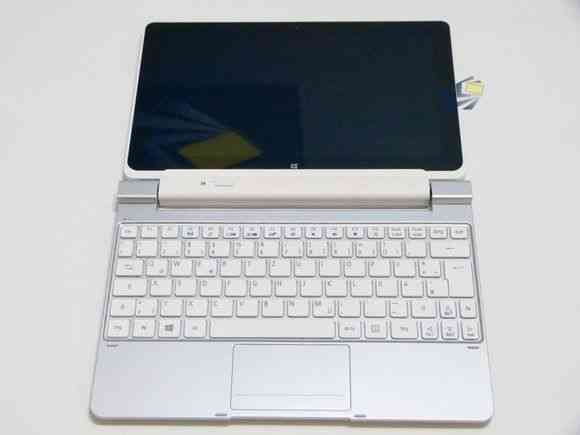 The battery in the docking station only charges the battery in the tablet when the tablet is off so you don't get inter-battery charging and discharging which would be very wasteful.
If you can work round the mouse issue and live in hope that Acer will fix it in firmware then the keyboard dock is worth having if you're only going to be using it occasionally for a few paragraphs of email or the occasional blog while mobile but for those that want a good typing experience, maybe an 11.6" Clovertrail tablet with good quality keyboard would be better. [We're testing a Lenovo Ideatab Lynx this week. Click here to see how we got on with that as a typewriter!]
Continued on Page 2
Pages: 1 2