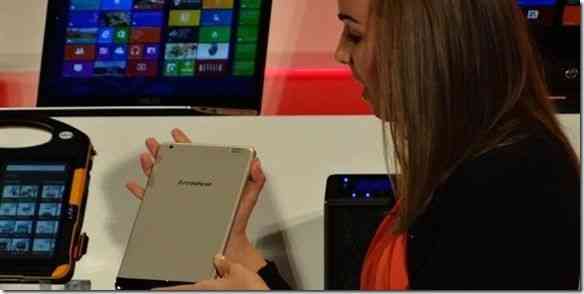 Update: Lenovo have now announced this as the Miix2
The wheels are starting to turn again for the Windows-based handhelds that were once called UMPCs. First the Acer Iconia W3 and now something from Lenovo. The Lenovo Miix 8 was shown at a Microsoft press event at Computex although there's little information available.
If you check out the video of the Miix 10 below you'll get a feel for the Lenovo Miix 10 that appeared in-person at Computex last week. The Miix-8 is likely to be based on a similar concept and platform (given the branding.) There are more pictures at Win8China.
Given the more relaxed screen requirements for Windows 8.1 and the fact it was shown at a Windows 8.1 preview event it's likely to be a late 2013 device.
We'll put this on our checklist and get back to you when we get more information. In the meantime, maybe the 10-inch version will interest you.
Via microsoft-news.com. Thanks John.