Conclusion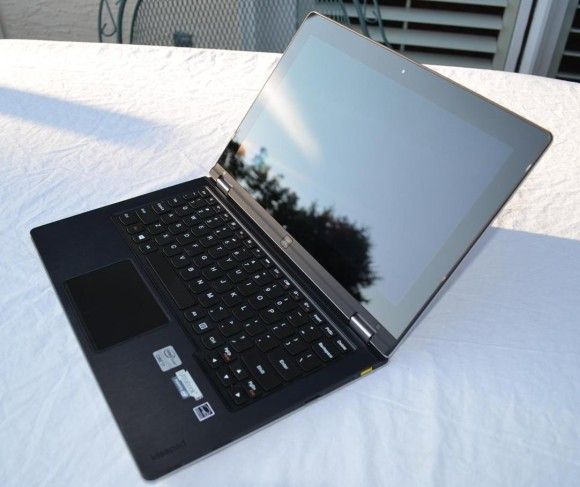 Starting at $749, the Lenovo Yoga 11S is an attractive package; there are no major deal-breakers. The Y-series processor doesn't seem to lead to significant battery savings, but that could depend on how much you use the unit in Windows 8's tablet mode. The convertible functionality works well and is a fun trick, but I wouldn't plan on doing it too often, at least not until Windows 8 Metro gets the apps it needs. Once it does though, the Yoga 11S's responsive capacitive touchscreen with extremely wide viewing angles will serve you well. As with other 11.6-inch Ultrabook convertibles though, the weight is still such that the primary tablet scenarios are lap- and sofa-surfing, not quite 'run out the door' with it.
You'll either be happy to put up with the small 1366×768 resolution or you won't — same goes for the thick bezel.
The quality keyboard makes typing (for me) on the Yoga 11S a great experience, though if you have particularly large hands, you might consider the larger Yoga 13. You might also consider the Yoga 13, and its faster U-series processor if you plan on doing heavy desktop work like Photoshop, Illustrator, and video editing. Not that the Yoga 11S can't handle those activities, but you'll find them faster on the Yoga 13.
The speakers on the Lenovo Yoga 11S are nothing to write home about, it's typical small speaker fare: tinny sound lacking in bass. If you plan on listening to music, definitely invest in some headphones. That said, this the first Ultrabook I've tested that actually seems to benefit from the included Dolby Equalizer. Yes, it's a crutch for poor speakers, but it at least makes the sound louder and adds a tad of significantly missing bass, so be sure to leave it on. It still doesn't come close to the standard set by Asus' Bang & Olufsen ICEpower found on the Zenbook series of Ultrabooks.
I end up saying this on every review, but it almost always rings true: I wish this thing had 3 USB ports! Unfortunately, most Ultrabooks do not, for reasons I can't quite comprehend. This might be an issue for some.
The build quality of the Lenovo Yoga 11S is very good aside from a little keyboard flex that I mentioned. The smart choice of soft/textured plastics definitely brings the quality feel up a notch over normal plastic alternatives. The 'slot-in' case (not included) is stylish and modern looking, which might appeal to those of you using the Yoga 11S in a work/meeting environment.
If you're looking for a light Ultrabook convertible, the Lenovo Yoga 11S get's our vote, just be sure that the slower Y-series processor is up to your needs.