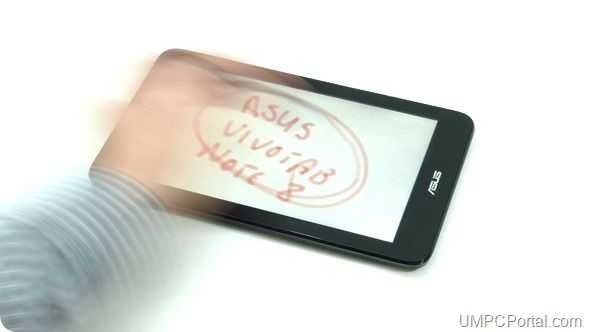 Looking for a tablet that just might be your favorite mobile productivity tool, as well as being a good sofa-side consumption device? The ASUS Vivotab Note 8 might be the one because of its digitizer and an all-round solid performance. Are there any major issues though and how does the ASUS Vivotab Note 8 performance compared to other 8-inch Windows tablets? We've picked up the 32GB version of the Vivotab Note 8 and the full review is available below.
ASUS Vivotab Note 8 Full Specifications
Specifications, Images, links, videos, comments and more information can always be found through our database on the ASUS Vivotab Note 8 information page For this 32GB version (model M80TA-DL001H) we paid 305 Euro including German sales tax of 19%
Unboxing and overview
Our unboxing and overview video is shown below. (Article here.)
Packaging is fairly standard for Windows 8 tablets and the contents include just the charger (USB, 2.0A), the Microsoft Office license and the usual paperwork. There's no micro-USB adaptor supplied which, as always, is annoying.
Build and ports
The ASUS Vivotab Note 8 has the same screen area as the Toshiba Encore WT8 (which is thicker) and the Dell Venue 8 Pro. There's an obvious screen frame and the body is slightly rubberized which makes it nice and grippy to hold. Unlike the Dell Venue 8 Pro there are a few ridges and seams that don't really feel comfortable when holding the device for long periods. On a 10-inch tablet this can be critical but for the 8-inch tablets it's not too bad and only really noticeable when you pick up the thinner, smoother Dell.
There's no HDMI port on this so you're limited to Miracast and USB DisplayLink adaptors for external screens. A headset port and MicroUSB (2.0) port for charging and peripherals is included and the MicroSD slot came with a card. Sensibly, ASUS have exported the recovery partition onto that leaving an additional 4GB of SSD free for usage.
Update: Be sure to keep the recovery MicroSD in a safe place. It is not possible to make a copy or reate a new one using standard Windows 8 tools. TrueImage (Acronis) should be able to make a copy.
The weight of the tablet is good, considering this is a PC, but still not quite the easy experience of a modern 7-inch Android tablet. Those looking for purely a reading and consumption solution might be tempted to go to the competition.
On the tablet you have a reasonably loud and clear set of speakers (7/10 for this category,) a volume rocker and power button. The Windows button is not located on the front frame but on the left-hand edge of the unit. It takes some time to remember where it is and we've found ourselves going for a right-swipe to get the Windows 'button' more often than not.
Special Features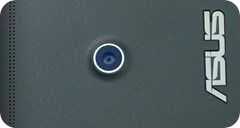 Similar to the other Windows 8.1 8-inch tablets the following features are included.
Connected standby (or InstantGo as it's now known) is a screen-off state similar to that on Android and IOS devices. Windows Store applications can remain active and connected while the tablet goes into low-power mode that can last for days.
Camera The 5MP auto-focus rear camera was OK and comes with YouCam software for some fun on-the-fly effects. A 2MP front-facing camera is available for video conferencing.
Security: As with other Baytrail-T tablets there's full-disk Bitlocker encryption available when you use a Microsoft Live account to log into the device (Encryption keys are held in your MS account.) Secure boot is standard and we haven't yet investigated any boot/BIOS settings that might disable this. Update: Secure Boot is enabled in BIOS and can be disabled. Admin and User BIOS passwords are available to protect this if you require it.
GPS: A Broadcom GNSS module is built into the device. Roll-on Nokia Here for non Lumia users!
No NFC.
Specifications, Images, links, videos, comments and more information can always be found through our database on the ASUS Vivotab Note 8 information page
Tablet Usability
The 8-inch tablet form-factor is, at this price, targeted at consumption usage and therefore must be compared to 7-inch or 9-inch tablets in the same price bracket. To that end it has the be said that there are cheaper, lighter tablets with better consumption and entertainment properties available. Where these Windows 8-inch tablets have a slight advantage is in their ability to be Windows PCs and provide some nice USB connectivity features. [Here's a list of 32 Windows 8 features to think about.] In terms of usability, 8-inch tablets like the ASUS Vivotab Note 8 have an advantage that the screen is bigger. With a resolution of 1200×800 though, that only means that you'll get easier to read/hit text, links and windows elements. In terms of in-hand usability the 8-inch tablets, at this weight, cross the border between single-hand and two-hand usage. Yes, you can use the ASUS Vivotab Note 8 in one hand, but only for a limited period. Maybe 20 minutes is enough for most people though and we enjoyed Amazon Kindle without any real problem. The bigger screen helps with thumbing the on-screen keyboard too, at least in portrait mode.
The ASUS Vivotab Note 8 has a nice, slightly rubberized, coating on its plastic casing but a couple of ridges at the edge seams make it less comfortable than the Dell Venue 8 Pro. The stereo speakers are well positioned for landscape video viewing, even though they don't sound fantastic. We question the need for a Windows button when screenshots and Modern/Desk switching can be done with a slide-in gesture from the right.  If that space has been used for a Micro-HDMI port it would have had much more value. The ASUS Vivotab is quite tall but given that you've got a Digitizer on board, those are millimetres that most people are going to be happy to have.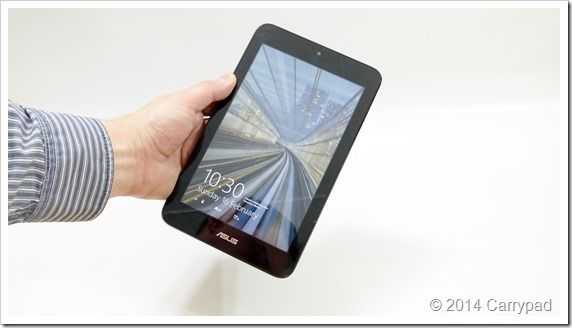 In terms user interface speed all the Baytrail devices do well which is not surprising considering they differ very little under the hood. It's such a pleasure to be able to open links that arrive over social networks in a high quality browser, at excellent speeds. This is the full Web experience without a doubt.
Mentioning the desktop again, the ASUS Vivotab Note 8 is the best out there right now. A 1mm square pen tip is way more usable than a 12mm square fingertip and it's as simple as that.
Screen
The wide viewing angle display on the ASUS Vivotab Note 8 is good enough but it doesn't match the black level, the brightness, the apparent whiteness or the viewing angles of the screen on the Dell Venue 8 Pro. The image below is a reasonable representation of what we saw with our eyes and yes, there is a little fading of the screen in the bottom left; Not as much as you see on this image though. The screen isn't bad (not, Acer Iconia W3 bad!) but it's not the best and that's all we can say without using test equipment that we don't have here.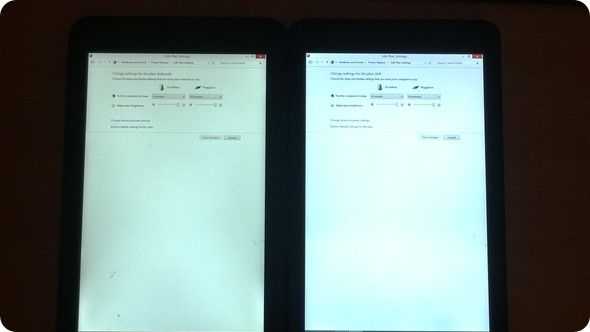 ASUS Vivotab Note 8 (left) vs Dell Venue 8 Pro screen under max brightness, no 'adaptive display brightness.'
The screen has a 16:9 aspect ratio which is an advantage to portrait mode thumb-typists needing more vertical space but a disadvantage for those that like the 16:9 format for landscape working.
Correction: The 1280×800 screen has a 16:10 aspect ratio.
Digitizer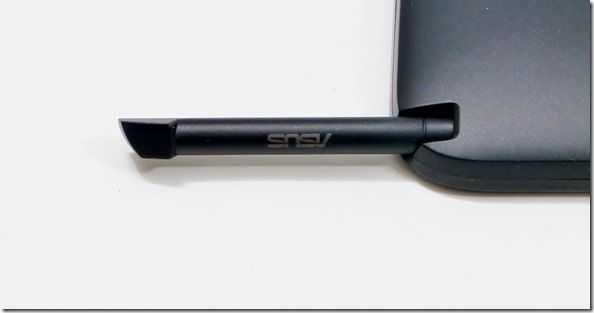 We are working on a couple of videos that will demonstrate some common creative applications but in the meantime we can offer you this close-up video that highlights why and how you can use the digitizer. Palm-rejection, hover, instant right-click, handwriting recognition, pressure sensitivity and more. There's a slight performance drop-off to the edges of the screens where the pen registration is slightly offset when hovering, but on-screen accuracy is still good.
Specifications, Images, links, videos, comments and more information can always be found through our database on the ASUS Vivotab Note 8 information page
Page 2: Performance, Battery Life  and summary on Page 2.
Pages: 1 2