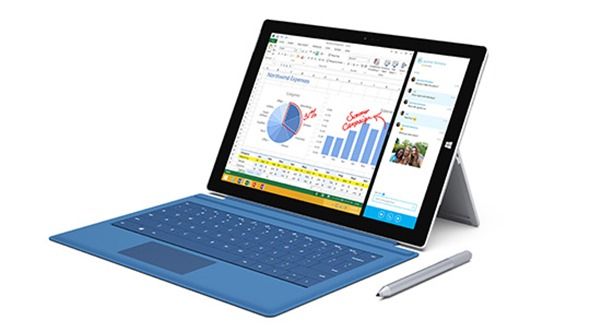 It's exactly 12-hours after the launch of the Microsoft Surface Pro 3 as I start to write this article. I've spent a number of hours hours researching and making notes on this unique product and have come to one main conclusion. Microsoft has a superbly engineered product in the Surface Pro 3 but it's too early for mainstream 2-in-1 customers.
First-off, I agree with 12-inches tablets. There's an interesting market and 2-in-1 opportunity developing as technology improves. The 11.6-inch Samsung XE700T, seen back in 2011, was a breakthrough product combining a Core i5 CPU with a weight of just 890 grams. It had a digitizer layer, a dock, keyboard and was one of the first well-designed premium Tablet PCs that wasn't just built for the medical industry, logistics or some other specialist market. It wasn't hugely successful but a follow-up product, the XE500T, was a complete 2-in-1 with a tablet that weighed just 750 grams. I bought one and enjoyed it as a 'laptop-first' 2-in-1. Then there was the Sony Vaio Tap 11 which offered Core CPUs in just 780 grams and very recently I was excited about the Samsung Galaxy Note Pro, an Android device with 2560×1440 screen in 750 grams.
The common factor in all these devices were that they were offering that 11.6-inch screen which is really the smallest screen size I, and many others, would recommend as a single 2-in-1 solution that covers productivity. The problem, however, is that even at 750 grams the weight is too much. With that experience in mind I'm looking at the 800 gram Surface Pro 3 and thinking, no, it's too heavy.
It's too early to bring a Core-based tablet to the market at 12-inches because much better things are round the corner and the company that waits 12-18 months longer is going to break through with a potential 2-in-1 winner that will blow the Surface Pro 3 out of the water.
Let's think about that fan for a minute. Microsoft appear to have based the whole design of the tablet, including the all-round air vents and the mainboard around a new, improved fan design. Why? We've already seen fanless Core-based products which, while not removing the need for specialist thermal engineering, do remove the only moving part and save space and thickness. One of the key features of Broadwell, the next generation of Core CPU that could launch in just a few weeks, is that certain SKUs will be targeted at fan-less designs. The Surface Pro 3 is immediately obvious to me as a product that takes current ultrabook-style design techniques to their absolute limit but it still results in a heavy tablet that has a fan. It's a complete no-no for a tablet that want's to attract those upgrading a laptop while also looking at a tablet; potentially tens of millions.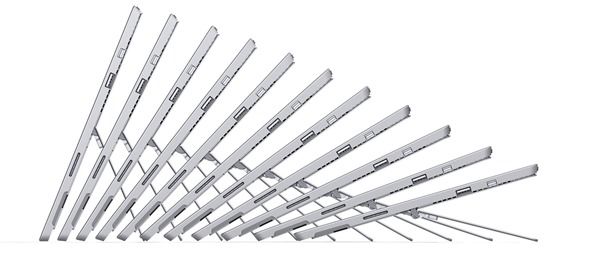 Microsoft Surface Pro 3 detailed specifications and other information.
The good thing about the Surface Pro 3 is that it is a unique product and there is a target market for it. It's an active and growing market but it's not a market of tens of millions of sales. The Surface Pro speaks to exactly the people that have been reading Ultrabooknews and UMPCPortal. They are pro-mobile, productive, creative and highly focused customers that have a specific need. The Digitizer, a component that many will be looking for detailed tests on, appeals to designers, designers artists, natural handwriting fans, education and possibly CAD users, especially when paired with 8GB of RAM. The $1299 entry cost for that configuration won't bother them too much because there's nothing much out there that competes.  The Fujitsu Lifebook T904, a product that speaks to similar customers, starts at around $2000 for a Core i5 / 8GB spec. The Lenovo Thinkpad Yoga, also in the same customer category, is much closer at around $1200-1400
There are some other 'highlight' features to think about.
A high-quality, high-contrast screen with high DPI and quality color coverage is important to many in the creative industry.
Multi-position kickstand that fold al the way back for a digitizer experience is unique in the market.
2160×1140 resolution (3:2 aspect ratio) should please tablet PC fans.
DisplayPort offers 4K output and chained monitor possibility.
AC Wifi is the best WiFi standard available right now and not seen in many products.
Price breakthrough. The Core i3, 64GB version could be something we'll see at $699 in offers soon. You just know that Microsoft have left room for that and Core i3 Haswell with touch, digitizer, fast SSD and 4GB RAM is going to be appealing. For people like me who don't need the full CPU power of the Core i7 but do need a fast SSD, fast video encoding and long battery life, it's quite attractive, especially as it will dock into my DisplayLink docks and be just as powerful as the Ivy Bridge CPU Ultrabook I use today.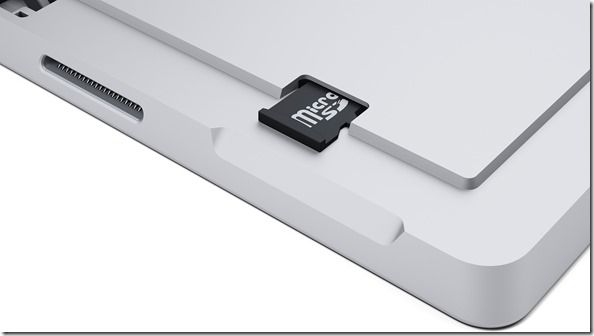 A quick word on that battery life before we move on to listing the spec's and prices now. It's a small battery. I know, from experience, that a 12-inch LED-backlit LCD panel, takes a lot of energy. I know, from experience, that the average power usage for this processing platform is going to be 5-6W while browsing. I know that if you're gaming, power usage will go beyond 25W and that, if you're not careful with your program usage and setup you'll be using 10W for web-working. It will, of course, stay in active-standby for hundreds of hours too and play videos for 10hours at a low-ish screen brightness but don't expect to get through a long day of work without charging and if you're working hard, you could be looking at under 4 hours battery life.
Oh, and there's no place to put the digitizer which is always a minus-point.
You can order the Microsoft Surface Pro 3 from today in the USA and the Core i5 version will be in shops on June 20th. I assume online orders will ship then too. By the end of August, the Surface Pro 3 and some accessories will become available for purchase in 26 additional markets, including Australia, Austria, Belgium, China, Denmark, Finland, France, Germany, Hong Kong, Ireland, Italy, Japan, Korea, Luxembourg, Malaysia, the Netherlands, New Zealand, Norway, Portugal, Singapore, Spain, Sweden, Switzerland, Taiwan, Thailand and the United Kingdom.
Potential issues for the Surface Pro 3
You'll see tablets based on the next generation Intel Core architecture later this year but you might not be able to get them freely until early in 2015.
This is not a fanless tablet
There's no full-size SD card slot
An 8GB model will start with 256GB SSD at $1299
The N-Trig digitizer, I assume using the Duo-sense technology, needs to be tested.
Accessories are extra
No pen stowage
No GPS, NFC
No 3G/LTE option at launch
Summary
It's great to see Microsoft pushing the pro TabletPC category and putting such marketing weight behind it. The Surface Pro 3 is lighter than the Surface Pro 2 and will offer a better 2-in-1 environment in most cases. The engineering appears to be top-notch and at $799 for a Core i3 and 64GB is makes a very interesting tabletPC choice. If you're looking at graphical usage you'll probably have to step up to 8GB of RAM which takes you immediately to $1299 which isn't so attractive. Independent creatives may have to hold-back at that price.
The only problem I have with the Surface Pro 3 is that it might have been better to wait another year. It's not the thinness that worries me, it's the weight and I already know that even 11.6-inch tablets at 700-800 grams are too heavy for casual mainstream PC use. For that, we may have to look at newer products running Baytrail later this year. Come on Samsung, let's have an update of the ATIV 500T!
Pro-mobile users should also consider the Lenovo Thinkpad Yoga and the Fujitsu Lifebook T904 but if a Tablet PC is the focal point for a creative project the Surface Pro 3 has to be at the top of the list.
You'll find all the lightweight 2-in-1's listed here.
For a list of lightweight Windows 8 tablets, see this list.
Surface Pro 3 Prices:
Surface Pro 3    Estimated retail price (USD)
Intel® Core™ i3, 64 GB and 4 GB of RAM    $799
Intel® Core™ i5, 128 GB7 and 4 GB of RAM    $999
Intel® Core™ i5, 256 GB7 and 8 GB of RAM    $1,299
Intel® Core™ i7, 256 GB7 and 8 GB of RAM    $1,549
Intel® Core™ i7, 512 GB7 and 8 GB of RAM    $1,949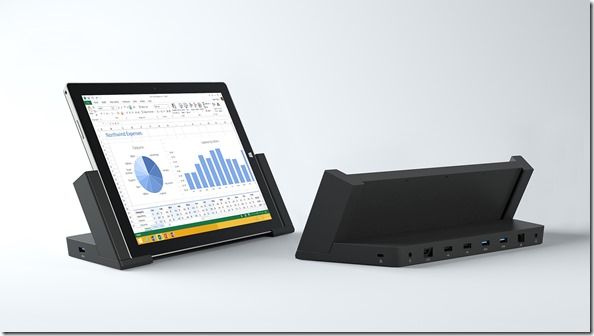 Surface Pro 3 Accessories     Estimated retail price (USD)
Surface Pro Type Cover    $129.99
Additional Surface Pen    $49.99
Additional 36W Power Supply    $79.99
Additional Pen Loop    $4.99
Docking Station for Surface Pro 3    $199.99
Surface Ethernet Adapter    $39.99