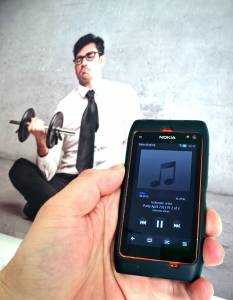 Weekends away with friends should happen without distraction from smartphones, tablets and laptops, games and social media. Not for me. Tomorrow I leave for what you might call a 'boys weekend' and it requires a very special blend of classic tech. I need to cover all angles while staying light, rugged, offline and making sure that if something gets broken, lost or stolen that I'm not looking at a huge bill. I'm talking about music, videos, navigation, maps and evening photography and for that task I've chosen the classic Nokia N8 and Acer W510.
Update: Nokia N8 is now in bits. See below.
What an amazing phone the Nokia N8 (still) is. It was launched in October 2010 and although it didn't have a big app store or CPU power to make it a true Web-capable smartphone it had some brilliant features, some of which continued into the Lumia line.
Nokia Maps, something I got hooked-on with the Nokia N82, is still updated and still works offline with the N8. That's a real bonus when you're in a new town and will help with navigation on the way.
It's compact, even with a protective case on and that's a bonus when you're out and about on those typical boys nights out. Speaking of that, it has the xenon flash and is still a very capable 12 MP camera. Gotcha!
I've put a 32GB micro SD card inside, loaded it with music and will take two important cables. 1 – Mini HDMI adaptor 2 – USB OTG adaptor. These two cables enable transfer of files (music, photo and video) with standard cables from other devices for large-screen review – generally over breakfast on the morning after.
I'll drop down to 2G no-data while I'm away which means I wont get distracted by social media (did anyone ever get distracted by social media on the Nokia N8!) and won't have to charge the battery all weekend.  With a headphone cable and a set of portable speakers, I'm ready to party with the Nokia N8.
Update: Shortly after posting this I wanted to check that a SIM card works so I slipped in a micro to mini SIM adaptor frame. That was a very bad move that has ultimately results in a bag of N8 bits. Never, ever attempt to use do what I just did. Of course a SIM card adaptor frame, without the SIM card, is going to get caught on the pins in the SIM holder and pulling the card out will damage the pins. I realised that when it got stuck in there so tried to take the N8 apart. It turns out that the N8 is the worst phone for taking apart, in the world, ever and there's no easy way to access and open the SIM card holder. I broke it! The N8 is in bits and there's no way I can get it all back together without a few hours work, a large magnifying glass and patience that I just do not have for a phone that will never ever take a SIM card again. If anyone needs an N8 screen assembly, let me know. Apologies to Nokia who gave me this phone as a loaner 4-5 years ago. Most of all apologies to my son who had been using it as his music player, Angry Birds player and camera. I've tried fixing the faulty headphone port on my Nokia 808 too but that's not working either. It looks like i'll be taking the Lumia 830 and leaving HDMI / USB duties to the Acer W510…
The second blast from the past that I'll be taking is the Acer Iconia Tab W510. This 'clovertrail' 2-in-1 from 2012 has a dual battery, runs Windows 8.1 and is small and light enough to throw into my bag for the unexpected moment when I need to do something on my server and as another micro SD card 'player.' It will play back music in InstantGo mode for days! The keyboard can act as a USB charger [Correction: only whenthere's a micro-HDMI port and it can work as a hub for collecting photos from the group. I've written about the W510 as a holiday PC before and I haven't really found anything that replaces it for long battery life and flexibility although a bit more processing speed would be nice. The Lenovo Yoga Tablet 2 10 and ASUS Transformer Book T90 Chi would be good options but I don't see either of them being 'classics' that I'll keep for another 4 year span. Maybe the Atom X5 and X7 era will bring us another W510.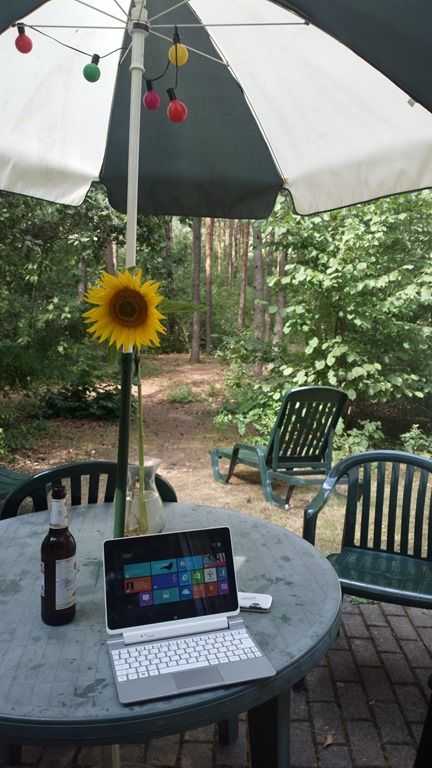 I guess the only thing missing is a 3G hotspot. You'll see a MiFi unit in the image above so I'm tempted to pull the HP Datapass SIM card from the HP Stream 8 to see if it works in the MiFi. If it does I've got cheap and easy roaming.
All bases covered? I think so but I'm sure you've got suggestions.  What low-cost 'classics' would you take with you for a social weekend away?