With Windows 10 comes a potentially huge change in the way that the 5-10 inch consumer computing category will be addressed by manufacturers. As in the Windows 8 era, manufacturers can still choose between ARM and x86 options, desktop and no-desktop options but this time round there's the possibility of crossover. If the Universal Windows Platform (UWP) is a success then why not allow Windows 10 Mobile tablets to compete with large Windows tablets and small laptops? The inclusion of ARM in this segment could increase competition and lower prices which is a bonus for Microsoft. It could also reduce the desire for a 'desktop' and puts consumer Windows devices at risk from competing post-desktop products.
 The Universal Windows Platform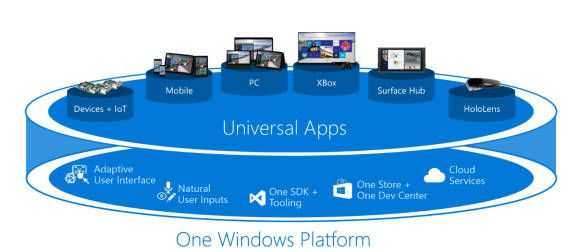 One operating system is for mobile devices, the other, for 'PC' style devices. Microsoft want us to look at a dividing-line between the 'mobile' and 'desktop' versions of Windows 10 at the 8-inch mark but it might not stay that way for long. UWP's adaptive user interface (Continuum) is able to bridge that boundary and Windows 10 with Desktop stands to lose a lot of ground in the 8-10 inch, maybe even the 11.6 inch segment if it plays out well over the next few years.
Despite Intel, ARM and Microsoft events at Computex last week the tradeshow didn't really give us any clues about how this middle-ground will develop. Intel's Atom X5 is coming to the latest 10-inch Windows tablets and 2-in-1's and in the 7 -inch space we heard about a couple of Android devices No change there. Microsoft have said that Windows 10 Phones will take a while longer to reach the shelves but where's the first 7-inch non-phone Windows Mobile tablet? Where's the first 8-inch Windows 10 tablet for that matter? HP are working on a 9-inch Windows 10 tablet but there's nothing in the 8-inch space yet.
Who's going to convince Microsoft that an 8-inch ARM-based Windows 10 Mobile tablet is worth putting into the market? Actually, if UWP is a success, customers might demand it.
UWP is the key, and a risk
In the Windows tablet space everything hinges around one important aspect. If developers get on-board with UWP and start to implement adaptive user interfaces in their Universal Apps then it could mean success for Windows Mobile devices…and the end of the line for Windows Desktop among consumer products. The ability to float Universal Apps side-by-side on a desktop just won't be compelling enough. Sure, there are other features in the desktop version of Windows 10 but most of these are aimed at desktop PC and business users. A cloud-based customer needs a good sharing subsystem, not SMB mount support.
We saw Continuum being demonstrated at BUILD 2015 last month and it was impressive. ARM partners will be watching particularly closely because if it's a success they will be lobbying Microsoft to let them use it in 10-inch tablets. Customers might respond to it well too and that would be good news for Microsoft as they push for quick Windows 10 adoption. Ultimately Windows 10 Mobile might be good enough for Smartbooks and 'dockbooks' where tablets and phones can slot in to provide a smartbook experience. USB-C could even enable universal monitor/keyboard cases. Actually, make that a 'should' because only politics can stop it…if the Universal Apps are good enough.
It's going to take a combination of successes to make Universal Apps bridge the gap. Windows 10 needs to be received well by the media. Microsoft needs to make it easy for developers to make Universal Apps. Microsoft need to get as many people as possible into Windows 10 (across phone, Xbox, PC and HoloLens) and need to communicate the numbers back to developers. Manufacturers will need to create innovative low-cost products. Microsoft need to build compelling Universal Applications across the gaming, entertainment, social networking, photography and productivity sectors. Microsoft are aiming for 1 billion Windows 10 installs within three years but if that doesn't include fee-paying Windows Store customers then the economics won't be good enough for it to be sustainable.
Desktop fade
Windows 10 Mobile is arguably better suited to tablet PCs than full-fat Windows 10 by being less confusing, more efficient and more secure than Windows desktop. There's good support for mouse and keyboard and with Continuum it has potential to work across multiple screen sizes.
Let's assume that Microsoft succeeds in growing a quality range of Continuum-enabled Universal Apps and that Microsoft opens the door to 8-inch or bigger Windows Mobile devices. In that case the 8-inch 'desktop-capable' tablet is going to fade away and get replaced with Windows 10 Mobile devices. You may also be looking at a productive and flexible experience on 7-inch and even 5-inch tablets running on ARM and Intel. In fact, if 7-inch Windows 10 Mobile tablets are good enough, is there a need for 8-inch tablets at all? Do consumers really need to float Universal Apps side-by-side?
This post-desktop scenario can't happen overnight but if we look to the three-year time-frame that Microsoft has set itself, it's a serious possibility…unless Microsoft block it because it also teaches Microsoft's customers to accept a non-desktop product. Android and IOS have the lead here.
What does it mean when consumers no longer look for a desktop on their 10-inch or 11.6 casual tablets and laptops? Post-desktop is real post-PC…and post-Microsoft in the consumer space if they don't get it right. Expect early caution and careful monitoring at the 8-inch borderline.