Update 2019: The latest ISO, install media for Windows 10 can be found here.
Update: It is possible to install Windows 10 on an old, non-updraded Windows 8 PC, with an embedded Windows key, for free. I've had one successful case of doing it with the Acer E11
Because the install process has changed since I started writing my Windows 10 tablet upgrade article I've including a shortened version of it below. Good luck with your testing and please, let us know what you think about the latest Windows 10 user interface.
There are a number of testing tasks to consider with Widows 10 and you might want to consider this list too if mobility is important for you.
3G, data usage and InstantGo
Miracast screen sharing / projecting between Windows 10 PCs
GPS and location. GPS often only available with devices that have a cellular data  capability. (3G, 4G, LTE)
Security: Windows Hello.
Battery life / power efficiency. New features in the task manager.
Edge browser. Speed, efficiency, accuracy, reader mode.
Inking features, where supported on tablets with pen and digitser.
Disk usage
Universal apps / Windows 10S mode.
How to install Windows 10 Preview on Intel Atom Windows 8 tablets.
Note that the Iconia Tab W4 I've used for this guide is a non Wimboot Windows tablet. Some recent Windows 8 tablets (all those with 16 GB storage and some recent ones with 32GB storage) used the Wimboot compression technique to free up disk space and it didn't work with the preview ISOs. I don't know if the 10130 ISO will work with Wimboot tablets but if you test it and find out, please let us all know in the comments.
Don't forget to create a recovery drive with the restore partition included. This article will help you do that.
You'll need a Micro USB to USB OTG converter cable for tablets that don't have a full-size USB port. The Acer Iconia Tab comes with the adapter cable but many tablets don't. As you'll be using the microUSB port for data and not for charging, make sure the battery level is 100% before starting. (Unless you've got a power-injection setup like the Plugable Pro 8.)
Download the 32-bit ISO image from Microsoft. (Aplies to most Baytrail-T tablets / Z3000-series CPU tablets)
I used a 4GB USB stick and transferred the 32-bit ISO to the stick using the Universal USB installer from Pendrive. [Here.] Choose the last option 'Try Unlisted Linux ISO' and you'll end up with an error, but a successful transfer of files. Apparently Rufus works too.
I did not boot from the USB stick to install Windows 10. From a running Windows 8.1 OS you can select 'startup' from the USB file system and you'll get two options.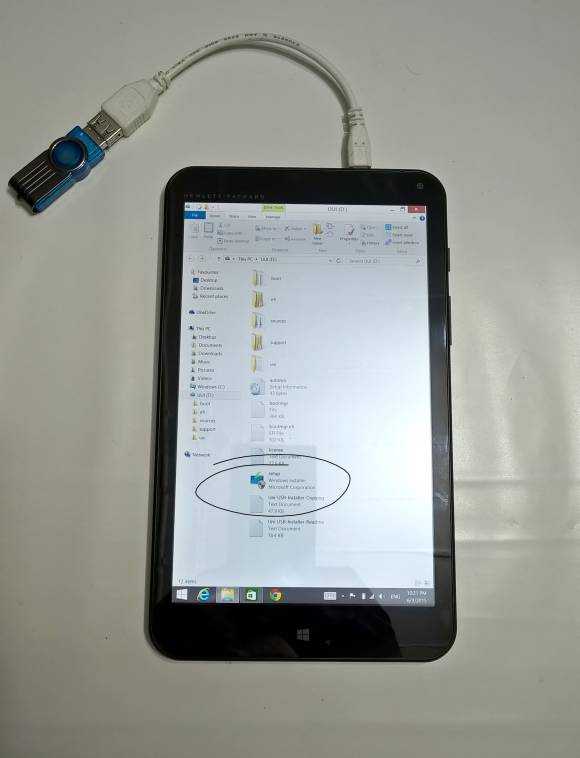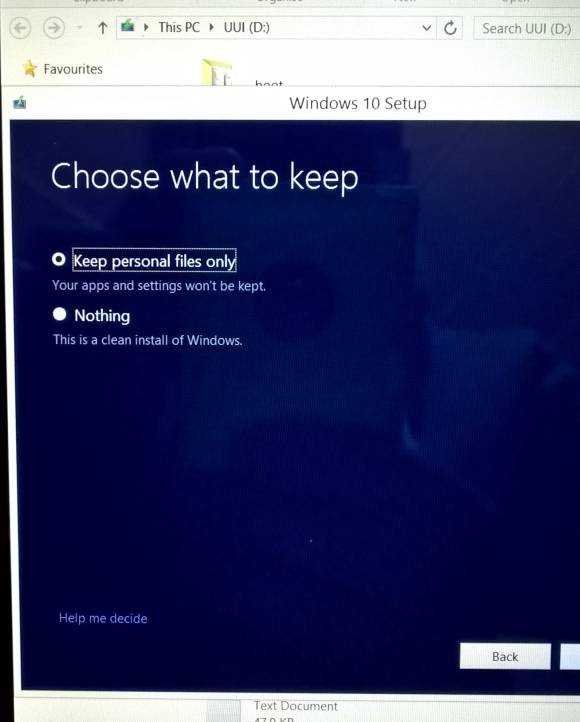 I chose to delete all programs and settings but to keep personal files. There's an option within Windows 10 to reset Windows 10 to a clean state so that's what I'll be doing eventually.
The process for here on was very simple – wait!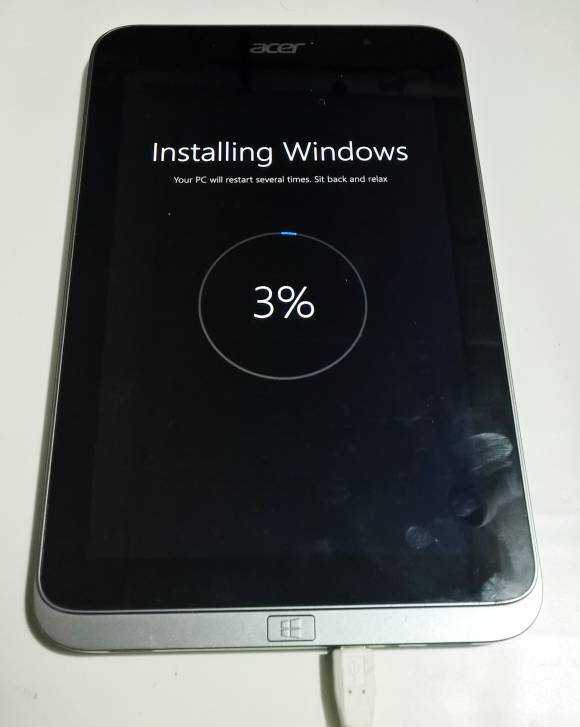 It took about an hour to install everything and reboot into Windows 10. I now have version 10130 installed on the Acer Iconia Tab W4 and the Surface Pro 3 but only via updates from an earlier ISO so I can't say for sure that everything is going to work in one go. You might need to get minor updates and reboot for everything to work. [Camera's aren't working on the Acer W4 yet.]
Testing continues but as I mentioned above, I'm not very happy with the user interface. The left-hand 'burger' menu means it's more difficult to get to 'all applications' which, in my opinion, should appear when the main start page has been fully scrolled-up. The menu is not very finger-friendly either.  I'm not the only one that has mentioned it to Microsoft so I hope they take the feedback into consideration.
Your feedback on Windows 10 preview builds is more than welcome below.