Windows 8.1 on tablets was a good experience. The Metro/RT system was modern, efficient, touch-friendly and apart from a lack of high quality apps, it was the best OS available for flexible and productive ultra-mobile PC usage. The problem was that Windows 8 got a bad reputation for being too much of a change for desktop users. Windows 10 is designed to change that but it's by no means a desktop-first OS. It's the first operating system and user interface ever that spans phone, tablet and desktop with the ability to run a single executable application on all platforms without any changes. It allows Windows 8-style Metro apps to float all over the desktop and it brings a notifications system to the desktop. It might feel like a desktop OS to desktop users but it's further away from the Windows Desktop than Windows ever was. For tablet users there's more mobile and tablet goodness in Windows 10 than in Windows 8.
I've used build 10130 for a week and although there are still a lot of bugs, it's stable and mature enough to be used for tablet testing and to get a feel for whether the features and new user-interface are better or worse than before.  I've covered the Windows 10 install process for an Intel Atom-based tablet in another post so now it's time for me to focus on Windows 10 user interface, core features and a few notable Universal Apps from a tablet-users perspective.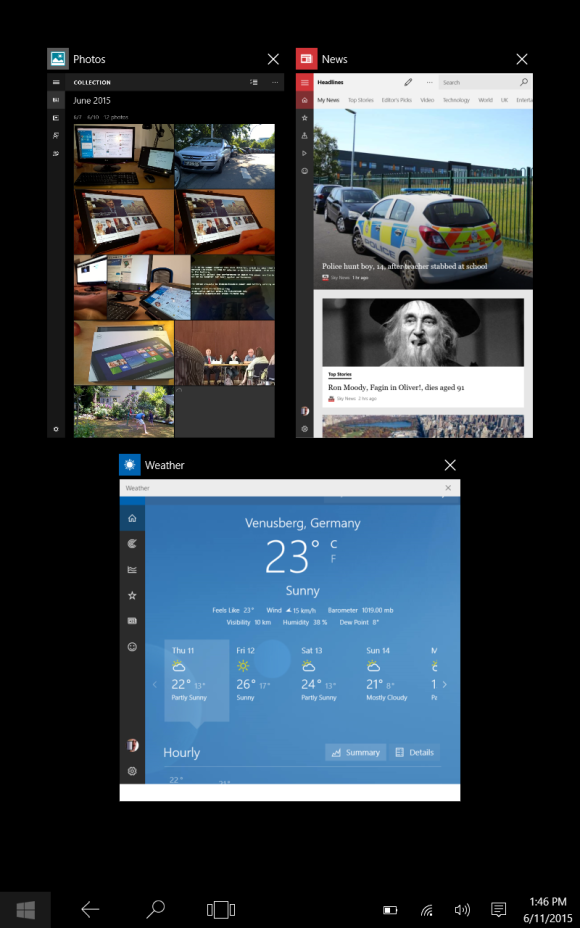 Great additions to Windows 8
Assuming Windows 10 is going to be stable then I can confirm that it's a better OS architecture with a richer feature-set than Windows 8 for tablet users. Ignore the UI for a moment and think about the notifications center, one-touch hotspot, Universal Applications, advanced touch-and-pen friendly browser, a new core app suite, turn-by-turn navigation, improvements in casting and streaming, Office for tablets, finger-free authentication, simple battery saver mode, offline maps, improved data-usage monitoring, battery usage monitoring, much improved app store experience, and Cortana – a way for you to interact with your PC with voice. There's also a major push for new tablet-focused apps in the Windows Store which includes support for adaptive interfaces (Continuum), new inking APIs and lots of support for turning IOS and Android apps into Windows Store apps.
It's exciting and I'm extremely happy to be testing Windows 10 on three different devices right now. I've got it (build 10130) running on a Mini PC (Intel NUC), an 8-inch tablet (Acer W4) and the one I'm using right now, the Surface Pro 3.  Floating Universal Apps is the real bonus of Windows 10 in desktop mode and it could be that Windows 7 users start adopting them without even realizing that they're effectively Windows 8 Store apps. If this adoption happens on a large enough scale then you'll see apps being ported into the Store from left, right and center. That's exactly what Microsoft needs. It will help tablets and touchscreen PCs too.
User Interface
As with any new operating system it's the user interface you see before anything else and from a Windows 7-user perspective I think Microsoft have done enough for it to be accepted. The Start menu is back and the notifications center is a great addition but I haven't dived too deeply into the desktop yet. It's working, I'm floating Store apps around across two screens (Displaylink USB adaptors are supported in this build) and I'm happy!
My focus here is on Windows 10 Tablet Mode and tablet experience and you'll find a short overview of some of the issues and advantages in the video I've embedded below. Windows 8 tablet users will find it different and there are definitely some issues here that might not get fixed before July 29th.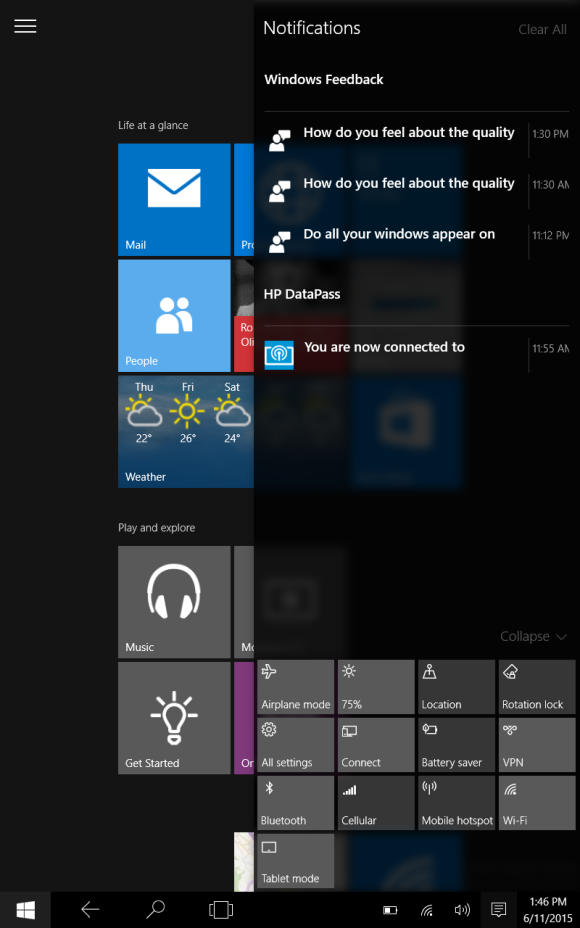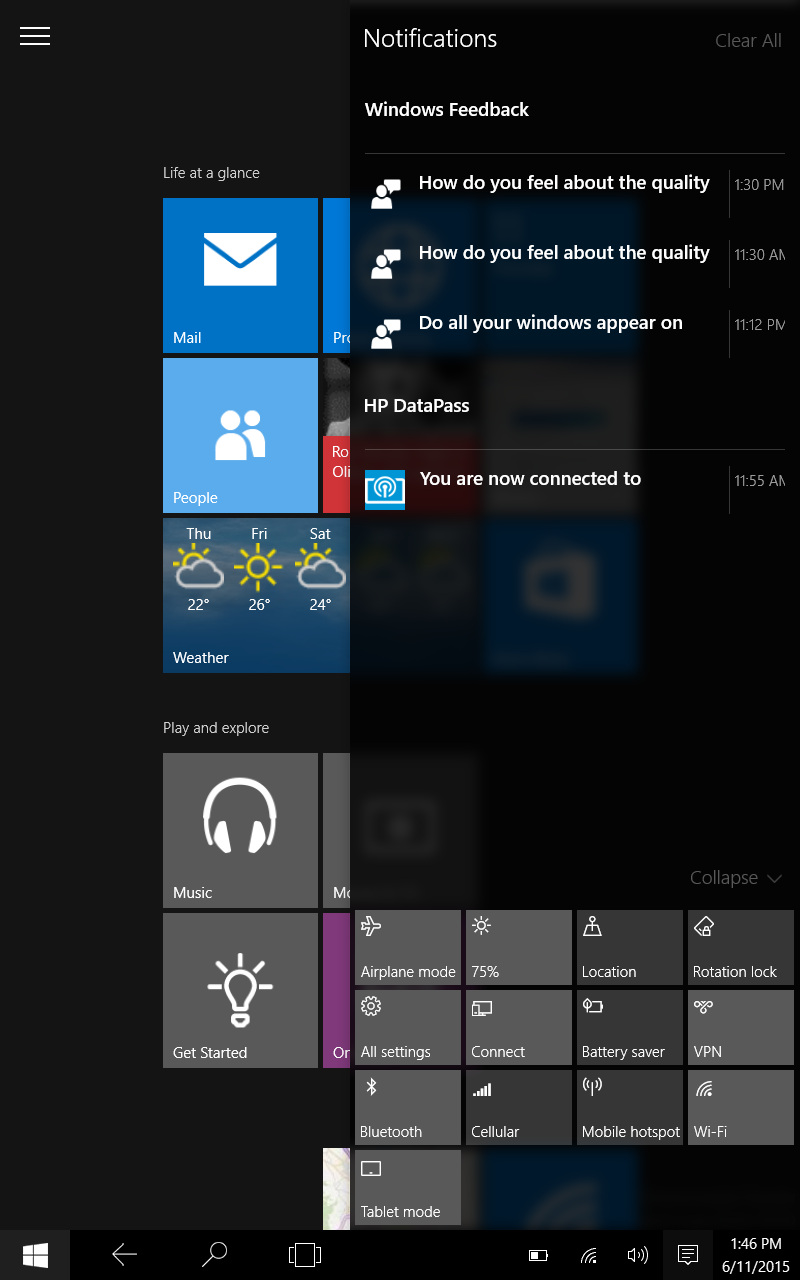 Windows 10 Tablet-mode issues
The permanent tablet-mode bottom taskbar is ugly, takes unnecessary space and needs to be auto-hidden as it can be on the desktop.  The top-left-positioned 'burger' menu is a difficult way to access new applications and swiping actions from the left and right are completely changed. I'm not sure if these actions are better or worse yet because I grew to like the charm bar on Windows 8. The File Explorer listed in the tablet mode menu system is still an old Windows Desktop app and you'll still see some classic desktop apps as you search for some of the missing settings. Oh yes,  Windows 10 is also a bit ugly.
There are things on my wishlist that haven't been implemented and I don't expect them to appear now.  'Stay on top' should be an option for all floating Universal Apps,  I really want the ability to completely turn off desktop and not just hide it (for security and efficiency) and what happened to the ability to mute notifications and implement quiet hours? Update: [Right click on Notifications icon to mute notifications for 1, 3 or 8 hours.]
OneDrive filesystem integration seems to be broken in build 10130.
I note that the camera isn't working on the Acer Iconia Tab W4 in this build.
Security and privacy
Windows Hello login authentication in shown in the system settings but it's not yet enabled. If you've got an Intel RealSense camera in your laptop or tablet you'll be able to use face recognition soon. Expect other options to appear here over time. Free Bitlocker for tablets is carried over.
Windows Defender is baked into the tablet settings now and I note that Microsoft will re-enabled Defender after a while if you choose to turn it off. That's good, despite the relatively poor quality of Defender.
There are a large number of privacy settings but Windows 10 settings menu brings them all together under one privacy tab. Location, camera, microphone, speech, inking, typing, account, contacts, calendar, messaging , radios and other device access can all be controlled and most of them on a system and app-level basis. I like what Microsoft have done here but i'm not 100% sure if these settings apply to all applications including desktop applications which, if run as admin, could bypass these privacy settings. I'll do more research here.
In general you'll get a more secure, more efficient Windows experience if you stay within the Store apps but there's no easy way to tell what is and isn't being controlled by the 'RT' subsystem and what's operating outside it. Again, i'd like to see a 'disable desktop operations' option on Windows 10 as a screen-on variant of connected standby.
On connected standby I note that you can now disable CS/InstantGo from having network access. There's no easy way to disable CS/InstantGo.
Efficiency
I've completed a suite of battery drain measurements on the Surface Pro 3 and compared them with the results I had under Windows 8 and it looks comparable. I saw a slight increase in video playback battery drain but that could be due to un-optimized video or audio drivers. I also saw a decrease in browsing battery drain when using Edge. Compared to Chrome it looks to be 20% more efficient when browsing mixed media and over 50% more efficient when watching YouTube videos. Chrome was always bad at efficient YouTube playback though so this was expected.
There's a new battery saver switch in the settings which turns off all background access for apps. This was possible in Windows 8 too but it was difficult to find. You can also disable notifications in battery saver mode and set it to automatically enable at a certain battery level.
The improved per-app battery usage reporting is nice to see but the definition of the figures isn't clear enough. There's no graph of battery life history either.
Powercfg reports show that connected standby is not working well on the Acer Iconia Tab W4 yet although I haven't tested standby with WiFi disabled.
Edge browser
I'll dive a bit more deeply into this in another post but so far the new browser looks good and performs well on sites that work. In tests against Chrome it rendered just as quickly, beat it on a Sunspider test and lagged only slightly on Octane and Peacekeeper tests.
I experienced one crash during testing and a number of problems with websites – Google Plus and Google Music being two examples.
Reader mode, a feature already included in the IE app in Windows 8, has been enhanced for Edge and the fact that you can annotate in this mode is going to be great for students. The reading list feature is good too although I'm a bit confused at the moment as to whether it saves pages for offline use and whether it syncs with the Reading List app and then across devices that use it.
Bookmarking works relatively well but it didn't sync across my two devices and password saving is somehow disabled on my build.
GPS, offline maps, 3G
One of the nice features of the Acer Iconia W4 is that it has GNSS (GPS) and 3G which makes it interesting when it comes to traveling. The new Microsoft Maps app for Windows 10 now has offline map capability and can do turn-by-turn voice-led instructions. Traffic information and speed warnings are also included which makes an 8-inch Windows tablet way more useful in the car than it used to be…as long as you have GPS/GNSS. Not many tablets do but expect to see a higher percentage including it as Maps and Cortana relay on it.
I'm happy to report that 3G is working, also in InstantGo mode (standby), and the hotspot feature is easy to set up.
After just a week of testing Windows 10 on tablets I'm happy to report that there's a lot of added value over what was available in Windows 8 and that, even if the UI issues don't get fixed, you should still consider Windows 10 as a flexible mobile computing solution. More important than the UI issues are the stability issues and it's important that Microsoft have that at the top of their priority list. No doubt there'll be a big fuss and a number of articles from people complaining about the UI but from what I've seen, Windows 10 is going to be a worthwhile upgrade for tablets as long as driver support is 100%.  If Universal Apps start rolling-in then the experience will get even better over time.
I've fed back my thoughts to Microsoft via the Uservoice platform and I hope you do to.
Video: Windows 10 on an 8-inch tablet.
Note: Build 10130 does not work on Surface 3 due to lack of support for features in Atom X7. Microsoft have confirmed that this will be fixed.