Hopefuly you've seen the news that Microsoft has sent out invites for an Oct 6th Windows 10 event in New York. No-one doubts that we're going to see Lumia, Surface and Band products along with an official launch of Windows 10 Mobile which makes it an extremely important event for anyone who reads UMPCPortal. Lumia, with Continuum, could form an important part of an entry-level ultramobile PC set-up. Surface sits at the very high-end of ultramobile computing solutions.

It seems certain that we'll see a Surface Pro 4 with much the same sizing as the previous model but two questions remain unanswered. 1) Will it be fanless? and 2) Will there be a second, 14-inch model? The reason I ask the latter is that there have already been rumors about a 14-inch model and in a recent search I found screen covers for a 14-inch Surface Pro 4. If a 14-inch model is coming how can Microsoft position the two devices ? There's a poll below and i'd like to see what you think would be the best constellation of Surface Pro 4 devices. But first, some thoughts on what's possible and what it brings to a 12-inch and a 14-inch Surface Pro 4.
In an article last year I looked at the Surface Pro platforms and analysed the possible product configurations in 2015. I was spot-on with the Surface 3 but will my predictions for a Surface Pro 4, in two sizes, come true too? Here's what I said:
"Surface Pro 4 requirements. (March 2015)

Fanless build
20% – 30% improvements (processing, GPU and battery life.)
A showcase feature like borderless screen for 13.3-inches in the same frame size for docking station compatibility. Also possible is Wireless Charging. Intel would love to showcase Skylake's 'no-wires' capability and the Surface Pro 4 would be the best showcase for that.
USB-C charging and connectivity.
Availability that doesn't clash with the Surface 3 early sales. (rules out Summer in my opinion.)
Slight weight improvement. Thinner design will be a marketing requirement.
Entry level price slightly less than Surface Pro 3.  Surface Pro 3 will go end-of-line.
Improvement in accessory range. (Wireless charging. Laptop keyboard dock with battery could be the way to solve USB-C worries and to appease those that aren't convinced by the Type Cover keyboard.)

Everything points towards the use of Skylake for a 12.5 – 13.3 inch product later in 2015.

That leaves space for one more product. Surface 3 Plus. An entertainment focused hybrid all-in-one with a 15-inch screen. Core M fanless and ground-breakingly light for home and office productivity, education and more.  It's not something interesting for UMPCPortal but it's an interesting thought. As for a Surface Mini it seems unlikely at this stage."
Yes, maybe a 15-inch product is too big but there's a more important problem with the Surface Pro 4 specifications. Points 1 and 2 might be incompatible. A fanless, 12-inch Surface Pro 4 will have to use the Y-series (Core M) Skylake processors. To get 20-30% more processing power Microsoft will need to stick with U-series Core, which will need a fan.
I asked my Twitter followers if they would be happy to have a fan on the Surface Pro 4 if it has an Ultrabook-class processor (U-series Skylake.) Most people said No. Obviously the follow-up question would be "Would you be happy with a Surface Pro 4 without fan if it had less performance than a Surface Pro 3?" I think the answer would be 'No' too so how are Microsoft going to please these two groups of people? Maybe there's a clue in the rumor of a 14-inch model. Could this be the way to please everyone?
There are 4 scenarios and you can vote on them at the bottom of this article:
12-inch Surface Pro 4 with a higher-powered processor but retaining a fan.  14-inch model using Core M to be a lightweight fanless super-entertainment and home tablet.
12-inch Surface Pro 4 with Core M giving 'similar' processing power to Surface Pro 3 but lighter, fanless and with +50% battery life. A 14-inch model becomes a productivity slate for graphic artists, a 4K display for personal use and a mini all-in-one hot-desking 'desktop class' PC (that would blow the iPad Pro out of the water in terms of performance.)
Both use Core M and offer fanless builds with weight and battery life being the key features.
Both use U-Series Skylake with a 12-inch model needing a fan. A 14-inch model might get away without a fan if it was configured as a 'TDP-Down' processor (down-clocks under heat / load.)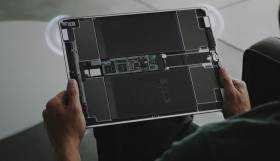 Personally I'm happy with the Surface Pro 3 being one of the most powerful PCs-per-pound / KG and I would like to see the Surface Pro 4 follow that principle. A fan under load helps improve performance when I need to be seriously and time-critically productive. I accept, however, that there's a big need for longer battery life and that other people might expect the Surface Pro 4 to be fanless, especially as the 'desktop class' Apple iPad Pro is here. (Image: Right.)
Given that the Surface Pro 3 is still a great desktop-capable PC it could be offered at a discount with the new fanless, long battery life Surface Pro 4 coming in to replace it at the old pricing level for people who want the battery life, silence and some premium features such as USB-C / USB 3.1, Windows Hello support and more. A more powerful 14-inch version that targets professional creativity, PC gaming and features such as RealSense, a professional keyboard and wireless charging, would come in as a premium model.
Whatever happens on October 6th it won't be a perfect solution for everyone. The trade-off between battery life, performance weight and a fan means someone is probably going to be unhappy so which solution would you prefer? Let's consider that 2-product scenario for Surface Pro 4. Vote below for your favorite.