Welcome to 2017? This mini PC by GraalPhone reminds us of 2006!
The idea of a multi-mode mobile PC is far from new but GraalPhone is taking a shot at building something that's not only multi-mode but also multi-OS system. It's something we would have been very excited about 10 years ago but given the number of failures in this multimode mobile PC market over the last 10 years it's hard to get excited now. Having said that, we must now consider the smartphone-as-a-core option.
This '4 in 1' design uses the smartphone as the core processing unit and the docking unit takes the form of a mini PC with keyboard and folding screen that allows mini laptop and tablet modes. Obviously the docking design could take multiple forms. The GraalPhone UMPC is at the concept stage and we suspect they're at CES (thanks Brad) to find partners and funding. Anything and everything could change and even if GraalPhone are successful in finding a partner it's going to take a year to get this to market.
Windows 10 with a Snapdragon 835 would be the obvious choice for this product. Continuum was created for these cross-over designs but as we know, Windows 10 isn't exactly the consumers or the manufacturers first-choice in the mobile market. An Android / Chrome OS fusion could be interesting but GraalPhone are talking about a Windows / Android combination. That could be a recipe for failure if previous attempts are anything to go by.
With smartphone performance as it is, way ahead of entry-level Windows tablets and PCs, the only way forward is to consider the smartphone as the core processing and communications unit. Google and Android / Chrome OS have the best positioning for this although if Microsoft could get more traction in the Store, Windows 10 is designed from the ground-up for this. The question is, when companies can sell us a smartphone, tablet and laptop separately why would they combine it into one? It only means disruptive profit loss. Maybe there's a chance here for a new startup.
The design reminds me of something we saw 8 years ago in a design study found on the OQO forums.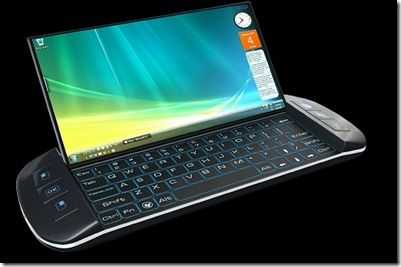 The OQO itself wasn't much different in outward-looking design. Looking back over ten years ago we also find the HDPC aka 'the ugly sofa.'