The Mobile PC. Always On, Always Connected.  Qualcomm and Microsoft have today officially launched Windows 10 on ARM products from ASUS, HP and Lenovo. These long-battery-life PCs will be available starting in 2018. It's exciting, but tt feels like we've done this before and it didn't work back then.
In 2012 Intel launched the Clovertrail SoC platform based around the Intel Atom architecture.  Along with Windows 8 it offered Connected Standby, which worked, but never became a mainstream feature. Modern Standby, the Windows 10 version, works today with a range of Intel processors up to Core i7 but still, it's not a feature that many ask for. What, if anything, is different this time round as Qualcomm and Microsoft announce PCs built on the Snapdragon 835 platform?
2012 – Connected standby was the forerunner to Modern Standby.

Certainly the price isn't different. The ASUS NovaGo announced today and launching in 2018 starts at $599 for a device with just 64GB of storage. $799 will get you 256 GB of storage and 8GB of RAM.

The two main advantages with Windows 10 S on Snapdragon are integrated LTE and battery life although the latter comes with caveats. There are issues though.
You'll get a Windows 10 S operating system where only Windows Store apps can be installed. That will include some x86 apps that have been approved but those will run under emulation. You can upgrade to Windows 10 Pro, which is nice, although there's no information yet on what that might do to battery life or indeed, how standard x86 applications will run. For the record I like the idea of Windows 10 S
Standby battery life is going to be huge on the highly integrated Snapdragon platform. Tight hardware integration is one reason why but with only one hardware platform it will be far easier to optimise than a million CPU, GPU, interface and WiFi combinations. I doubt Microsoft will be looking to expand the ARM partnerships too rapidly. I also expect the Surface department to be working hard on a product.
Battery life under load will be a completely different story and here's where differences will be minimal when compared to a good Ultrabook although some applications related to image processing and video rendering could be both fast and less power hungry because of dedicated video hardware.
Performance should be acceptable for many potential customers. Expect a Core-like experience that goes beyond what any of the retired Atom ultra-mobile platforms can do. Entry-level Ultrabook performance should cover every need for the average user.  Don't, however, expect to swap out an SSD or upgrade RAM as everything is likely to be soldered on-board. Snapdragon 835-based PCs won't be PC gaming machines or video editing machines either but that's not the target audience here.
Here's some of my testing with an always connected Windows PC in 2012.
Always connected is not new.
This isn't a new story and the last time it was told, not many people listened. There is however one interesting aspect here and it's the same one that started this website, then called Carrypad, over 10 years ago: Mobile innovation.
With a lower bill of materials, a tiny mainboard, a single processor supplier and the optimised Windows 10 S we could see smaller manufacturers and smartphone manufacturers start looking at ultra mobile PCs again. Snapdragon 835 is an ultra mobile platform and it's going to be part of hundreds of smartphone products. There's absolutely no reason that this chassis can't be used with a new body. It could be handheld, modular or tablet-sized. it could be a stick or a NUC.
Hands-up if you'd like a 2018 Thinkpad 8 based on Qualcomm Snapdragon 835? I would, because the battery life on my Thinkpad 8 LTE is terrible!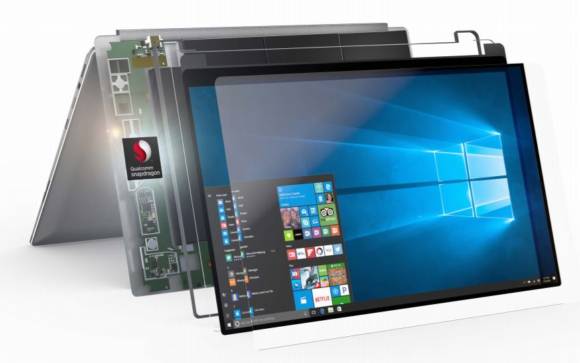 Finally we need to talk about the Windows Store. These ARM-based Windows 10 S platforms are going to rely, largely, on developers re-packaging their desktop (x86) apps for the Windows Store and that doesn't do anything for the advancement of Universal Windows Platform applications. But is that important? If the emulated x86 apps are good enough and secure enough, do we need to worry? Maybe not. There are 600 million Windows 10 installations out there and this ARM-focused product might actually be the tipping point for apps flowing into the Windows Store.  If that changes the business model for developers, it changes the future of Windows.