It's Feb 2023 and the last time I did any detailed Chromebook testing was back in 2015 when I updated my 2014 review of the Lenovo N20p, a convertible touchscreen Chromebook that I was very fond of. I'm a full-time (in my day job) Chromebook user though and still the geek when it comes to efficient PCs. My 2021 HP X360 is truly one of the best laptops I've ever used as a working PC and when I see that battery life hovering at 6-7 hours I get a feeling that it's got to be one of the most efficient Chromebooks there is. Kevin, however, thinks otherwise.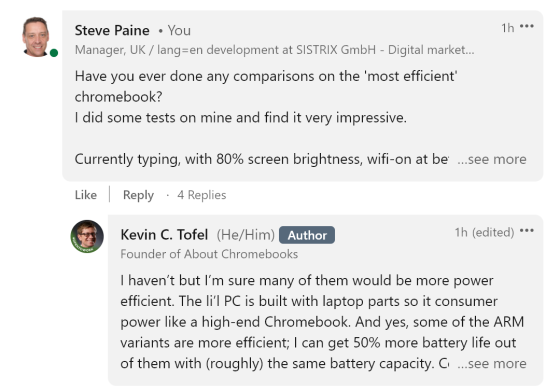 50% more? I'm interested, Kevin!
Can a Chromebook last 10 hours while I'm online and writing articles?
The short answer is yes. Go offline, close all the apps and tabs, start up Google Docs (offline mode), turn the screen down to 30% and get typing. It works on my X360 with it's Core i5…but it's not practical – one really needs to be online with a Chromebook.
You could connect a USB-C power-bank too. Even my phone will provide power to my Chromebook, but that's missing the point, and extremely wasteful.
The challenge is this: 10 hours online, working with multiple tabs, being productive with research, image editing, using WordPress, a bit of Canva (a heavy CPU load) and some background streaming for good measure.
I will challenge the manufacturers with their 15-hour battery claims.
Small, light efficient Chromebooks – 2023
Here are the basic requirements for a productive Chromebook:
11.6-inch screen or above (any smaller and the keyboard becomes too small (inefficient.)
Total weight under 1.5KG. Ideally 1.3KG or less. 1KG is a true mobile laptop achievement.
Launched 2021 or later – because you want multi-year ChromeOS support.
Powerful enough to work as a mobile laptop. This means fast storage and, ideally 8GB RAM although I've had fast devices with fast SSDs that have worked with 4GB recently.
There are other features that are also desirable, like, USB-C charging, full HD resolution, 128 GB local storage and, of course, a good quality keyboard. A keyboard backlight is quite the bonus in low-light situations too. As for price…I'm not going to put any limit on that but there's a limit to the price / performance ratio.
The shortlist of light Chromebooks, in Europe right now, looks like this. (I'm happy to have tips @chippy
HP Chromebook 11a – 11.6-inch, very low cost and low-spec laptop. ARM-based. 37Wh battery
Acer Chromebook Spin 513 – 13.3-inch, mid-price with a Full HD screen and ARM-based CPU. 36.5Wh battery
Acer Chromebook Spin 311 – 11.6 inch, low resolution, low price. (X86 and ARM options.) 48Wh battery.
Lenovo IdeaPad Flex 3 Chrome – 11.6-inch, mid-price with low-end resolution. Runs Pentium Silver N600. 42Wh battery
ASUS Chromebook Flip CM3 – 12-inch, mid-price with low-end resolution. ARM-based. 32Wh battery.
ASUS Chromebook C425TA – 14-inch mid-price with full HD, Intel Core-m, 48Wh battery
Lenovo IdeaPad 3 Chromebook – 14-inch mid-price with full HD, ARM-based CPU, 42Wh battery
Lenovo IdeaPad 3 CB 11 – 11.6-inch low-price with low-end resolution, AMD A6 CPU, 47Wh battery
Acer Chromebook CX9 – 14.6-inch high-price with full HD, Intel Core i5, 50Wh battery
My first issue is with 1366×768 resolution. Yes, you can type text into Google Docs, but no, you'll be unproductive when it comes to other aspects of you work.
BANNED: 1366 x 768 resolution. Nobody needs it. Any model offering such a tiny resolution, even on a 10.6-inch screen, should be ignored.
We're now down to just a handful of candidates for the most efficient, productive Chromebook available
The best, lightest, full-HD Chromebooks available in early 2023
Based on the criteria above, this is what we've found:
ASUS Chromebook C425TA (Intel Amber-lake, 2021). Price: €340-380 (Germany)
Lenovo IdeaPad 3 14 (MediaTek MT8183, 2021) €299 (Germany)
Acer Chromebook CX9 (Intel Tiger Lake, 2022) €945 (Germany)
Acer Chromebook Spin 513 (Snapdragon 7180c, 2022) €279 (Germany)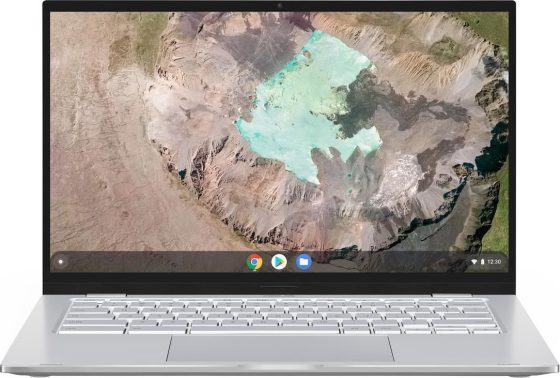 Kompanio 1380 Chromebooks
We're missing something here, and that's because I'm focusing on EU. The best candidate, the Acer Spin 513, across Europe right now, is running a Snapgragon 7c. Here's a really good quality review video from TechSpurt.
Where's that Mediatek Kompanio though? The processor has been hyped, and I'll be honest, I'm tuning-in to that power-efficient mobility message. If Acer has produced something solid with it, as is rumoured, I might be ready to take it on. But Kompanio isn't available in the EU yet.
In the UK, the Acer Spin 513 13.5in MediaTek Kompanio 8GB 128GB Chromebook is available for £579.99, which excites me.
I'll be in the UK in a few weeks and this is clearly an opportunity to test something with hype, and I love that. I'm happy to call-out anything that doesn't live up to expectations though. Charbax, beware!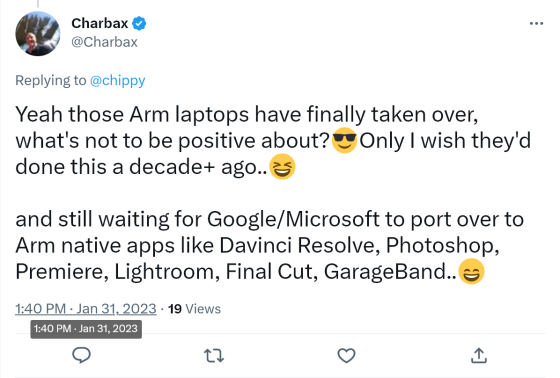 11.6-inch Chromebooks with full HD screen?
I fired up another one of my favourite laptops yesterday evening…the rare Lenovo Yoga 710 which is is coming up for it's 7th birthday. A full HD resolution wasn't a problem then, and it shouldn't be a problem now. Where are the 1920×1080 11-inch Chromebooks?
Are the Acer TravelMate Spin B3, the Lenovo IdeaPad Flex 3 (AMD and Intel versions) the only laptops, of any OS, in the market?
My search continues and I'll be updating this post with new information, and hopefully information about my purchase, soon.
Update, 1st June 2023
The Lenovo Duet 3 Chromebook 2-in-1 is in the house, and I'm impressed. It's ARM-based and has slotted into my daily work seamlessly so far.
Here's my initial mini-review of the Lenovo Duet 3.