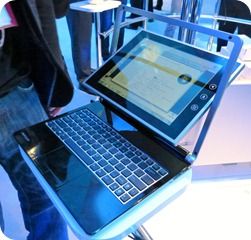 I honestly expected to see more, and better netbooks at CES. The Cedar Trail platform is a solid one and there's absolutely no reason why netbooks need to fade away because with a bit of a re-design (thinner, SSD, better connectivity, hi-res screens) they could still control a good segment of the market.
Asus were showing their 'flare' netbook in three variants (1025CE, 1025C, 1225B) and the X101CH. The X101CH provides some interesting mobility for the cost but as with the Flare netbooks, there is little attempt to push any other boundaries. It's the same story with the Toshiba NB510. Lenovo announced the S200 and S206 which come with Cedar Trail or AMD C60.  The S200 can be specified with a 32GB SSD but there's a small battery inside which means you're looking at 4hr runtime. I suspect this will be a lightweight device although it has an 11.6 inch screen. (I am a big fan of the S205, the AMD E350 powered version from 2011)
Gigabyte has upgraded the netvertible with the T1006M but again, the design remains thick although credit to Gigabyte for offering easy upgrade ports for memory and hard disk, a high-res screen, pre-wired 3G antenna and a capacitive touchscreen.
The only small laptop-style device I did see that was pushing the boundaries was the Novero Solana.
An SSD, convertible touchscreen and 3G are on offer here but there's no indication of battery life or price yet. Availability is said to be Feb 2012.
My feeling is that by reducing focus on netbooks, some manufacturers will be missing an opportunity to offer very lightweight, low cost sub-ultrabooks with SSD, high-capacity sealed batteries and other features that the ultra-mobile user could benefit from. Right now though, it looks like laptop manufacturers have dropped everything for Ultrabooks.
Check out the videos below though for a look at the latest netbooks and don't forget there's the Lenovo S110 (10 inch) HP Mini 210 (10.1 inch) and MSI Wind U180 (10 inch) that are going to be available with Cedar Trail too. We'll get all these in the database.