Back in Feb, I listed a set of devices that should be high on your list if you're thinking about mobile microblogging. It included MIDs and UMPCs. As the market for mobile social networking, mobile web search, mobile content creation, location based services and lifestreaming (my rough definition of Mobile Microblogging) gathers steam we're seeing more and more devices coming into the segment and it's mainly from the smartphone sector. UMPCs and MIDs aren't getting a look-in. In fact, in my latest list, below, you won't find a MID or UMPC.
Smartphones with bigger, higher resolution screens and high-end processors are appearing on the radar almost every week. Smartphone-based mobile software development is increasing too as more and more mobile device application stores tempt developers with easy-to-use, rich SDKs and APIs, a channel that reaches right down to millions of users devices and a good cut of any earnings.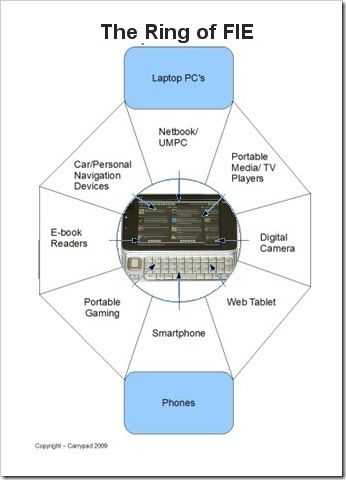 What's really interesting about the Mobile Microblogging phenomenon is that very little software development is happening for today's Intel MIDs, the very devices that were targeted into this segment. Intel have stopped work on the Moblin OS for them and they're effectively UMPCs. You could even argue that there are no Intel MIDs any more! They are being totally left behind in both software and hardware until Intel push the reset button when Moorestown MIDs with Moblin hit the market. Until then, it's desktop operating systems for MIDs and UMPCs.
You won't find an easy-to-use, small-screen, GPS-enabled search service on Windows. You can't even link Google Maps to a GPS on the browser. Forget the thought of a compass helping with augmented reality, an accelerometer, an FM receiver with RDS or, if you're into internet photography, a half-decent snapshot camera. There's no application store either. Only on smartphones will you find the creative software and hardware that is driving the mobile microblogging market and making it exciting, fresh, competitive and, quite frankly, desirable.
Moblin-based MIDs do have a chance as do Maemo 5 based devices but you won't find any on the market yet so it's going to take time for the developers to warm to those platforms. Come back in 2010 to discuss that!
Apple and Android have done a lot for the new generation of mobile internet devices and usage scenarios and so it should be no surprise to see smartphones dominating this Mobile Microblogging segment to the point where UMPCs and MIDs don't get a look-in. UMPCs and Netbooks still have big  advantages for general purpose, day-to-day productive computing but if mobile creativity is your thing, there's nothing better than the new generation of smartphones.
One could argue that smartphones have grown into the MID segment but for me it was always about usage scenarios rather than device categories. As Intel said, communication, location, entertainment and productivity. It's a shame that Intel's MIDs aren't living up to their own hype yet. (see my recent Moorestown article for thoughts about 2010)
(continued on next page…)