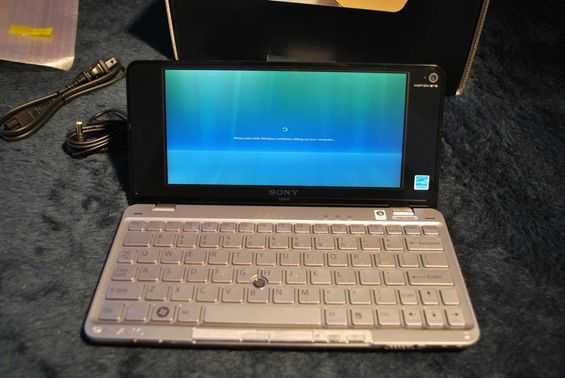 I've had the VAIO P for a few weeks now and it's time to look at the performance of the unit. You may recall that this is the top-end model: 1.86GHz Atom CPU, 128GB SSD, 2GB of RAM, and running Windows Vista (see more detailed information on the Portal page). This particular configuration is only available in Japan at the moment, but can be bought from places like Dynamism.
The VAIO P runs Vista, which most people recognize to be quite the resource hog, and feel that it isn't optimal for mobile computers because of limited resources. Luckily the VAIO P's lightning fast SSD, 2GB of RAM, and 1.86GHz CPU, handle Vista pretty well. The OS itself is responsive and doesn't show any signs of hanging. Even Windows Media Center, which runs a graphically complex GUI, runs acceptably on the VAIO P, even if it doesn have some slight issues with the VAIO P's super-wide screen (more on that in the upcoming full software impressions section).
Video Playback
It amazes me how much more video content we see online these days, than compared to a few years ago. Back in the day, usually only small videos would be uploaded to the web, and playing them back often required downloading them then watching them. With many different Flash players out there today, we see lots and lots of video content, and video playback through Flash players is a big deal now, as it is often a frequent web activity. So let's see how well the VAIO P can play back Flash video. Using an SD quality video from Gametrailers.com (which uses a pretty efficient Flash player), I saw full framerate playback with no issues. Below you can see the CPU usage while the video was playing: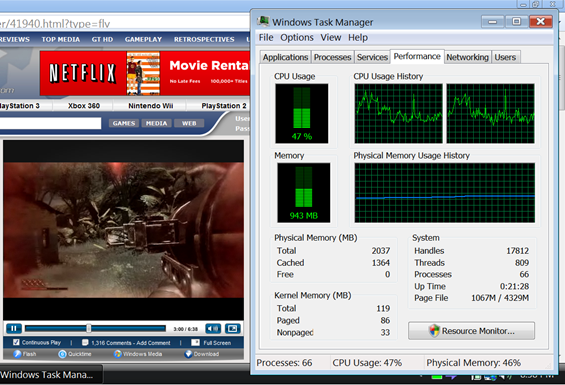 Unfortunately, the VAIO P can't handle the same video in 720p HD through Flash playback. The image below represents the CPU usage during Flash HD playback of the video. One thing to note is how the CPU graph on the left (representing the virtual second CPU from Hyperthreading) is a bit higher than the right. While the CPU isn't being maxed out, the video playback was very choppy, to the point that I would call it unwatchable.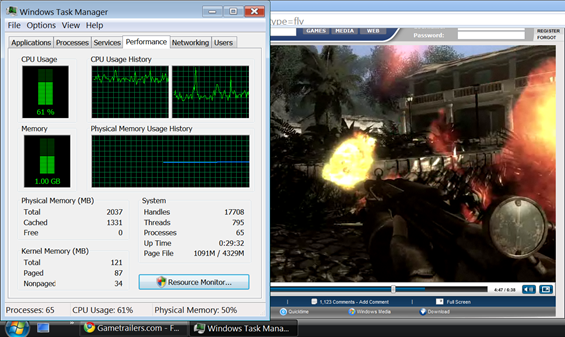 Flash HD playback might not work to well, but 720p, h.264 encoded WMV, and similar formats play back without much issue in Windows Media Player. For some reason or another, videos were a bit choppy, and showed some horizontal tearing when using my preferred video player of choice, VLC. I would imagine this has something to do with VLC's implementation in Vista, as I'm used to using the XP counterpart. The image below shows a 720p h.264 encoded video playing through Windows Media Player, and the resulting CPU usage.

HD playback performance is particularly important on the VAIO P because the screen can actually display the content. In most cases, we test HD video playback on netbooks simply for performance's sake, however when you really think about it, it doesn't always make sense to watch a 720p (1280×720) video on your netbook which only has a resolution of 1024×600. However, in the case of the VAIO P, the high res screen can really display full 720p content with 1:1 pixel mapping and even has room to spare. The VAIO P's screen has a resoultion of 1600×768, which is even wider than the widescreen HD standard of 16:9. For comparison's sake, 16:9 (standard widescreen format) breaks down to 1.78:1, while the VAIO P's screen has an aspect ratio of 2.08:1, meaning that the screen is slightly more than twice as wide as the height.
(continue reading on page 2…)