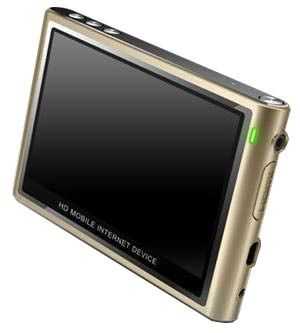 If you're looking for a fun little internet-connected media player to hack around with the SmartQ V5 has always been one close to the top of the list. It's not exactly leading-edge in terms of processing power but, like the SmartV7 that Coldsun has, it's loaded with multiple OS' and the SmartQ brand has quite a strong and active community following.
Pocketables are reporting that the V5 version is now available via Eletroworld for $180. Add customs and postage to that and you're looking at about $220 (150 Euros) which makes it worth taking an even closer look at. (Note: We bought a SmartQ7 at Eletroworld earlier this year. The ordering process was a little convoluted but the device arrived without problems.)
Features
Processor: 600MHz
Screen size: 4.3-inch,800 X480 pixels (Resistive Touch)
Memory: 256MB DDR2 RAM
Storage: 2GB Flash Memory
Operating System: Ubuntu Linux,WINCE 6.0 and Android
Language: Chinese/English
Memory card slot supporting up to 32GB microSD memory cards
Wireless: supports WiFi 802.11b/g, Bluetooth
Output: HDMI 1.3 (1080P)
Connectivity: 2.0 USB HOST supported to connect the high-speed EDGE, HSDPA network adapter or mobile phone
Warranty: One year
Compared to the original SmartQ 5 the differences include double the RAM, multiboot OS (Android, WinCE, Linux) and digital video out via HDMI.
We've yet to see any reviews on the SmartQ V5 but we'll definitely be looking out for them as this looks like a good value little device for the tinkerers out there. People looking to dive into a fully consumer-ready Android MID should be aware that this isn't a full Google-apps-enabled Android build. (No marketplace, no maps, no sync.) Fingers crossed for an ARM A8 version with full Google Android support in 2010.
All SmartQ V5 specifications and links now being tracked in the product database.
Via Pocketables.