We've had the (final version) Viewsonic Viewpad 7 for 2 days now and last night we completed 3hrs of live testing in front of an audience of 480 people. We're now in a good position to be able to bring you a good round-up review of the device. Live recordings of the stream are embedded below. Unboxing video is here. Thanks to Viewsonic Europe for sending the device over. UK customers can find details of a trade-in offer and retailers here.
Overall quality of the £400 pound tablet is good and we feel that Viewsonic have got the price/quality ratio right. This is a lot more than a £200 open-source Android tablet here and less than a £500 high-end 7 inch Tablet (e.g. Galaxy Tab) and it sits alone as the cheapest 7 inch 3G+Voice Google Android tablet on the market. 'Google' means that it really does have everything that you find on a Google Android phone including voice capability, compass, GPS, compass, capacitive touchscreen and the latest Android software.  So why is the Viewpad 7 cheaper than the Galaxy Tab then?

Click to enlarge. More in the gallery.
Let's start with the processor that tricked me. I was originally told it was a Snapdragon CPU at 600Mhz but despite some reasonable Web performance, it turned out to be an ARM11-based device. In real-use yesterday I was still quite happy with the browsing speeds and although I would never recommend anyone get an ARM11-based device for serious web work, when laid-back in a passive usage mode, it's quite acceptable. You'll see some browser tests in part 3 of the video review below. The GPU, Adreno 200 – the same as that found on the Snapdragon platform, is probably helping a lot here because UI actions seem smooth, if not 'physical' like the iPad.  Android 2.2 helps too. It's a far more efficient build than 2.1 and helps to pull everything possible out of the platform. This is probably as good as we'll ever see on an ARM11-based device and at this point it has to be said that this is the best ARM11-based mobile internet device I've ever used.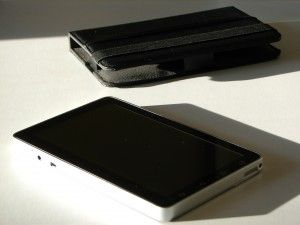 Full specifications, gallery, news and more in our Viewpad 7 tracking page.
There are more hints of 'value' though that don't hide themselves so well:
Screen At 800×480 this isn't the sharpest. Although Android apps are only designed for up to 800×480 screen, there are photos, videos, ebooks and browser pages to consider. A full-screen, page-to-fit web page is not easily readable and will require a pinch or double-click to zoom to readable quality. It's bright enough but there are differing results from vertical and portrait viewing angles. This is a typical horizontal-optimised LCD. I won't go into detail here but portrait mode is not perfect. Text seems to stretch vertically too indicating that the pixels aren't square. It's a good screen, but not top-of-class.
Note: After measuring the screen, pixels are indeed not square. Resolution ratio: 1.666:1  Size Ratio: 1.78:1
CPU Mentioned above. Don't expect to squeeze much more out of this CPU in the future. There are already applications that aren't supported on this CPU (Flash for example)
Software This is, to all intents and purposes, a raw Android experience. Some people will prefer this and at least the Market is there to help. In the live review we downloaded and installed about 15 applications suggested by viewers in less than 10 minutes. Try doing that on a Windows 7 laptop!
Camera The 3.0MP camera shouldn't be regarded as anything more than a snapshot device and the results show high grain and huge traces of plastic lens. It's easy to smudge fingerprints over the camera lens too so quality can degrade even further. Videos aren't anything to get excited about either.
Video Playback There are quite a few video formats out there and each has variable bitrate and 'profile' levels. Codecs cost money and Viewsonic have chosen not to add them in. You'll get 3GPP, MPEG4 (not Xvid/Divx support) and H.264 support for low bitrates and resolutions (sub 720p/1Mbps) but that's it. Software players such as RockPlayer add new codecs in but the CPU isn't powerful enough to deliver anything above about 1Mbps. Disappointing.
User Interface and touch While not up there with the best 'physical' user interfaces, this is a reasonable capacitive touch experience and fine for everyday use. It's a lot better than a resistive touchscreen for this type of finger usage.
On screen keyboard – Typical of loaded Android systems on ARM11 CPUs, the response on the keyboard slows down if there are other things happening around the device. Coupled with a rather ugly layout (we loaded 'Better Keyboard' and found it, better!) and a hit-rate that doesn't come close to the Galaxy Tab or Apple iOS devices, we can't recommend it for anything more than micro-mails, tweets, SMS and other short-form messaging.
On the positive side, we saw great 3D performance in synthetic tests and games with Angry Birds and Raging Thunder Lite working perfectly. There are other high-points too.
3G throughput in our tests was good. We haven't tested reception performance.
.
Battery life. In our 1-hour test with screen, Wi-Fi, GSM enabled and under testing conditions saw the battery drop 15% indicating a 6-hour heavy-use run-time. It matches the Viewsonic specs and in the rest of our testing over the last few days we were also seeing similar battery performance. We estimate the battery life to be 10-15% less than the Galaxy Tab but still, very good. Charging over USB is a slow process. Expect 8-9hrs for a full charge over a standard USB cable. We can't get the supplied charger to work through our UK-EU adaptor but we're told it does enable a 'fast charge' mode of around 3hrs.
Speaker quality is good which makes the Viewpad 7 perfect for radio, MP3 and podcast duties around the house. In a 20-minute speakerphone call, quality was very high. We also made a successful Skype call without headphones.
Other points
No heat or noise
Quadrant scores around the 250 mark
Launcher Pro works well (and is recommended) as a home-screen alternative. It enables portrait mode homescreen which the standard build doesn't.
YouTube (tested with the latest player available in the Market) works flawlessly
Neocore benchmark returned 32 fps
Kindle reader and the pre-installed Aldiko reader work well.
PDF reading with the included, full version of Documents To Go, worked well
Again, note that Flash 10.1 is not available for ARM11 devices such as this
The Viewpad 7 is slightly smaller (about 4mm in width and depth) than the galaxy Tab. Same thickness. Same weight.
Storage on the device is limited to 512MB and after installing 20 applications, we were down to 24MB of storage space. Inserting an SD card is necessary in order to move some applications over (where possible) and to store audio, image and video files.
Wifi reception was average (b/g standards) We haven't tested Bluetooth
Hotspot mode works. (Wifi sharing of 3G connection We expect 8-10hrs on this mode with screen off)
No stand. (Update below)
Case is plastic
No USB On-The-Go
GPS locked quickly (sub 10 seconds with A-GPS enabled) indoors, 1M from a Window
No video out (digital or analogue)
Skyfire (and included flash video playback) works
Update: Case will change for final retail versions.
Viewsonic notified me that the case has been re-designed for the final version. Its good to see that it now includes 'standing' capability.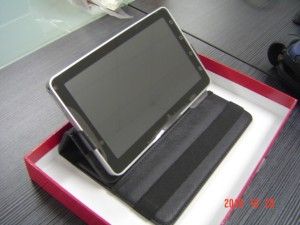 At £400 we find the Viewpad fairly priced. If you're in the UK and have a working netbook or laptop you want to trade-in, Viewsonic retail partners will give you 100 pounds cash-back which makes it tempting if that old EeePC 701 is gathering dust for you. Ultimately though, Viewsonic need to capitalise on the fact that this is a well-rounded 'value' tablet with a complete feature set, today. In 3 months time when Android devices 2.3 appear, when ARM11 becomes 'end of line' for some applications, when high-end applications start demanding more of a CPU and when the market fills with other device options, it may not look so attractive and at that point Viewsonic and their retailers will have to compete in a price war. We say, 'take the risk' and drop the price by 50 pounds to capitalise on holiday-season buying and make this an even more attractive package. Throw in a 4GB micro SD card, a cleaning cloth and maybe a free version of 'launcher pro' to solve that portrait mode homescreen limitation and you've got yourself a great little mobile internet device.
Continued on page 2…