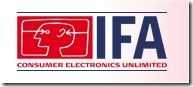 Considering it's one of the biggest consumer electronics shows in the world and one of the last before the Christmas buying season I found IFA to be very underwhelming this year. At least in the mobile computing segment.
A so, so Windows CE Tablet from Toshiba that certainly won't provide users with productivity or anything near a complete web experience was the 'highlight' for most reporters along with the Japan-only Sharp Netwalker and an Google Android MID. Even in the netbook segment, news seem to be centered around 11.6 inch screen device which moves them even further away from mobile usage. Portable, yes. Mobile, no.
Here are some highlights.
Sharp Netwalker. Video from Netbooknews.com. JKKMobile is trying to get hold of one for testing. The hardware looks great and Ubuntu shuld allow a lot of flexibility. Performance is the question though.
Smit Android Tablet. (Video from Charbax) Personaly i'm not too excited by Chinese Android mods. Trying to get on in the western world with a stable, English language OS is not going to be easy. Support, even less so.
Optima Maemo MID. For China Telecom. Again, another Asian-focused device that will be difficult to get here. Not high on my list. (Video from Charbax.)
Sony X series. It's a table-top device but weighs less than a lot of UMPCs. Unfortunately it's way to big to be using while standing up but if you're desk-hopping, this is one of the lightest laptops you can buy. Video at netbooknews.com
Samsung NC130 NC140 netbooks. 10 inch devices at 1.25KG which look good, have long battery life and follow-on from the very successful NC10. Video at netbooknews.com
All in all it was a very quiet week for MIDs and UMPCs but there are a few things to look forward too.
That silence will probably be broken this afternoon when Apple announce their new iPod Touch line-up. If they include the fast processor and software upgrades that you find on the iPhone 3GS (one of the fastest browsing devices based on an ARM processor) then a lot of people will consider it for social networking, microblogging and sofa-surfing. I just wish that Apple would boost the size/resolution a little. A 5 inch version makes so much sense. Especially if you've got a Mifi on your pocket! Gdgt.com are live from the event later today.
On the 15th, Archos will be holding an event. We're expecting to see the Archos 9 to become available along withthe launch of the Archos 5 Android-based devices.
On the 21st, i'll be at IDF09 in San Francisco for a week-long Intel Atom-fest. Coverage kicks off on MIDMoves very soon (Ben will be following up on UMPCPortal too) so stay tuned over there for that because I've already had information that tells me we're going to see some new devices.