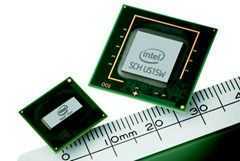 Two items of news related to Linux support on the Menlow platorm  have caught my attention in the last 24 hours. Both news items are related to the Ubuntu Linux distribution.
Menlow is the Intel platform that many MIDs, UMPCs and even netbooks and laptops have been built around in the last 12 months. It's focused towards very low power consumption, video playback acceleration and 3D support in the smallest possible size.
Up until now, the only official operating systems that have supported the platform have been Moblin 1 (via Intel. Largely a static project now) and Windows XP, Vista and 7. Trying to use any of the latest popular Linux distributions on any of these devices results in problems.
Ubuntu, the Linux distribution run by Canonical, has always had a close relationship with UMPCs and MIDs. They did some work on Moblin 1 with the Ubuntu-MID distribution but that project is now static. Then there was Ubuntu-Mobile which turned into Ubuntu UMPC. Again, this project stopped. The Ubuntu Netbook Remix project also started and this is the one that has been focused on over the last 12 months. Unfortunately, it doesn't have any support for the graphics/video part on Menlow known as 'Poulsbo'. The same is true of Moblin 2. Intel dropped support for the MID platform.
The good news is that there are people out there working to fix the problem. The latest information is that one  'lucazade' has rolled up everything that is needed into a few scripts and has even set up a repository that can be used to pick up the correct drivers. Full information at the bottom of this post.
The second bit of good news is that Jolicloud, the Ubuntu-based distribution targeted at netbooks, is also checking out support for GMA500. This message went out yesterday:
team is testing internally the poulsbo (gma 500) support in the next jolicloud release, we will look soon for testers.
Naturally we've already been in contact with the Jolicloud team about this and plan to bring you some more information shortly.
Despite all this third-party activity and end-user requirement (about 30 Menlow-based devices exist in the market right now) Intel has never really talked about Menlow support. We've seen Moblin 2.1 for handhelds running on Menlow and seen the Linux Foundation demonstrating it but I can't get any statement out of them on the subject.
Based on what we've seen and heard I would put money on being able to run the open source beta release of Moblin 2.1 for handhelds on Menlow (purely because there's no other platform available for developers to test on) and that is supposed to be coming within the next month. I'm also convinced that Moorestown will use the GMA500 so there's another reason to have drivers available.
Finally, check out some of the emails in the Moblin Developer mailing list. This is an interesting one for example. (from 15th Nov.)
If you know of other Linux distributions that either work with or are planning GMA500 support (I hear rumors that Mandriva supports GMA500?) let everyone know in the comments. Likewise, if you're running Linux on a Menlow platform, let us know what you think.
Update: 18th Nov 2009. Jolicloud have announced out-of-the-box support for the GMA500.