Keyboard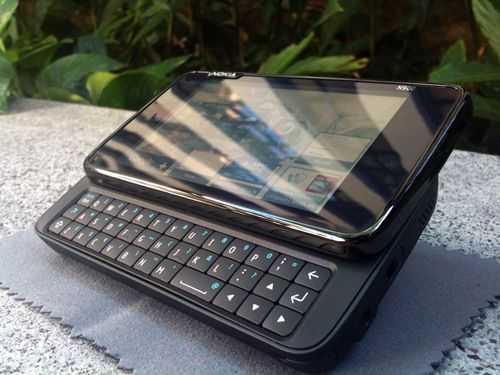 As far as I'm concerned with the individual keys on the keyboard… they are pretty good. Better than the N810's I'd say, but then again I haven't used one in at least a year. I know that they're better than the Droid's keyboard, as I borrowed a friends for a short period and was wishing that it had N900 style keys.
I say the individual keys specifically because the keyboard as a whole has some issues. First of all, it only has three rows. I really don't understand why they couldn't have the screen slide up just a bit more to fit a dedicated row of numbers on the thing. Lacking a dedicated number row, all of the numbers are squeezed down onto the QWERTY row, and things get cramped, quick.
You can actually type pretty fast on the keyboard after getting used to it, but only if you are avoiding punctuation. While you might be able to fly through an unpunctuated sentence things start slow to a near halt as you find out what combination of keys you need to press to create the desired punctuation. In addition to nearly every single key on the keyboard having an Fn function (as well as a lower and uppercase letter) there is even an on-screen menu for all of the symbols that they weren't able to fit on the screen. This on screen menu is called up by pressing Fn and the 'Sym' key which is on the Ctrl key.
Compounding these issues is the fact that there are no hardware indicators that caps or Fn-lock has been enabled. To turn on either of these, you need just double tap whichever key you'd like to lock on. The only notification you get from this is a short on-screen pop-up which disappears after a few seconds (there is no notification whatsoever when you disable either of these locks). It is completely unclear to the user whether or not these are disabled once you change text fields, navigate to other apps, etc. What's more, this issue is drawn out because of the inconsistent treatment of these locks.
Some apps support word prediction and some do not. Some apps support auto-capitalization, and some do not. Some apps undo Fn-lock or caps-lock when you switch fields and some do not. You never know. It's a guessing game, and if you don't get it right, you waste a lot of time just playing around with it to figure out how it works for that specific app. Entering passwords is particularly annoying. Some native apps show you the character that is being entered before it turns to an asterisk for security reasons. With the native web browser, you don't get this luxury. I feel sorry for the bloke who has a password that consists of upper and lowercase letters and numbers, and has to enter this password into websites via the N900's keyboard.
I could continue to rant about inconsistencies with how the keyboard interacts with the software (please don't get me started on auto-capitalize), but I'll spare you. If these annoyances could be consolidated into simple, predictable, system-wide behaviors, we wouldn't have such an issue. The hardware keyboard itself is pretty good, except for the overloading of key assignments, due to the exclusion of a fourth row.
In the end, I'd love to see a four or even five row N900 keyboard.
Camera
Alright, after the last section, I nearly feel bad for the poor little N900. Let me do it some justice and tell you where this baby excels. The camera is great. Well, let me clarify that there are actually two camera on the N900. The 5.0MP rear camera, and a forward facing camera which is hidden under the bezel on the front of the device (I didn't even know it was there until I downloaded an app that used it). So yeah, the good camera is the one on the back. The forward-facing camera sucks. No, like seriously… it's just awful. I think when they were mixing the ingredients for the N900, someone accidentally dropped that little camera in the batter on accident (this is how devices are made, right?). It wasn't really supposed to be in there, so once it came out of the oven, they didn't tell anyone about it. Luckily for them, the gooey goodness that is the 5.0MP camera covered up it's taste. Alright, this cake-making analogy is over.
The rear camera is superb. I've been using the iPhone 3GS for quite a while now, and though the 3.0MP camera on it does a decent job, I've been wishing that I had something as good as the N900's camera. While the iPhone 3GS's camera can be called a good phone camera, the N900's reaches more toward the realm of real digital cameras.
Have a look at our iPhone 3GS and N900 comparison shots.
In summary, the N900's camera has a decent resolution to snapimages. It also has an impressive macro mode which let's you get up close and personal with the subject of your photo. The dynamic range on the N900 is also superior to that of the iPhone 3GS, meaning that it can capture a wider range of dark and light areas within the same scene. It also has a dual-LED flash which won't make your shot look like it was taken in the day, but does a respectable job if there is something you'd really like to take a picture of, but it happens to be in the dark. I'm still a bit upset that I haven't found an app that turns on the flash for use as a flashlight.
While were here, let me mention the N900's stand, which is the odd thing surrounding the camera:
It is easy to see that the stand is way off-center, so the device can get a bit wobbly when the screen is slid up and the stand is in use. But screen down, and watching a video with the stand works fine. It's a shame that it isn't adjustable to several different angles like the one found on the N810, but an included kick-stand is a nice little bonus, regardless.