A few days ago I did some research and analysis on the new 'Queensbay' platform from Intel It's a highly integrated 2-chip system comprising Tunnel Creek processing platform and I/O chip that takes the platform used on many current MIDs and UMPCs and optimizes it in a similar way that Pinetrail did for netbooks. Despite some improvements in size and graphics power and a hint that it might be capable of some cool consumer and media devices, it's not the Apple A4 / Tegra 2 competitor that I'm guessing will get referenced in articles today. That job lies with Moorestown and I'll tell you more about that later today on Carrypad. Update: Intel Moorestown article now available.
Tunnel Creek was formerly announced today. See Intel Press Release.
More detailed information has already been made available. See below.
Tunnel Creek integrates a lot of activity on one die and offers a doubling of GPU power, an increase in memory bus speed, an open PCIe bus Southbridge architecture that allows for third party chipsets, a SATA storage interface and a promise of a lower bill of materials. It is possible to build some nice little handhelds out of it and one could imagine interesting tablets with Nvidia Ion on board but later today, we'll hear more about something that's been build ground-up for handheld tablets, mids, smartphones, active remote controls and of course, the 'iPad killers.'
I'll write about Moorestown later today but for the time being, here are some schematics for Tunnel Creek; the first showing the differences between Menlow (I'm using a PC based on Menlow right now) and Tunnel Creek and the last slide showing Tunnel Creek vs Menlow in a mediaphone scenario.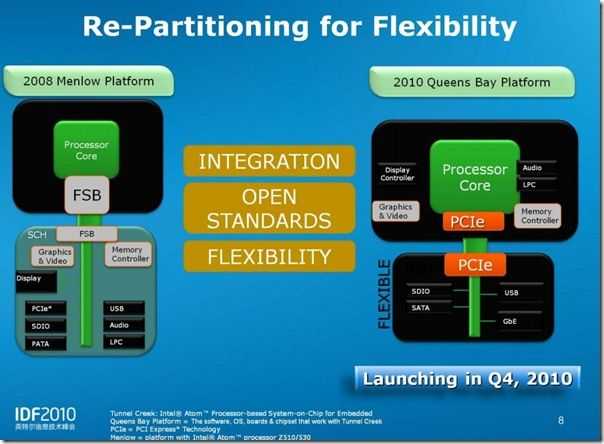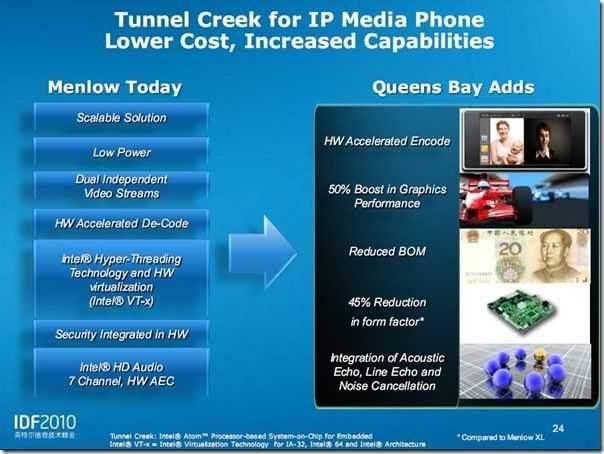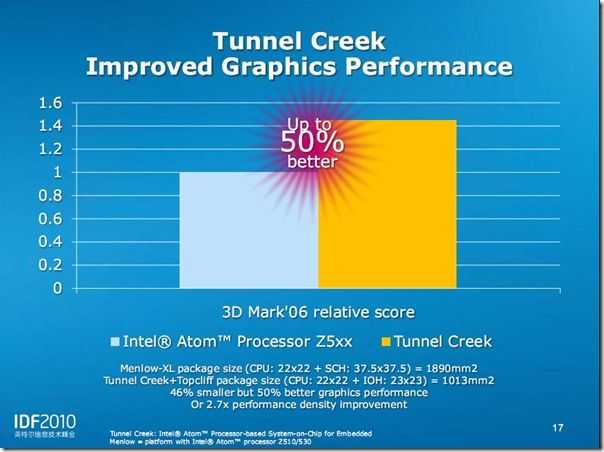 There are a couple of things there that I didn't mention in my previous article. Number 1 hardware accelerated video ENCODE. 2) Audio DSP functions. This leads me to believe that Tunnel Creek is in fact a version of Lincroft, the processing unit used in the Moorestown platform. We'll talk more about that later.
For the Intel IDF presentation on Tunnel Creek (from which the above slides were taken) see the IDF 2010 Beijing Content Catalogue and search for 'Tunnel Creek' (Unfortunately I can't link direct as the catalogue generates one-time URLs.)
For a primer on Moorestown, see the links below. More detailed information on Moorestown architecture is expected from IDF later today.
Moorestown Digging a little deeper.
Intel's Moorestown Platform. From Smartphone Through Smartbook and Beyond.