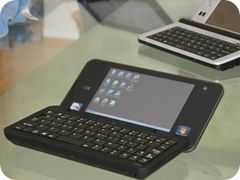 Two clamshell-style handheld PCs; Both offering great features, good battery life and usability at a price that would have been unheard of a few years ago. For the ultimate in thumb-able PCs, the Viliv N5 and UMID BZ have no competition. Sure, the Fujitsu UH900 and Sony P-Series look the same but these two are in a different sizing category and make a great alternatives to the OQO Model 02+ that never was. These two devices have the same adventurous spirit that the Psion 5 had all those years ago and that says a lot.
I've rounded-up my thoughts in a 17-minute video below but if you want the text version, read-on. Feel free to ask questions below. I'll attend to all of them.
Viliv N5 specifications, images, link, videos.
UMID BZ specifications, images, link, videos.
It's actually very easy to summarise the difference between the two devices. One uses relatively low-cost components, skimps on memory and is built to a price. The other uses high quality parts both inside and out in order to offer a more rounded computing experience. A better, less stressful computing experience. The Viliv N5 is the latter and really offers more of a multi-tasking experience where you'll be able to run 5 Firefox tabs, Media-player, Livewriter, Tweetdeck and a background media player without any real hiccups. The UMID BZ isn't bad though because if you're only using one or two apps and can put up with the occasional 'pause', the UMID offers excellent value and even some additional features not found on the Viliv N5.
Key Differences:
Style The Viliv N5 wins hands-down. The UMID BZ looks cheap in comparison. In our experience the UMID build quality is high though.
Screen The UMID BZ screen is brighter. Noticeably brighter. If you're looking to use these devices outside, by the window in a train or on the dash of your car, the UMID BZ is the best.
Touchscreen The UMID has a much lighter touchscreen. I find it easier to use than the slightly heavier weight of the N5 touchscreen.
External Screen Only the UMID BZ offers you a video-out possibility so if you want to use these devices for presentations or as a low-power, low-end desktop PC (it's possible) then don't go for the current Viliv N5. [A pro-model might add this feature at a later date.]
Keyboard VERY IMPORTANT. The N5 offers a keyboard that can be used for thumbing but is wide enough to allow a good rate of touch-tapping. The UMID offers a better thumbing keyboard (smaller width, less spongy keys) but is much harder to use on a table.
CPU The 100Mhz speed difference on the CPU is hardly noticeable. On average, you'll probably get to see a web page 1-second quicker on the Viliv N5.
3G The N5 is available with 3G for the ultimate in mobility. The UMID BZ will need to be tethered to a mobile phone or connected to a MiFi router which isn't as easy to set-up or use.
Price The UMID BZ is $150 cheaper than the entry-level Viliv N5.
Battery Life In tests so far, the Viliv is lasting between 3 and 3.5 hours in full use. With optimisations (lower screen brightness, good radio control) the Viliv N5 should reach 4 hours. The UMID seems to last for 4 hours without much attention from the user.
Video playback – Out of the box, the Viliv provides excellent local file playback capabilities. Up to 1080p (H.264 tested) works better than on any other ultra mobile PC we've tested. YouTube HQ (480p) to full-screen size works better on the Viliv N5. (Flash 10.1 and Windows 7 appear to work well together)
Phone features – The Viliv N5 is able to make voice calls through the cellular modem. (Only on the 3G version.)
Operating System – The Viliv N5 runs Windows 7 Home Starter edition. The UMID BZ offers Windows XP Home. The latter uses less memory and disk (the UMID BZ offers over 20GB of space. The Viliv N5 only 11GB. Both have 32GB drives) and neither operating systems offer any sort of special touch or input features.
Update: GPS – Correctly pointed out by a couple of people that sent emails, the Viliv N5 has GPS which makes it usable as a navigation system. There are no Windows-7 compatible (sensor) drivers though, the GPS simply appears on COM1 at 9600 or 4800 bps depending on configuration. First lock (using VisualGPS) took about 2 minutes (for full 3D fix) but the lock was lost indoors next to a window. For people thinking about using this in a car, consider the glossy screen and brightness.
Video Comparison– See the video below for an overview of the differences. For Viliv N5 specific reviews, see this page. For UMID BZ reviews, see this page.