Performance
The Droid 2 is featured by most advertising as the smaller cousin to the all-mighty and powerful Droid X. However, benchmarks seem to indicate otherwise. It might be that the Droid X is running the older Android 2.1 software, while the Droid 2 runs the latest 2.2 build, but whatever the case, the Droid 2 seems to outperform the Droid X in most benchmarks: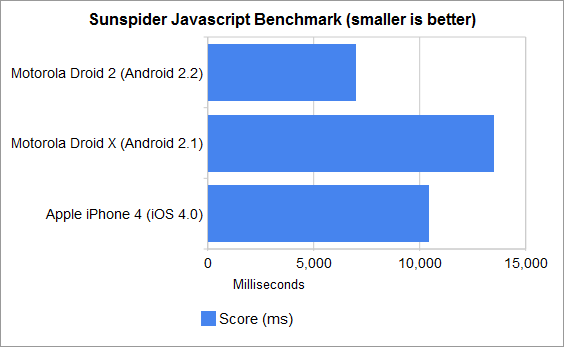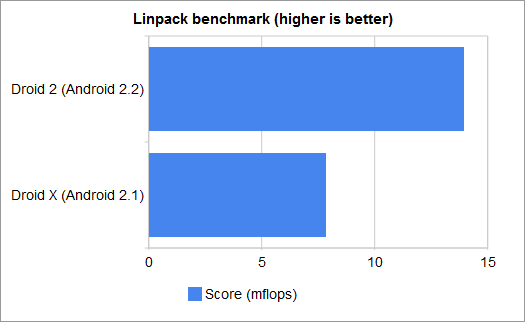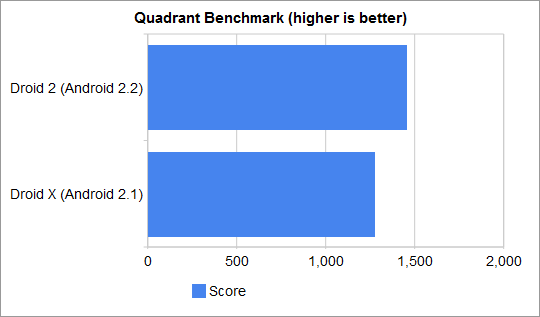 Benchmarks typically fail to give you a decent idea of what the device really feels like to use. In reality, the Droid 2 doesn't feel faster than the Droid X, and I don't know that either of them feel as fast as the iPhone 4.
Flash Playback
The biggest new feature to come to Android 2.2 has to be Flash support. It's also the biggest thing lacking from the iOS platform and people just love to rub it in. This surprises me considering the majority of Android devices out there are not running 2.2 and don't have access to Flash content. Regardless, it is here now and I'll give you two words that describes the experience: frustrating and inconsistent.
Ok, I wouldn't be doing my job if I left you with just two words, so let's break it down a bit. The Droid 2 can handle 480p Flash video better than some netbooks out there. That's impressive, but only when it actually works. This requires that you find a Flash video player that is not only compatible with the phone (ie: recognizes it properly as a Flash capable device) but also a Flash player that performs well. Some Flash players are resource hogs while others are light-weight and efficient. Pray for the latter. I've had YouTube videos play smoothly and then suddenly drop to such a low FPS that' you'd think you were watching a slideshow.
If you can get the video going on a well performing player, things work pretty well – only as long as you don't want to seek the video, change the volume, or use and of the player's controls beyond pause and play (don't even think about seeking the video with any sort of accuracy or proper functionality for the most part). I cringe when I say this… but Flash video on Android phones makes me wish I had a stylus. The GUIs of Flash video players simply aren't designed for finger interaction. They are made from the ground-up to take advantage of the mouse's precision. Flash games are probably even worse. Sure, they might technically "work inch, but that doesn't mean it will be fun to play them when you're forced to stab at the mouse oriented interface elements with your meaty finger. Many Flash interfaces rely on the floating cursor to pop-up menus (this technique is commonly manifested in volume control roll-overs), sadly, you have no access to a floating mouse cursor so attempting to interact with these interface elements is nearly a waste of time.
Here's an example of extraordinary Flash frustration. I was attempting to watch a video on Gametrailers.com. Some videos on this site (like many others) are prefaced with a video advertisement that launches you to another page when you click it. I must have launched at least 15 other pages as I attempted to get the video into fullscreen mode. There are two ways to get into fullscreen. Normally, you'd hold your finger on the video player and then an overlay with a button for fullscreening pops up. That would have been easy enough expect that I was redirected to another page repeatedly after tapping that full screen overlay button. So eventually I gave up and tried to hit the miniscule fullscreen button that the Flash player provided in its interface. I must have tried 10 times to press this tiny button with my finger without success (and, annoyingly, being launched to that external page every single time that I missed the button). The video had been paused on the first accidental misclick and once I was finally fullscreened, I attempted to hit the tiny play button; what do you know? The video exited fullscreen mode and I was launched to that annoying ad page because I couldn't managed to precisely press the tiny button. I think I gave up at this point.
This is the reason that Apple refuses to support Flash in it's current state. While I personally understand the cause and effect of my various mistaps, I can only imagine the frustration of this scenario from someone who doesn't understand a thing about computer interfaces. Think about mom or dad trying to play a Flash video… they'd become frustrated and give up in mere seconds. And if that's what's going to happen to the majority of your users, what's the point of even having Flash as a feature? Your every-day consumer doesn't have time to put up with this sort of horrible experience.
You'll find lots of conflicting reports of how well Flash works on Android 2.2. Here's my advice – don't pick up the Droid 2 expecting the same Flash experience that you get on your computer. If you managed to find content that does work on the phone, keep in mind that you have nothing more than your finger to attempt to hit the tiny buttons that control it.