Intel have dominated my mobile device choices for nearly 5 years but all that has changed in the last 4 months. Today, my ultra mobile PC retires and my netbook gets an upgrade.
For the last two, years my main computers have been a Quad-Core desktop that I use for hosting live sessions, podcasts and some video editing, and two mobile devices. The Gigabyte Touchnote Convertible Netbook has been my laptop and a Fujitsu U820 (actually a Japanese version U/B50N) ultra mobile PC has been used as my hot-desktop (as shown in this article.)
Today, the two mobile PCs drop away and are replaced with an AMD-based netbook solution and an ARM-based tablet. The Acer Aspire One 522 and Galaxy Tab have become my mobile device choices which means there is no longer a ultra mobile PC in my life.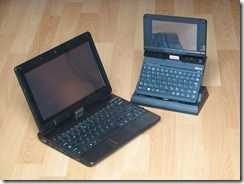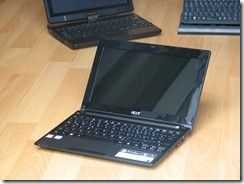 The Fujitsu U820 had previously been my ultra mobile computer for expo's and conferences and I remember using it successfully at SXSW in 2009. Over the last 5 months though its usefulness has waned because the Galaxy Tab has taken over. It fits *my* usage patterns a lot better. I sacrificed some 'Full Internet Experience' for weight, battery life, location, social networking apps, built-in camera, always-on and 3G. I talked about this 'changeover' last year. It's now happened.
The Touchnote was still working well and I had no problems with it. After 2 years it's proved to be rugged and capable but when the Acer Aspire One 522 came along last week it gave me so much more, in less weight and cost. Now that the Tab has taken over ultra-mobile duties to an acceptable level, there's also no need for the U820.
I'll miss the touchscreen on the Touchnote but I'm getting better battery life, more processing power,  way better HD and graphics acceleration and my 4GB RAM, SSD and Home Premium upgrade are adding to the experience i'm getting from the Acer Aspire.
The Acer Aspire One 522 is now my daytime desktop as well as my lightweight notebook.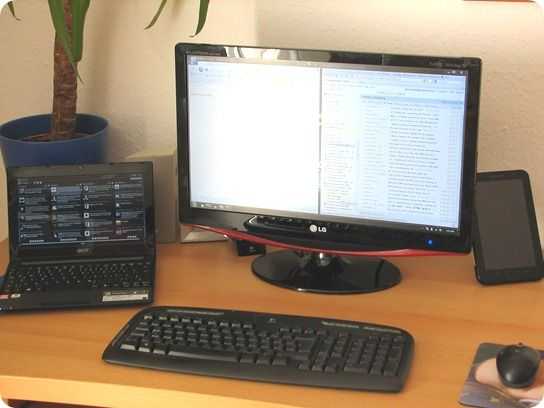 What happens next?
As 7" tablets get better and better with improved software, faster processing engines and higher quality connectivity there's more and more that can be done on them. I'm already creating articles, emails, Tweets, IM and images but I see improved video and camera hardware and software coming too. I see accessories that could help the tablet become a unit that everything could be done on if needed. I would have no problem whatsoever using a solution like this for a week if weight and energy restrictions demanded it. The need for an ultra-light netbook is reducing for me. Having said that, the requirement for a PC with a keyboard doesnt drop away completely.
7" screens aren't comfortable for rich content generation and editing so I still see the need for a netbook or notebook for 'bum-on-seat' activities. What I see happening is that my netbook will get taken up a notch into a 11.6 or 12.1" territory that allows me to improve my video work. It's a project I've already started. That could happen very soon as the Asus Eee PC 1215b nears availability.
Smartphone load drops.
As for the pocketable device in my life, I'm finding I use a smartphone less and less now. Dropping back to a 3.5" or even 4" experience for Internet and social networking activities  is painful and I'd rather take the Tab with me than have a large smartphone. My smartphone is now a voice, sms, MP3, USB storage and emergency internet device. The N8 fits in so well here because it also has a stunning camera that allows me to photoblog with ease.
Because of my tablet use, I don't expect to be putting much load on my smartphone any more and the list of requirements changes totally.
Intel's next netbook move.
I confess that I didn't have a lot of faith in AMD's Brazos solution but they did it. They've made a classic disruptive move which will change the face of the netbook forever and, unless Intel repond quickly, take share away from Intel in the low-cost computing market. Well-known features/keywords like 'HDMI' and '1080p' that are recognizable to the man on the street will differentiate AMD from Intel and where the price is the same, there's little to think about. Games are also possible on AMD netbooks and it leaves little room for Intel to play in when it comes to Cedar-Trail.  They'll have to increase the CPU power (1.66ghz dual-core is a nice figure that looks better, and performs better than the AMD 1.0Ghz solution) and add their thermal monitoring to allow overclocking on a core-by-core basis. 2.0Ghz 'Turbo' will be worth seeing. They'll also have to add the 1080p capability from their Menlow and Moorestown platforms. To beat AMD they will need Wireless Display and hardware-accelerated H.264 and WMV encoding features to help with video format conversion. Longer battery life is a must and this is something Intel is highly likely to deliver with amazingly low quiescent states and very tightly-coupled wireless solutions. Given the likelihood that they will have a lower platform TDP and enable a smaller motherboard size, Intel solutions are likely to be thinner and lighter.
Can Intel enter the always-on tablet space?
AMD appear to be a long way off from having a soft/hard stack that satisfies the requirements for an ultra mobile computing device but I still see big opportunities in the near, 1-2 year timescale for Intel. 2011 truly is just the start of a new era of multi-device computing and Intel have been working on developing solutions to hit all areas of the market for the last 3 years or more. Wi-Di (wireless display), hardware security, thermal monitoring, overclocking and Intel Insider are features that could really add something to a mobile platform and as we look towards higher processing platform capability (including faster busses and rich connectivity) Intel do have an advantage, especially where screen and wireless connectivity take the lions share of the battery drain. As for always-on, their Moorestown and Medfield hardware, coupled with their software solutions, appear to have that covered. Android for consumption; MeeGo for a cross-over Linux-based solution. Windows for a full, pro-computing solution. They have had serious problems getting a partner to make a compelling device but lets talk about this again after the MeeGo conference in May and the Nokia MeeGo product which could also air at that time.
And don't think I haven't forgotten about all the advantages that come with having a traditional mobile PC soft and hard architecture. USB host, multitasking user interface, mouse-over, business software, security, multi-user, extended display, remote desktop, upgrades and hacks, printing, ad-hoc Wi-Fi and a thousand other features that you forget about until you need them. If anything, my desire for high quality, flexible productive systems has gone up in the last months and this might sound strange but since the Japan disaster last week, I've been looking at mesh networking and emergency computing again and find that an X86 ultra mobile PC would be the best place to start. To that end, I'll be loading up the U820 as my emergency computer.
That's enough about me. How are you finding the 'X-Over' year of 2011?
Note. All my computing solutions have been paid for by my company and are not sponsored in any way. Runcore, however, supplied the SSD that i'm using in the Aspire One 522.