Go into our product database, select Tablet Devices (Windows), click the weight and screen size column headers and you'll get a list showing the lightest 10 inch Windows Tablet. The only device that comes in at under 800gm is the Viliv X10 which, as we now know, isn't going to happen. The Lenovo Ideapad P1will be dropping into that list very shortly as one of the lightest Windows Tablets there is. It's a trend that's happening more and more now that Oaktrail is here. The great thing is that battery life is going up at the same time and this one even has a digitiser layer. We broke news about the P1 when it was being referred to as the Ideapad Slate back at CES. Lets take a closer look.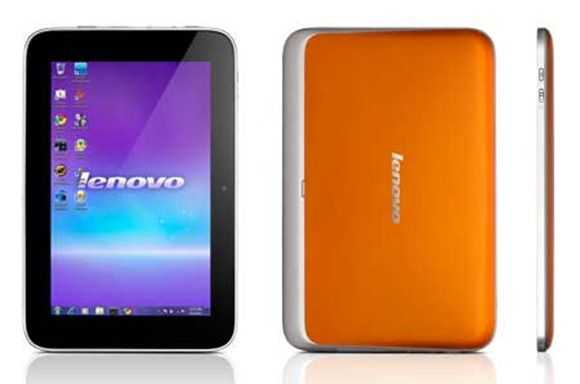 Full specifications and news tracking  here.
The Ideapad P1 will go head-to-head with devices like the HP Slate 500 and Fujitsu Q550 as alternative dual-input slates but I have a feeling the P1 will get quite a lot of attention based on the name.
The 1.5Ghz Oaktrail platform is certainly not going to be a powerful one. Unzipping large packages will be a chore as will any serious multitasking but the battery life should compensate for that with something like a 6W average drain. Expect the P1 to last for 6hrs with Wifi on. The digitiser layer, 3G options, 2GB RAM options, 32GB or 64GB SSD storage, Windows 7 OS options, a docking port and a high-resolution 1280×800 screen mean this is likely to be interesting to many of our audience here.
The other interesting thing is the possibility of Meego and Android for the Ideapad P1. Lenovo have good relationship with the Intel marketing groups. The Ideapad S10 3T was used as a reference netbook for Meego development so there's a good chance that the Ideapad P1 will get picked up as a reference Oaktrail device for Meego and Android and that could mean even longer battery life and a good reason to think about a 7 inch version. In fact, reading through the presentation PDF (Available here), it also looks like Lenovo might be offering an app-store. This could be Intel AppUp-based which leans further towards an Intel relationship and increases the chances of Lenovo exploring a Meego build. Yes, it's a tenuous link but one we need to keep an eye on. Meego-based Chromepad anyone? Multi-boot on this tablet could give the user an important choice.
The Lenovo Ideapad P1 is, unfortunately, targeted for Q4 which means we'll probably see it at IDF and IFA shows in September with availability in October or November. It's a shame it's taking this long to bring it to market as for those that see more than Engadgets fasion-focused eyes, this is an interesting option.