Some of you are going to receive a Windows 8.1 update tomorrow. If you've got a laptop without a touchscreen you might be in the 'so what' camp but if you've got a touch tablet you'll have happy fingers. If you've got Connected Standby and 3G, there's a little extra treat in there for you. Microsoft have been highlighting Windows 8.1 features in a blog series recently and today we get to hear about Movie Moments, a new Movie editing app alone with big updates to Fresh Paint, Photo and Camera apps.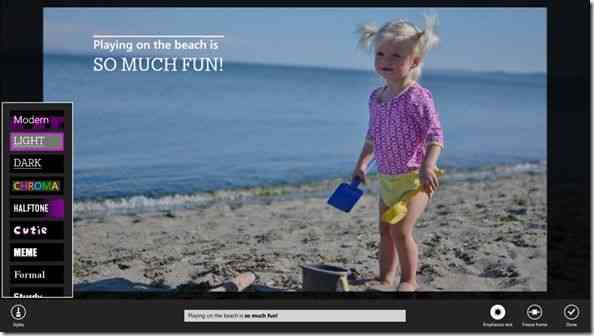 For a quick overview of windows 8.1 features, see our previous Win 8.1 preview with the Acer Iconia W510 and the Win 8.1 announcement post that has some details on the keyboard.
The new features are going to fit well with Baytrail-based Windows 8.1 products because they mobile, finger and creativity-focused. Some of the on-chip features are going to accelerate these functions while keeping battery consumption low.
Take the newly announced Movie Moments app which I'll be testing on the W510 as soon as I can. (Here' s a previous single-device video take-edit-upload process done with other Windows 8 software.) If Microsoft allow H.264 output at configurable bitrates, configurable templates and support for the Intel Media SDK for hardware acceleration, I'm in! It could be good enough for my YouTube videos.
Microsoft's blog post talks about new features in the camera app. Take a video and capture an image at the same time (hopefully at full resolution,) use Photosynth technology to create Panoramas and use a photo loop to capture multiple frames over a 2-second time period. The only problem here is that the camera hardware needs to be improved.
Improvements have also gone into the photo editing feature. I tested this in the 8.1 preview and it was good enough for social-sharing uses.
Finally, Fresh Paint gets a big update. Those with a pressure-sensitive digitizer pen will get more out of it than most!
Don't forget that Windows 8.1 isn't just about a Start button. It isn't just about supporting small-screen devices either as there are improvements that have gone into the self-supporting Windows 8 sub-system that is Connected Standby. You can run more apps in the background and, for the first time, you'll be able to use 3G/4G modules when in Connected Standby / InstantGo. Running Skype in this mode will be interesting.
Here's a re-cap of the preview work done with the Acer W510 and Windows 8.1
Hat tip: The Digital Lifestyle