I've completed a Windows 10 install on the low-cost Acer ES1-111M (AKA E11) laptop, my favourite fanless, lightweight, $200 laptop. Everything is working but you'll need to grab some drivers from Acer to make sure it all works.
Update: Oct 2015. Yes, there are touchpad issues but BIOS V1.13 and the latest Windows 10 drivers from Acer will help. Acer driver set is available on the Acer support page here.
Update Oct 2015. Final fix. After chasing a software problem all this time it turns out there was a hardware problem. Many thanks to Zachpoff.com. (Click through for details.) Note: I still have a jumpy cursor.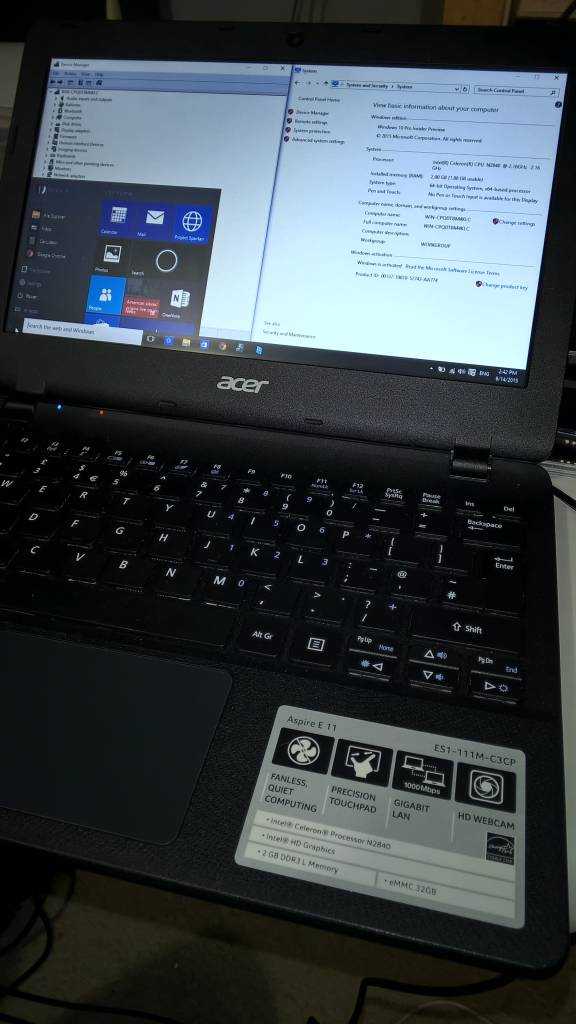 I installed from a USB stick as I did with the Acer Iconia W4 but accidentally booted from the USB stick and wiped everything out with a fresh install thinking it was an upgrade. Thank goodness that everything is now working, including camera and the Synaptics touchpad which appears to have been an issue for others.
Update: My ES1-111M is now running the post-release Insider Build 10525
Update Oct 2015. I'm now running the full Windows 10 install with Acer drivers and BIOS V1.13. There are still touchpad issues.
This is my first laptop-based Windows 10 install (Microsoft Surface Pro 3, Intel NUC and Acer Iconia Tab W4 are the other devices I'm testing) so it will give me my first insight into how the desktop mode works on a small-screen laptop. The Aspire ES1-111M doesn't have a touchscreen, comes with 32GB eMMC (soldered) and 2GB RAM (in a slot.) I've installed an Intel 7260 WiFi-N card which is more compatible than the stock WiFi card (Marvell or Broadcom depending on the model variant you buy.) This little laptop comes with a full size SD card slot, full-size USB 3.0 + USB 2.0 port, a full-size HDMI port and a Gigabit Ethernet port so if you're hacking around building Linux-based routers or HTPCs, the ES1-111M is a great choice. It's silent too!
More info on the Acer Aspire ES1 here including specifications, my deep-dive video and lots of links. [More info here]
My preview-review of Windows 10 with an 8-inch tablet is here.
16.2 GB of the 32 GB (29 GB formatted) eMMC is available after the Windows 10 (10130 ISO) install and a first round of updates. There's no recovery partition so save a recovery image as soon as you have a stable build, especially if you wiped the Windows 8 recovery partition like I did.
Windows 10 install was problem-free (build 10130) but the touchpad wasn't working. You'll need to connect a mouse to complete the install. The Synaptics touchpad driver on Acer's site didn't help so I started working through the drivers for the ES1 that I found through the Acer Germany website. (Note that the Edge browser doesn't work with their download page. I used Chrome.)
The important drivers are available here from the Acer Germany website. (I had problems with the Acer US website.)
Upcdate: ES1-11M Windows 10 drivers are now available on http://us.acer.com/ac/en/US/content/drivers
Download the Chipset, DPTF, IO Drivers, MBI and TXE drivers. After installing these drivers there were no problems listed in the Device Manager and the touchpad was working.
[If Acer removes the drivers I've uploaded a zip file of the drivers I used here. Later builds of the Windows 10 preview might not need these drivers.]
Note that the Chipset driver took minutes to start up and while I was waiting, thinking it wasn't working, I used compatibility mode to run the setup.exe file several times. Eventually two install windows popped up so I don't know whether it just took a long time or whether compatibility mode worked. Try running the setup file as normal and waiting 5 minutes. If you don't see an install windows, try compatibility mode. (Right-click on Setup and choose Troubleshoot Compatibility.)
As on Windows 8, I have some issues with the touchpad locking up, regularly, but I'll need to check internal hardware and screws because I've taken the ES1 apart many, many times.
Update: After installing all the WIndows drivers the touchpad is just about usable. I turned of the Touchpad Delay feature in Windows settings which may also have helped but there's still an occasional lock-up. Note: I'm using Insider build th2 10525 too.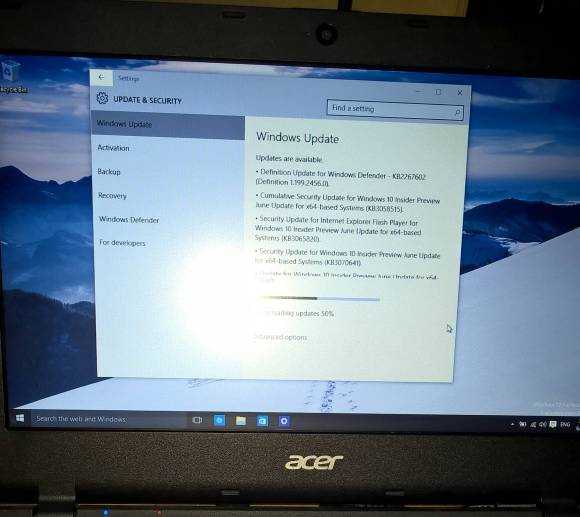 Testing will continue with a look at battery life, performance and other features but here's the status so far. (Updating.)
Windows 10 tests on the Acer Aspire ES1-111M
Working: Gigabit Ethernet, webcam, touchpad, brightness, audio, Bluetooth (some issues in this build though), WiFI (Intel Wireless-N 7260 upgrade – works well), HDMI (extended display), keyboard.
Working with additional install: Microphone / Cortana: Install the Realtek audio driver from the Acer drivers site and make sure the Microphone Boost is set to +20.0 dB
Your feedback on Windows 10 is always welcome. Have you tested it? What do you think of the UI, the features? My preview review of Windows 10 is here.